Batting gloves are a very necessary piece of equipment for baseball and softball players of all ages. Whether baseball is being played in tee ball, little league, high-school, college, or professionally, batting gloves are very prevalent amongst a majority of baseball and softball players. However, not every brand of batting glove is comparable when it comes to overall quality. When choosing a brand of batting glove to purchase, it is important to carefully choose a quality brand. There are many factors to consider before making the purchase. Having a comfortable and supportive pair can cause an athlete to perform at a higher level in the batter's box. It is important to note that every baseball/softball player is different, and extensive research is essential when choosing the right pair of this item.
Things to consider when choosing the best batting glove possible for yourself
Sale
Bestseller No. 1
Bestseller No. 2
Batting Gloves are a very important accessory for baseball and softball players of all ages. There are many things to consider when purchasing this item, as well as many benefits that will come with the purchase.
Comfort and Protection of Hands
Batting gloves offer a player's hands an increase in comfort and protection form possible blisters, brush burns, etc. If the gloves are not comfortable, then they will not be worth wearing and will only impede a player's ability to perform at a high-level. Before making the purchase, it is important for the athlete to make sure they will be able to play the sport comfortably with the gloves.
Size
Getting a pair of gloves with the correct size is a necessity. The glove should fit snuggly around the hand, while still offering comfort and support. If the glove is too big, it can impact a player's mobility and blood flow. If too small, it impedes in the ability of the player to grip the baseball bat. It is essential for the buyer to know generally what size they are looking for, as that is perhaps the most important element to consider.
Wrist Support
When purchasing this item, it is key for a player to consider their preferred style of wrist support. Some gloves offer addition support on the wrist with a Velcro strap, while others do not. Some baseball/softball players perform better with more wrist support on the glove, as it is more of a secure fit, while others prefer their gloves to be more loose around their hands, as it allows the player to move more freely with an increase in mobility.
Grip
Most baseball and softball players would most likely agree to the fact that being able to strongly grip the baseball bat is very beneficial, and can lead to more success at the plate. Each brand of this item varies in grip. Some may have too little of grip support, while some may have too much grip support. It is important for the buyer to consider the level of grip support that is most optimal for them when purchasing this item.
Style
While this may be less important than the other elements, as it does not effect performance, the style of the gloves should also be considered. When deciding which brand to purchase, the athlete should focus more on the performance-related elements. After considering that, style could be the deciding factor between two different types of gloves. Wearing gloves with a nice style which matches the player's uniform can make that athlete look more professional on the field, as well as making them feel good, which may indirectly lead to better performance.
Here is a video which details how to differentiate batting gloves
For more information-
Best Batting Gloves for Baseball Players (2020)
Franklin Sports MLB Digitek Batting Gloves
These gloves are very flexible and offers protection and a very solid grip. These gloves fit easily onto the hand, and is stitched with high-quality leather. these gloves also offer a good fit on the hands.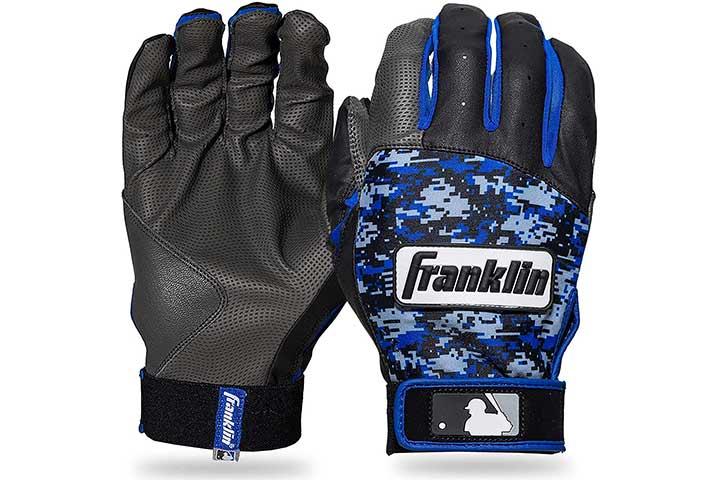 Louisville Slugger Genuine Batting Gloves
These gloves are very sturdy and make it very easy for the hitter to grip the bat. They also are available for adults as well as youth baseball or softball players. This item offer support and stability as well.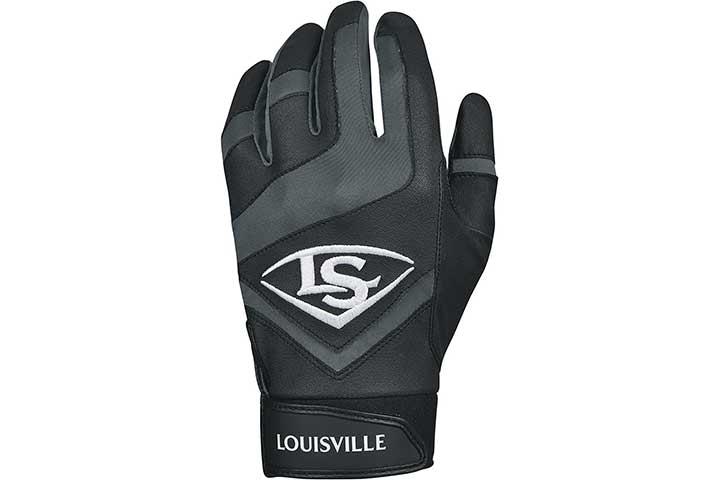 Clutch Sports Apparel Baseball and Softball Batting Gloves
These gloves are made with durable, sheepskin leather. It has a tight fight on the hands, high-durability, allows the hands to breathe when on, and includes a 100% satisfaction guarantee, as well as a money-back guarantee.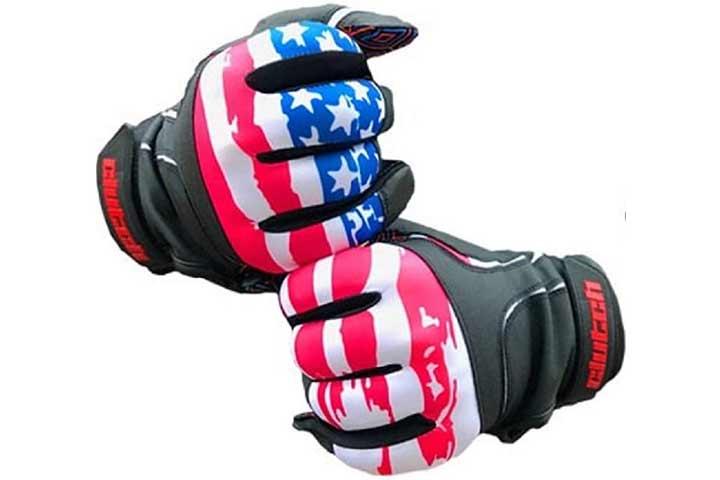 Easton Walk-off Batting Glove Series
These gloves are considered one of the best an athlete can use due to its flexible material, ability to keep the hands comfortable, wrist support, and grip support. There are reviews which doubt the gloves' durability, but these gloves offer many benefits.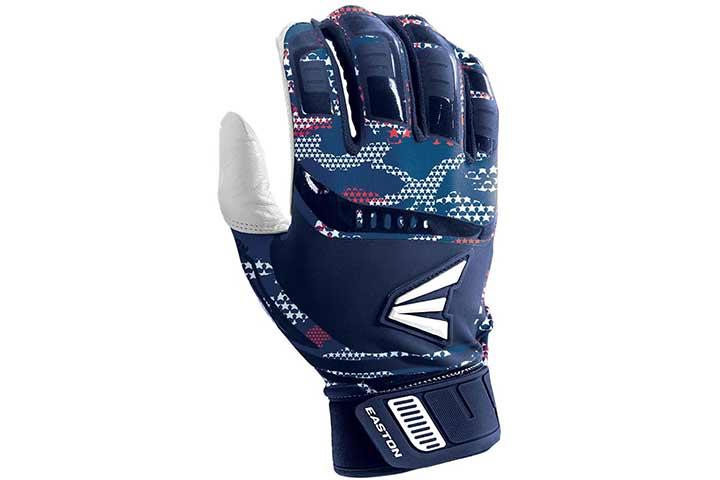 G-Form Baseball/Softball Batting Gloves
These gloves are very solid due to it's SmartFlex pads which improve the durability, an synthetic leather palm to increase the grip support, and an increase in mobility for hitters.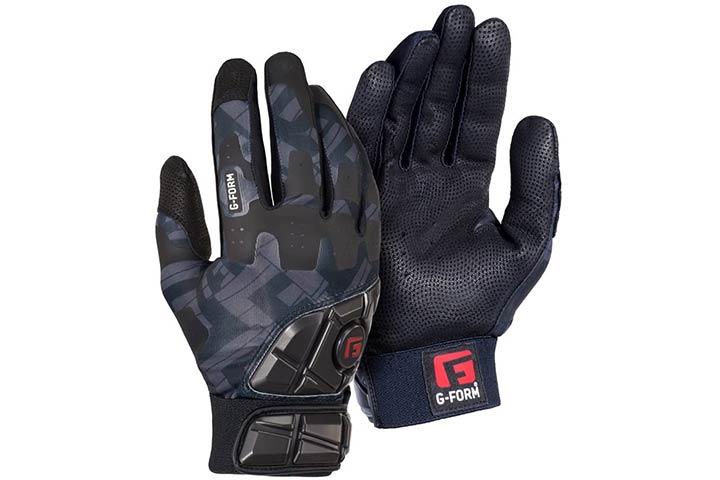 Under Armor Youth Clean Up 19 Baseball Glove
These gloves have a softer feel, offers a good grip, and is relatively durable and supportive. They also do a stellar job in keeping the athletes hands fresh, dry, and cool.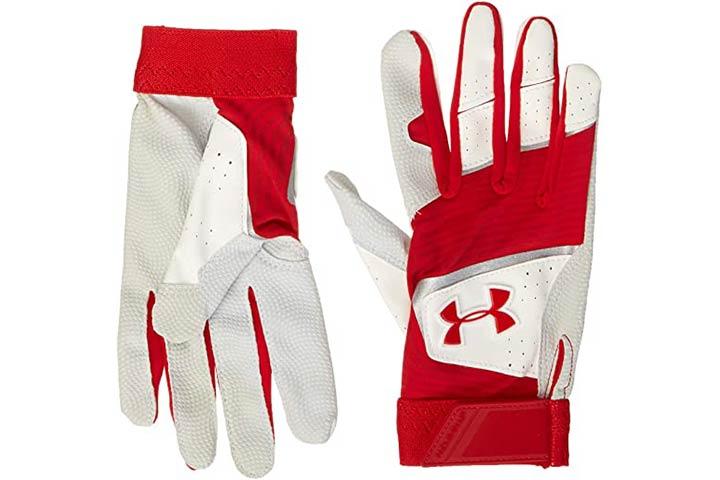 Bruce+Bolt Pro Natural Series Premium Cabretta Leather Long Cuff Men's Batting Gloves
These gloves are said to be extremely comfortable, supportive, and durable. As well as the physical feature the glove offers, it is also aesthetically pleasing and has a cool style.
Franklin CFX Chrome All Star Game Men's Batting Gloves- 2019 Model
The main benefit of this brand is the ability of the athlete to adjust the gloves to get the best possible fit. Also, this brand is said to offer gloves that are comfortable, soft, and stylish.
This list of quality gloves is just to name a few. To view more options, visit the links below.
https://www.momjunction.com/articles/best-batting-gloves-for-baseball-softball_00640933/#:~:text=11%20Best%20Batting%20Gloves%20For%20Baseball%20And%20Softball,5.%20Mizuno%20B-303%20Baseball%20Batting%20Glove.%20More%20items
https://www.baseballmonkey.com/learn/best-batting-gloves-reviews#
Best Batting Gloves for Softball
The glove brands shown previously in this article focused on the sport of baseball. While a similar game, softball is different in many ways, and there are different options when purchasing quality accessories for softball.
Easton 2019 Hyperlite Women's fastpitch Softball Batting Gloves
These gloves are synthetic, durable, and supportive. They also are proven to benefit softball players due to its specific sizing for smaller hands.
Easton Prowess BaseballMonkey Exclusive Women's Fastpitch Batting Gloves
These gloves are known for their style, comfort, secure feeling, and light material.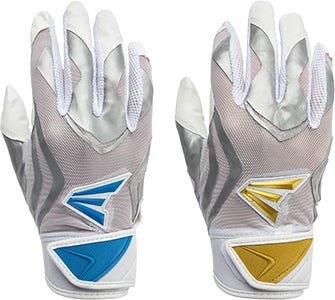 Easton ZF7 VRS Hyperskin Women's Fastpitch Softball Gloves
These gloves are quality due to palm padding that reduces vibration, being easy to fit, light, and offering a good grip.

For more information, visit the link listed below.
https://www.baseballmonkey.com/learn/best-batting-gloves-reviews#
Conclusion
To conclude, there are many brands of batting gloves in the world, and each brand is unique. There are many quality brands, as there are many subpar brands. When determining what is the best batting glove, it seriously depends on the athlete. Looking at elements such as size, amount of support, material included, grip, style, etc., every pair of gloves is different, as every baseball and softball player is different. As stated multiple times over the course of this article, each athlete needs to determine which brand is right for them, as it depends on the individual athlete's preferences. Choosing the right pair of gloves is the first step in becoming a skilled hitter at the plate.
comments