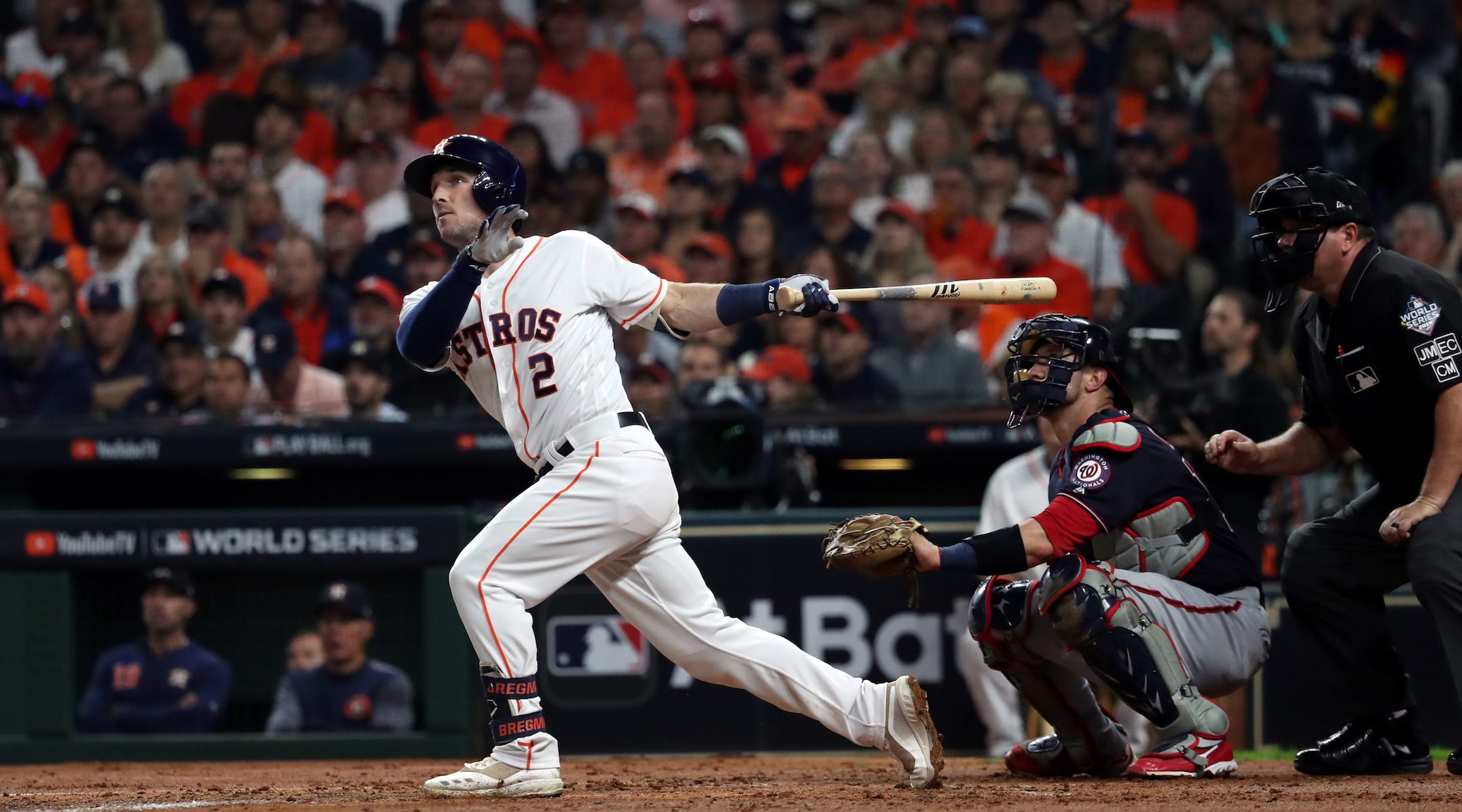 According to Nielsen and ESPN, the Houston Astros and Philadelphia Phillies battle was one of the least viewed World Series events in recent history, especially the Game 6 finale. You could blame it on key college football games, or perhaps the possibility that folks in major markets like New York and Los Angeles couldn't care less. That's unfortunate because this confrontation was highly competitive and provided some epic moments. But despite a lack of national appeal, these Astros are well equipped for the long haul, and not going away anytime soon.
There's no question that Houston loves their team. Among the one million fans that attended a special downtown parade was Mattress Mack, a legendary local businessman who won a $75 million dollar bet on the Astros, and vowed to pass along most of the money to his loyal furniture store customers. Local Chick-fil-A restaurants gave away free chicken sandwiches.
One spirited individual even fired a beer can at Ted Cruz, obviously still annoyed at the senator for vacationing in Cancun last year when Texas residents were left without power.
All this excitement and boldness was made possible on one explosive bomb by Yordan Alvarez, Houston's 25 year old Cuban left fielder. The Astros slugger was in a funk during most this tournament until batting coach Alex Cintron noticed a hitch in Yordon's swing while studying film on Saturday morning before the deciding game.
"He was dropping his hands, causing him to be late on a good fastball," discovered Cintron, a Puerto Rican who played for nine years in the big leagues. "He seemed skeptical at first, but I asked Yordan to trust me."
The adjustment worked and in his final plate appearance during Game 6, Alvarez connected on a 100mpr pitch by Jose Alvarado, sending the ball 450 feet over the batter's eye in dead center field. The shot put Houston ahead to stay, and the full house at Minute Maid Park erupted with a deafening roar.
"I could feel the ground shaking," said Yordon after he rounded the bases. "It was the greatest moment in my career."
Of course, Alvarez is young and will have many more of those moments. So will Alex Bregman, Kyle Tucker, Chas McCormick and Jeremy Peña, the shortstop who filled Carlos Correa's shoes and was ALCS and World Series MVP. All are under contract throughout 2023 and beyond, in addition to Jose Altuve and a strong pitching staff that includes Framber Valdez, Luis Garcia, Cristian Javier and Lance McCullers Jr. The pen is equally potent, with Bryan Abreu, Hector Neris, Rafael Montero, and Ryan Pressly. The latter reliever makes a ton of money albeit worthy as a unique closer, with four solid pitches that always move in different directions.
Martin Maldonado, 36, played through a broken hand in the post season and was a leader and brain trust for the Astros pitchers as the starting catcher. He has an option for 2023, but look for rookies Korey Lee and Yanier Diaz to compete for the job. Whether Houston decides to resign Yuli Gurriel and Trey Mancini, or go with another seasoned prospect like J.J. Matijevic is also uncertain, although these are not considered major decisions. That is not the case with Justin Verlander, the probable Cy Young Award winner who likely is too expensive as a 40 year old starting pitcher. Rookie Hunter Brown, the son of retired ace pitcher Kevin Brown, could be ready to step into that rotation spot.
What might be an area to upgrade could be at the designated hitter position, which wouldn't be a big financial responsibly. Free agent candidates there could be switch hitters like Josh Harrison or maybe even a reunion with Marwin Gonzalez. These would be prudent moves for an organization well handled financially by General Manager James Click and equally run by beloved 73 year old skipper Dusty Baker, both expected to get new contracts.
The word dynasty might not be an accurate assessment of the Houston Astros. That's a pretty strong word. But this is a team that has made the playoffs in eight of the last nine seasons, and have won the World Series twice in that time frame. So when you look at the Dodgers and Yankees as elite teams over the last decade, pencil the Astros in that same category.