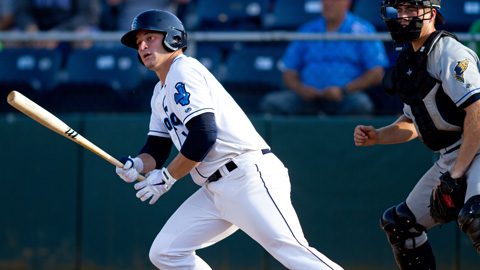 The new CBA draft rules allowed for players to sign a lot earlier than in past drafts, thus giving them almost a full season of playing time under their belts the same year they were drafted. This is great for their development, as well as for fans who get to watch these prospects right away instead of having to wait a year for them to start their pro careers. Judging by the early results, this new system is a complete success. Here are the 10 best pro debuts from the 2012 draft class: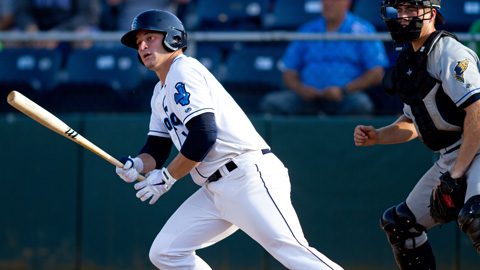 10. Corey Seager, SS, Dodgers, RD-1, PK-18
40 G, .316, 9 2B, 2 3B, 7 HR, 30 RBI, 8 SB, .382/.532/.914
Seager is finishing his first season on a ridiculous tear. Over 19 games in August, he is hitting .382 with five doubles, two triples, seven home runs, 23 RBI, five stolen bases and a 1.219 OPS. The 6'-3", 200-pound left-hander is the younger brother of Mariners third baseman Kyle Seager and his ceiling is higher, especially the power. He has extremely quick wrists which allows him to catch up to any pitch, and the power to drive it all over the field. Shortstop may not be his position at the next level, but his arm is strong enough to play anywhere and his instincts for the game are off the charts.
9. Kyle Zimmer, RHP, Royals, RD 1, PK 5
3-3, 2.04 ERA, 1.19 WHIP, 42 K, 8 BB, 39.2 IP, .267 BAA
Over his 10 innings in the Arizona League, Zimmer allowed one run on five hits while striking out 13 to no walks. In his last four starts for class-A Kane County, he has allowed one run over 23.2 innings with 22 strikeouts to five walks. The 6'-3", 220-pound right-hander has a plus fastball that can touch 98 mph. He maintains velocity late in games and the pitch has some nasty sink to it. He also has a hammer curve that projects to a wipe-out pitch at the next level to go along with a change-up and slider that are above-average right now. His size projects him to a workhorse pitcher with high strikeout totals and low walk totals. Not bad for a guy who didn't start pitching until college.
8. Sam Selman, LHP, Royals, RD-2, PK-66
5-2, 2.06 ERA, 1.07 WHIP, 80 K, 17 BB, 52.1 IP, .204 BAA
Between July 19-August 14, Selman went 3-1 with a 0.67 ERA, 0.89 WHIP and had 48 strikeouts over 27 innings (16 K/9). He allowed just 13 hits over that span, holding opponents to a .133 batting average. The 6'-3″ left-hander relies mostly on a mid-90s fastball, but also has worked hard on the development of his slider and change-up and should remain a starter at the next level. Along with Zimmer, He has been arguably the best college arm to come out of the draft this season and the Royals had themselves a nice draft, selecting two power arms at the top for the future.
7. Lewis Brinson, OF, Rangers, RD-1, PK-29
49 G, .301, 22 2B, 7 3B, 7 HR, 41 RBI, 13 SB, .363/.565/.927
Over his last eight games, the extra-base machine is 12-for-34 (.353) with 13 runs, four doubles, five home runs, 14 RBI, three stolen bases and a .912 SLG. The 6'-3" right-hander has displayed some serious power, as well as going 13-for-15 in stolen base attempts. Considering he is still raw in some areas, including his approach at the plate (19 BB/65 K), the potential for this kid is scary once he refines his overall game.
6. Tyler Pike, LHP, Mariners, RD-3, PK-126
2-1, 1.57 ERA, 1.00 WHIP, 49 K, 18 BB, 46 IP, .178 BAA
Pitching in Florida, Pike was a bit overshadowed by fellow top-prospects Lance McCullers, Nick Travieso and Walker Weickel. Even after going 18-3 combined over his final two years at Winter Haven HS with a 0.70 ERA, 257 strikeouts over 160 innings and holding opponents to a .139 batting average, he slipped to the third-round. The 6'-0" left-hander is a superb control  pitcher with a low-90s fastball to go along with two above-average pitches: curveball and change-up. On July 14, he allowed one hit over six shutout frames with four strikeouts to one walk. Then, on August 8, he tossed a five-inning no-hitter. He followed that performance up with six more shutout innings on August 14, striking out a career-high eight batters to no walks.
5. Addison Russell, SS, Athletics, RD-1, PK-11
44 G, .377, 6 2B, 7 3B, 7 HR, 39 RBI, 12 SB, .439/.611/1.050
Over 26 games for the AZL Athletics, Russell hit .415 with four doubles, five triples, six home runs, 29 RBI, nine stolen bases and a 1.205 OPS. His outstanding play earned him a promotion to short-season Vermont of the New York-Penn League where he hit .340 with five extra-base hits and seven RBI over 13 games. The A's, being very aggressive with him, promoted him once again to class-A Burlington where he is 4-for-16 (.250) with three RBI over five games. The 6'-0" right-hander has some of the best bat speed in the minors and his power should continue to get better as he matures. He has a solid approach at the plate and projects to a high-average hitter to go along with the power, making him a middle-of-the-order run producer at the next level. Defensively, his strong, accurate arm, and overall feel and instincts for the game, should keep him at his current position.
4. David Dahl, OF, Rockies, RD-1, PK-10
54 G, .366, 16 2B, 10 3B, 5 HR, 44 RBI, 11 SB, .407/.590/.997
During his 26-game hitting streak this year, Dahl went 49-for-115 (.426) with 34 runs, eight doubles, five triples, three home runs, 23 RBI and a .661 SLG. The 6'-2", 190-pound left-hander was considered the purest hitter in the draft and has proved it all season long. Because of his speed, natural hitting abilities and defense in the outfield, I have been tossing out the Mike Trout comparisons since his high school days — to many peoples' chagrin, of course. However, based on both of their first season totals, it doesn't seem that far off-base now. The talent, and potential of this kid is on that level.
3. Mike Zunino, C, Mariners, RD-1, PK-3
35 G, .380, 12 2B, 0 3B, 12 HR, 38 RBI, 1 SB, .481/.752/1.233
Zunino was considered the most MLB-ready hitter in the draft and has done nothing but live up to those expectations over his first pro season. After hitting .373 over 29 games for Everett of the Northwest League, including 10 home runs and 35 RBI, he was promoted three levels to double-A Jackson. Over his six games in the Southern League, he is 8-for-19 (.421) with two doubles, two home runs, three RBI and a 1.364 OPS. The 6'-1, 220-pound right-hander has a big swing, and the loft he gets on balls could finally be the answer for Mariners fans looking for someone who can handle Safeco Field. Defensively, he is as good as it gets behind the plate.
2. Joey Gallo, 3B, Rangers, RD-1A, PK-39
50 G, .288, 11 2B, 1 3B, 21 HR, 51 RBI, 6 SB, .422/.718/1.139
After his first three games as a pro for the AZL Rangers, Gallo was hitless. He was 0-for-5, but he also drew nine walks, including five in one game on June 23. Then, over his next 40 games, he hit 18 home runs, setting an AZL record. After his first two games with the Spokane Indians of the Northwest league, he was 0-for-7 with six strikeouts. Then he went 5-for-9 over his next two, including a two-home run, seven RBI game on August 19. The 6'-5", 215-pound left-hander doesn't need much time to settle in and has been displaying his enormous power all season and has been an absolute steal for the Rangers.
1. Jose Berrios, RHP, Twins, RD-1A, PK-32
2-0, 0.70 ERA, 0.55 WHIP, 43 K, 4 BB, 25.2 IP, .114 BAA
Thanks to a fastball that touched 97 mph, and a lethal hammer curve that sat in the low 80s, Berrios' stock was on a steady uphill climb heading into the 2012 draft. Hindsight being what it is, it seems he still didn't climb as high as he should have. The Twins appear to be huge winners in selecting the 6'-0" right-hander out of Puerto Rico whose delivery is as smooth as they come, despite being a bit undersized for the power he possesses. He worked mainly out of the bullpen for the GCL Twins where he posted a 1.08 ERA over 16.2 innings with 27 strikeouts, three walks and four saves. In his two starts for Elizabethton of the Appy League, he has tossed nine shutout innings, allowing just three hits with 16 strikeouts to one walk. His 15.1 K/9 and 10.8 K/BB ratios are disturbingly dominant.
comments