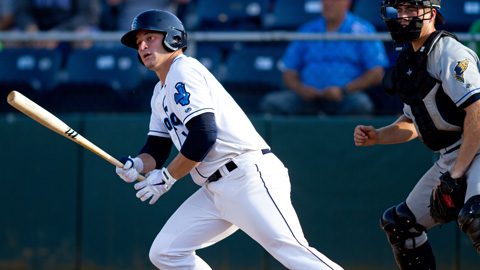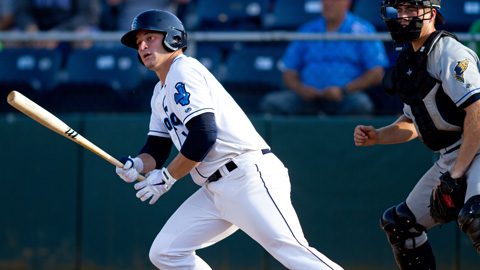 The state of Florida produced some impressive high school arms in the 2012 MLB draft, including the Gatorade National Player of the Year in Lance McCullers, as well as Nick Travieso, Walker Weickel and Zach Eflin. All of those players went before Tyler Pike. None of those players have pitched better than Pike this season.
A 6'-0", 180-pound left-hander out of Winter Haven HS in  Central Florida, Pike went a combined 18-3 over his junior/senior seasons with a 0.70 ERA and 257 strikeouts over 160 innings, holding opponents to a .139 batting average. The Seattle Mariners selected him in the third-round of the draft, signed him a week later and assigned him to their Arizona League.
He struck out four over two innings in his pro debut on June 24, then tossed three scoreless innings in his second appearance, allowing one hit while striking out seven. In his best outing, he went six scoreless innings on July 14, allowing one hit with four strikeouts. On the season, he is 1-0 with a 1.38 ERA, 1.00 WHIP and 27 K/11 BB over 26 innings, and just like in high school, opponents can't seem to touch him. Over his 26 innings, he has allowed just 15 hits, good for a .167 BAA.
Pike has a traditional three-pitch mix with his fastball sitting in the 90-93 mph range. Both his curveball and change-up are already above-average pitches, and he has great control of all three. He has an easy delivery and his mound presence separates him from most pitchers his age. He simply never looks rattled or fazed by pressure.
The Mariners used their first selection (3rd overall) on Mike Zunino, a catcher from the University of Florida who was the recipient of this year's Golden Spikes Award, given out to the best collegiate player in the country. As a junior, the 6'-2", 225-pound right-hander hit .322 over 66 games with 28 doubles, 19 home runs, 67 RBI and a .669 SLG. Aside from being one of the best hitters in the country, he was also considered the best defensive catcher in the draft and a clubhouse leader. Over his three years at Florida, he led the Gators to a College World Series berth every year.
Zunino was assigned to the Everett Aqua Sox of the Northwest League, and over 16 games, is hitting .357 with five doubles, six home runs, 13 RBI and a slash line of .465/.746/1.211. He drilled two home runs on July 17 and hit a clutch three-run home run on Saturday to tie the game with two outs in the bottom of the ninth in a game the Aqua Sox would eventually win 7-6 in 10 innings.
Zunino is likely on the fast track to the majors. At age 21, and already being advanced on both sides of the plate, it's a good bet he reaches the majors at some point next season. Pike is just 18 years old, and although he has been brilliant to this point, the Mariners are going to take their time with him, moving him through the system slowly and at his own pace. They are on different paths, and although they may not be battery mates in the minors, you can bet Zunino will be behind the plate when Pike makes his major league debut in a couple of years.