If there is one thing that is for sure, it's that hair comes in all shapes, sizes and designs. We have seen several players with luscious and luxurious hair through the years. Players get creative with the different haircuts that you see, some like it wild and untamed while others like it crisp and clean. One thing is for sure and that is flow … some baseball players that come to mind when you think of that term includes Noah Syndergaard.
It's a new year for the big leagues, which means a new year to show off some lettuce and flow or elite style buzz cuts. For this 2021 All Star MLB Baseball Hair Team we dive into each position and look into each teams starters. One player at each position will lock it up with the best hair and make up the roster for this elite team and we will also be giving out some honorable mentions as we go along.
Before we dive into the players lets just go over what we look for to make this All Star Hair Team. Obviously, we want something that points that player out of a bunch, maybe some goldilocks or dreads, who knows it wouldn't hurt to add a little color in there as well. A crisp clean cut can go a long way into making it to this team. We have seen some clean line work in hair adding some stripes on the side in recent years.
Let us dive into the making of this team and as a reminder we look at all of the Opening Day starters at the position and starting at the Catcher position.
Catcher: Jorge Alfaro
Right off the bat at our first position you get to see a mild mullet come in. Alfaro the starting catcher for the Miami Marlins was the easy choice at this position as not many catchers like go crazy with there hair. But, Alfaro easily earned this spot on the 2021 All Baseball Hair Team with the nice length in the back and the shorter sides to make out the mullet
Honorable Mentions: Yadier Molina, Buster Posey
First Base: Vladimir Guerrero Jr.
Vlad Jr. of the Toronto Blue Jays tops our list at First Base and how can you not with this look, the dyed tips giving a spicy look here for the slugger. You see him on the field and it will almost certainly make you hungry as these strands might confuse you for some french fries. This look is a power move by a power player. He has many fans, so it is quite obvious that online casinos in Canada get many bets placed on Toronto Blue Jays.
Honorable Mentions: Josh Bell, Yuli Gurriel
Second Base: Jonathan India
Jonathan India lets it flow for the Cincinnati Reds. A great head of hair accompanied by a nice accessory and that is the headband look holding back the curly locks so it doesn't get in front of that face of his. India unleashes the hair as not much going on here but just flat out a nice head of hair on this guy.
Honorable Mentions: Ozzie Albies, Jeff McNeil
Third Base: Justin Turner
Don't let that smile on Justin Turner fool you, he plays with a lot of heart and grit and maybe even some luck. The leprechaun and rugged look gets him third base out of the bunch. The Los Angeles Dodgers are lucky to have this full package of a player as he comes with not only the flow but also the facial hair to complete his look.
Honorable Mentions: Alec Bohm, Jose Ramirez, Josh Donaldson
Shortstop: Freddy Galvis
Shortstop was one of the toughest positions to pick from for this team as we had some good company. Lots of styles and colors, I suggest you go on and look at the honorable mentions and maybe make a decision for yourself as to who should have this spot. Overall we picked Freddy Galvis from the Baltimore Orioles as he can really roll with the dreads. You don't usually see professional players wear dreads like Freddy does. I guess you can say he is just different.
Honorable Mentions: Fernando Tatis Jr., Bo Bichette, Brandon Crawford, Francisco Lindor, Javier Baez, Nicky Lopez, Dansby Swanson
Top 3 Outfielders: Lourdes Gurriel Jr., Clint Frazier, Charlie Blackmon
As we choose our outfielders we decided to go with the top three and make a whole outfield out of them as this is an All Star team. The three here all have a unique style as you see our first player is no shame to the spotlight for an absurd hair-do. Lourdes Gurriel Jr. of the Toronto Blue Jays loves the length at the top, as he can make this into a different variety of styles. He can slick it back or keep it the way he has it in the picture above. If you recall from our honorable mentions at the first base position Lourdes Gurriel Jr. has his brother Yuli Gurriel in there and also coming in with the same look as his brother.
Anyone like a little controversy? Clint Frazier brought that to the table when he made his debut for the New York Yankees. You might know or even if you don't know, you will now, the Yankees have a strict policy on hair length and also being clean shaven in their appearance. Well Clint Frazier made his debut with hair longer than the requirement and created a little stir up there. But as you see in this picture of him he definitely makes our outfield unit with some nice flow.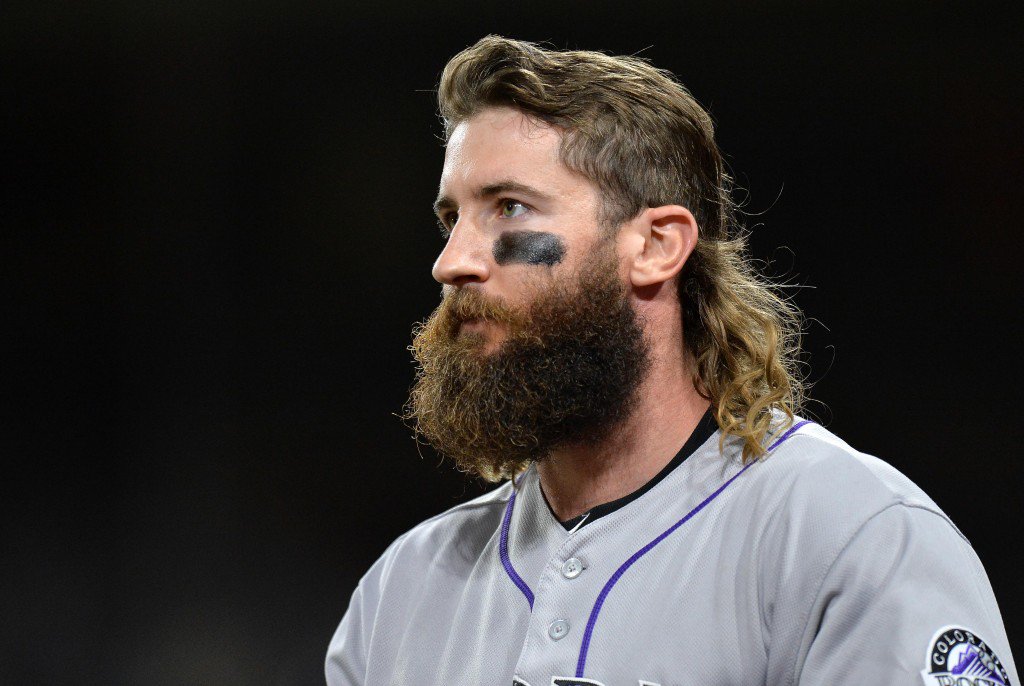 Charlie Blackmon might have the nicest mullet on mankind. Talk about a full package this guy has it all. Not only is he a star for the Colorado Rockies but he is a star on this All Star Hair Team as well. He has the mullet, he has the beard, and he has the eye black, what else is needed out of this guy.
Honorable Mentions: Mike Trout, Ben Gamel, Bryce Harper
Top 5 Starting Pitchers: Carlos Martinez, Dustin May, Johnny Cueto, Chris Paddack, John Gant
For our All Star Hair Team we are going with a full starting pitcher rotation. This rotation is a full combo of good looking fellas, and starting with a guy who loves to change the color of his hair. Carlos Martinez shines in the spotlight whenever his hat comes off because one day it can be white and the other blue. To open the 2021 season Martinez on the St. Louis Cardinals spices it up with some white coloring in his hair and he tops our list to make the rotation.
Your probably wondering how on earth does that hat stay on this guys head. Because I wonder it too, Dustin May of the Los Angeles Dodgers comes in with a pure afro and some poof in the back. This is a sure fire look and gains the attention anytime he takes the mound. May has an All Star look and this is why he made the cut to be on this team.
More dreads making the list and this one can not be skipped over. With some team colors at the tips Johnny Cueto is showing the San Francisco Giants team spirit. Under the cap Cueto also rocks a hairband to hold the hair back and in place so it doesn't whip in front of his eyes. Dreads are not shy to making this team as we've seen plenty already.
Now this is a hair idol right hair, might be one of the greatest mullets you see in your life. Business in the front and Party in the back for Chris Paddack of the San Diego Padres. He knows right from wrong and is doing this whole hair thing right. We might just have to crop the hair and make that our team logo.
Straight flowing hair as it blows in the breeze will take your breathe away. No doubt about it John Gant has beautiful hair. Another St. Louis Cardinals pitcher in the rotation, I wonder if their barber should make the cut. Gant comes with that luscious and luxurious hair we talked about in the beginning of our article as he really lets it flow.
Honorable Mentions: Jose Urena, Zack Greinke, Triston McKenzie, Gerrit Cole, Robert Gsellman
Top 2 Relief Pitchers: Ryne Stanek, Randy Dobnak
Ryne Stanek gives a rugged look here to our relief pitchers. He has the flow though to make the cut. Nothing crazy from the relievers but he stuck out from the bunch with simply a longer style and more to it.
Let's just take a minute to look at this guy and cherish what he brings to the table. How can we not add Randy Dobnak to our 2021 All Baseball Hair Team. The handlebar mustache and the glasses says it all, he is out to get you when he takes the mound.
Honorable Mentions: Kyle Finnegan, Scott Barlow, Rafael Dolis
Closer: Josh Hader
Straight and to the point. I think every single strand of hair on this guy is the same length. Even the smile says "nice hair" and that is what Josh Hader has. If he walks by you, you might just have to stop and admire it, maybe even take a picture.
Honorable Mention: Richard Rodriguez
comments