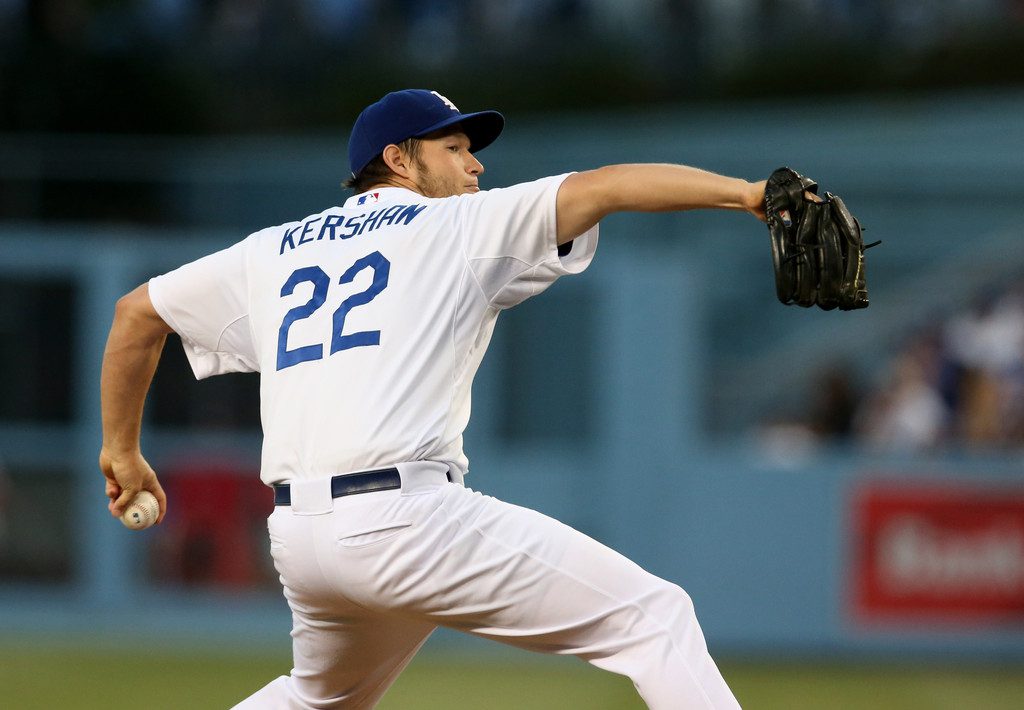 The Los Angeles Dodgers are a heavy favorite to reach the World Series this year, but that doesn't mean there aren't some concerns with this team. Here are a few things that need to happen for the Dodgers to have success in the postseason.
Have Clayton Kershaw throw the first game of every series
If Clayton Kershaw is starting game one of every series, the Dodgers are in good shape. He'll obviously start game one of the NLDS, and if things go as planned, the Dodgers will wrap it up without having to use him again. In 2013, Don Mattingly elected to bring Kershaw back for game four of the NLDS, which almost backfired as they needed a come-from-behind win. Then, in the NLCS, Clayton Kershaw wasn't able to pitch game one, and the Dodgers fell behind in the series and never recovered. Game one can be so pivotal in a playoff series, and having the best pitcher in baseball set the tone is very important to the Dodgers success this postseason.
Hanley revival
The Dodgers talented shortstop struggled – according to his standards – through much of the season, while dealing with various injuries. However, the 30-year-old Hanley Ramirez had his best month in September when he hit .352 with a .425 OBP. A little bit concerning, though, is he didn't homer in September and only drove in 11 runs. Everyone else in the Dodgers lineup seems to be clicking, but if Hanley can get going, it makes it that much tougher for opposing teams.
Dee Gordon has to get on base
A fairly obvious statement, but Dee Gordon is vital to the Dodgers producing runs in chunks. Sure, they can score without Gordon getting on base, but there is a reason Adrian Gonzalez led the league in RBI this year. The speedster Gordon is the table-setter for this offense. When he gets on, there is a good chance he's going to score. Gordon's OBP for the season was .326, but that really tapered off in the last two months. He's dealing with a hip issue that could slow him down, but for the sake of the Dodgers they need him healthy and on base creating havoc for opposing pitchers.
Brian Wilson
The Dodgers bullpen has been shaky at times this season outside of closer Kenley Jansen. Bridging that gap from starter to Jansen will be a test for the Dodgers this season. They worked hard in the offseason to acquire guys strictly for those situations, but none of those signings have paid off. Brian Wilson has been there before, and if he makes the postseason roster, which I think he will just based on experience, then how he performs in late innings could be crucial to the Dodgers' postseason success.
A healthy Hyun-Jin Ryu
Another fairly obvious statement, but Hyun-Jin Ryu's health and effectiveness, if he's deemed ready to pitch in the NLDS, is huge for the Dodgers chances of winning a World Series. The Dodgers were thought to have a killer postseason rotation with Kershaw, Zack Greinke and Ryu, but that loses a little luster if you replace Ryu with Dan Haren. Not only is Ryu an upgrade from Haren in a game three, but it could allow Mattingly to throw Haren in a game four to save Kershaw. Without Ryu, the Dodgers almost certainly have to use a three-man rotation.