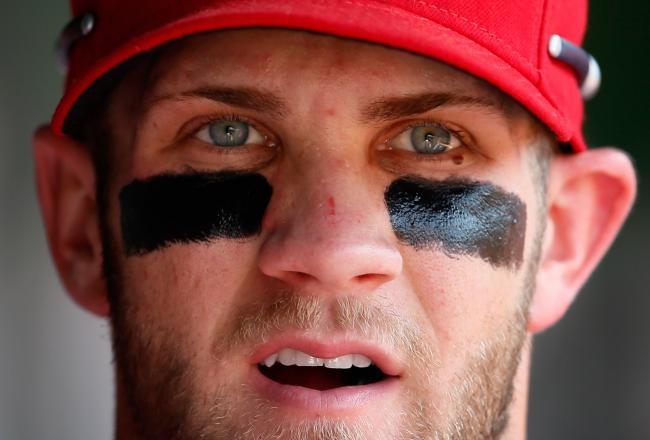 You think Bryce Harper is a little tired of that name by now? By all accounts, the two are friendly and both seem to be rooting for each others' success. Harper has said all of the right things when asked about Trout and the season he has had, but c'mon, inside, the kid has to be sick of all the attention Trout has been getting this season. Every time he turns on the TV, opens up a newspaper (if anyone even does that anymore), jumps on Twitter or any other social network, Trout's face is fully grinning right back at him. Rightfully so, I might add, as Trout has put together the best rookie season ever and is in line to pick up some serious hardware for his efforts as a recently turned 21-year-old sensation.
Just a year ago, however, it was the other way around.
Harper's smirky mug covered in face paint was plastered across seemingly every magazine. He was the talk of the sports world, often called "The LeBron James of baseball" and "The greatest prospect of all time." Rightfully so, as well. After all, the kid had put together a Paul Bunyan-like amateur career and was about to become a major league baseball player at the age of 19.
As the 2012 regular season winds down, and the Angels appearing to miss out on the playoffs as the Oakland A's just refuse to lose, Harper now finds himself in prime position to recapture some of that attention and remind folks, that he, too, has had a pretty damn good season for his age.
Oh, and in case you didn't know, Harper happens to love the spotlight.
When he was 12 years old, he went 12-for-12 in a Super League Tournament. Eleven of those 12 hits left the yard. He was the first sophomore named Player of the Year by Baseball America — hitting .626 with 15 home runs and 55 RBI while hardly getting a pitch to hit. At the 2009 Perfect Game Power Showcase, he hit a ball over 500 ft, the longest home run ever hit at Tropicana Field. He was 16 years old. He was bored and felt unchallenged in high school so he got his GED, dropped out, and enrolled at Southern Nevada University, one of the top junior community college's in the country, which also happened to use wooden bats.
The first ever baseball player to challenge the system, all eyes were on him to prove he was able to handle the pressure. He responded the way Bryce Harper does, by obliterating records and leading the team in nearly every offensive category. Over 66 games, he hit .443 with 23 doubles, 31 home runs, 98 RBI, 20 stolen bases and had a slash line of .526/.987/1.513. He was named the SWAC Player of the Year and destroyed the school's season home run record which stood at 12.
Over three games at the Western District Finals, he went 14-for-18 with three doubles, two triples, five home runs and 18 RBI. In one of those games, he went 6-for-6 with four home runs and 10 RBI.
Often called cocky, the kid has handled himself pretty well this season. Some call him a punk, but when Phillies' pitcher Cole Hamels, "welcomed him to the big leagues", as he put it, with a first pitch to Harper's back in May, Harper, knowing full well the pitch was intentional, calmly took his base. He responded by stealing home off of Hamels on a pickoff move to first later in the inning. He then roped a single to left on the first pitch he saw in his next at-bat.
He plays the game right, even if his emotions get the best of him at times. He grew up wearing a Cincinnati Reds hat, idolizing a player he had never seen play live — Pete Rose. His dad, who used to toss him sunflower seeds and red beans in the backyard of their Nevada home, must have told him all about Charlie Hustle and shown him game footage of the fiery competitor. Harper has a lot of Pete Rose in him.
The expectations weren't as high for Harper when he made his major league debut in May. He had a great team around him, and a guy named Stephen Strasburg was garnering most of the attention, coming back from Tommy John surgery following a dominant rookie campaign in 2011. He didn't have to be "the guy." Hitting mostly out of the two-spot in the order, he has hit .269 over 135 games with 96 runs, 25 doubles, nine triples, 21 home runs, 58 RBI and 17 stolen bases. For comparison's sake, Ken Griffey Jr. hit .264 over 127 games as a 19-year old back in 1989 with 23 doubles, 16 home runs, 61 RBI and 16 stolen bases.
The Nationals are already in the playoffs, having clinched the NL East about a week ago. Strasburg is done for the season, putting a little more pressure on Harper and the rest of the team to come through in the post-season without their ace. Knowing this, Harper has stepped his game up of late. Over 27 September games, he is hitting .330 with 25 runs, seven doubles, three triples, six home runs 13 RBI and four stolen bases. He has a slash line of .393/.631/1.024 over that span.
The Nationals need a deep postseason run to justify their decision to fans for shutting down Strasburg. It's almost as if it's World Series or bust in Washington.
For the kid who said he wanted to be the first-overall pick in the draft (which he was), hit .430 and be the best player who ever lived, the time to shine is about a week away.
I have a sneaking hunch he is going to come through.
comments