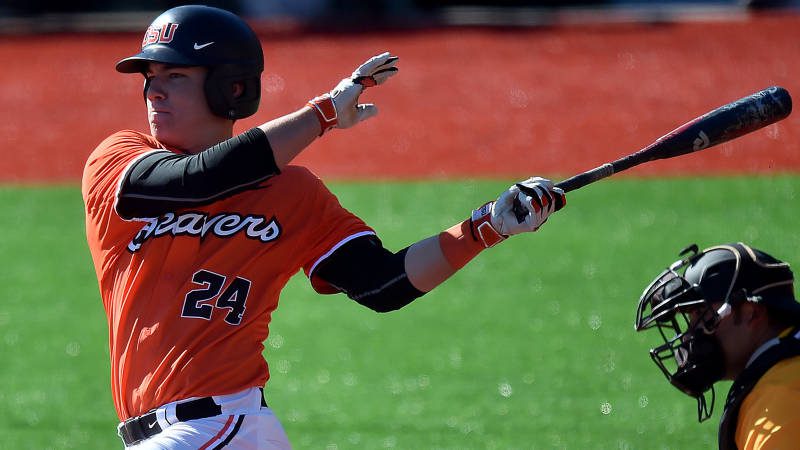 It's a month into the 2015 college baseball season, and we now are getting a feel for the cream of the crop in each class. It has been awhile since I focused on the freshman class, and one thing's for sure, this is a very talented and deep class. Here are 10 players who have particularly caught my attention over the first four weeks: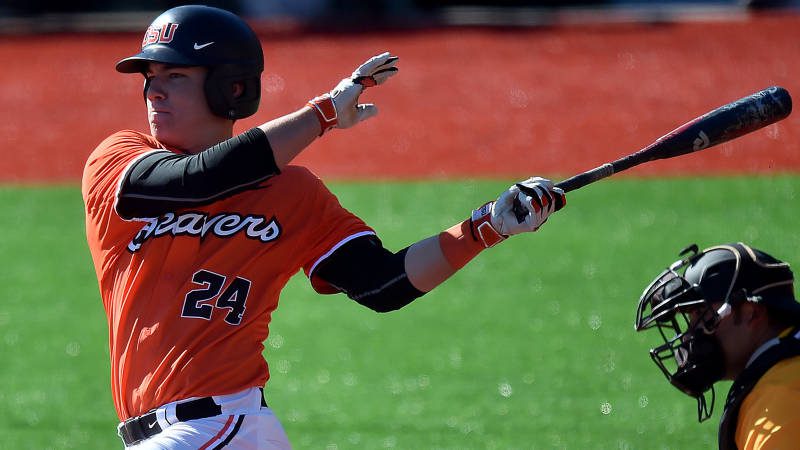 K.J. Harrison, C/1B, Oregon State
Right now, there might not be a better hitter in college than Harrison, a 6'-0", 200 pound right-hander from Kailua, Hawai'i. Through 16 games, he is hitting .431/.526/.892 with six doubles, three triples and 22 RBI, and he is tied for the national lead in home runs with six. He has drawn 11 walks to 11 strikeouts and has shown a very mature approach at the plate, aside from his huge power. Many believe he has the ability to stick behind the plate, but his bat may force him off the position, and first base seems like a likely destination if that happens. Whatever the case, his bat is his calling card and it's been silly thus far.
J.J. Schwarz, C, Florida
Schwarz was regarded as more of an offensive catcher coming into college, and he has been showing it early on. The 6'-1", 190 pound right-hander is hitting .333/.406/.593 through 16 games with three doubles, three home runs and 16 RBI. He has been splitting time behind the plate with fellow freshman Mike Rivera, and he DH's when not catching. There is a lot of raw power with Schwarz and he should hit for even more of it as he matures. He likely has more of a chance to stick behind the plate than Harrison, and he will be a big name in the 2017 draft either way.
Pavin Smith, 1B, Virginia
Smith has been the best hitter for one of the best teams in the nation this season. The 6'-2", 200 pound left-hander is hitting .418/.475/.709 through 13 games with seven doubles, three home runs and nine RBI. He is playing first base this year, and might end up there, but he has a plus arm and is enough of an athlete to get a look in a corner outfield spot. With his raw power from the left side, and mature approach, he's going to be a big name for the next three years.
Kel Johnson, OF/1B, Georgia Tech
One of the better prep power hitters in the 2014 MLB draft, Kel's strong commitment to Georgia Tech caused him to go undrafted. The 6'-4", 210 pound right-hander has good bat speed, tremendous raw power and most believe he will hit for power and average at the next level. He opened the season on a tear, winning ACC Player of the Week honors after going 8-for-14 with three doubles and two home runs over the first weekend of the season. He hasn't really slowed down, either, as he is hitting .371/.426/.758 through 15 games with seven doubles, three home runs and 18 RBI.
David Peterson, LHP, Oregon
Peterson was a highly regarded arm coming into the season and has shown why Oregon was thrilled to land their prized recruit. He struck out seven to one walk over seven innings against St. Johns on Saturday, allowing two runs in the win. The 6'-6″ southpaw is now 2-0 over four starts with a 2.96 ERA, 0.99 WHIP and 26 K/7 BB over 24.1 innings. He shows an above-average change-up and his fastball can touch 95 mph. With continued work on his breaking stuff and command, he should be one of the top arms in the 2017 MLB draft.
Drew Rasmussen, RHP, Oregon State
After dominating in the bullpen role, Rasmussen has continued his success over his first two starts. He has allowed two runs over 15 innings with 14 strikeouts to no walks. He now has a 1.88 ERA, 1.08 WHIP and 27 K/4 BB over 24 innings for the Beavers. The 6'-1", 225 pound right-hander has been sitting in the mid-90s with his fastball and adds solid off-speed stuff. There are some great arms in this freshman class and Rasmussen has soared to the top of the list.
J.B. Bukauskas, RHP, North Carolina
Bukauskas was brilliant in his last start on Saturday, striking out eight to two walks over six shutout innings as he picked up the win against Duke and their ace Michael Matuella. Bukauskas was inserted into the starting role right away this season after showing dominant stuff in fall scrimmages, including a plus slider and upper-90s fastball. The 6'-1" right-hander is now 2-1 over four starts with a 3.05 ERA, 1.31 WHIP and 24 K/6 BB over 20.2 innings, showing good command of his stuff. Bukauskas was the highest profile prep player to not sign last season and should remain so until the 2017 MLB draft nears.
Alex Lange, RHP, LSU
Lange started the season tossing five shutout innings and has been just as dominant in his three starts since. The 6'-3", 200 pound right-hander is now 4-0 with a 1.57 ERA, 1.09 WHIP and 26 K/8 BB over 23 innings. Along with Jake Godfrey (3-0, 1.69 ERA), the two freshmen have led the Tigers to a 15-1 record and a number-one ranking. Lange features a plus curveball, a solid change-up and his fastball has touched 95 mph this season.
Cre Finfrock, RHP, Central Florida
UCF is off to a 14-2 start and top-10 ranking and Finfrock is a big reason why. The 6'-0", 190 pound right-hander has a lightning-quick arm and can touch 96 mph. He adds good secondaries and he has some deception to his delivery, along with good command. Through four starts, he is 4-0 with a 2.05 ERA, 1.14 WHIP and 14 K/7 BB over 22 innings. His stuff and live arm give him top-of-the-rotation potential.
Kyle Marsh, 2B/RHP, Central Florida

Another reason for UCF's success this season is Marsh, a two-way player who has been brilliant at the plate. The 6'-0", 190 pound right-hander came into college seen as more of a pitcher but he is hitting .365/.469/.596 over 16 games with six doubles, two home runs, 18 RBI and 11 walks to just five strikeouts, showing a great approach at the plate. He does have very good bat speed and his early success isn't a major surprise. He also has good defensive actions at second, along with a strong arm. On the mound, he features a low-90s fastball, a wipeout slider and average curveball and change-up. In his first start of the season against a loaded Florida offense, he allowed just one run on two hits over four innings, striking out two to two walks. He is a talented, exciting player with equal upside as a hitter and pitcher.
Feel free to follow me on Twitter @DanMKirby for 2015 MLB draft updates, high school and college news, as well as Chicago Cubs ramblings.
comments