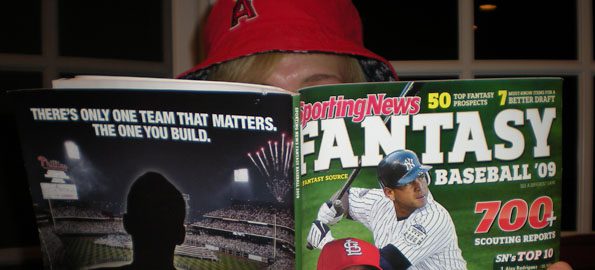 If you are anything like me, your fantasy baseball teams suck … but, with the right fantasy baseball team names, it might not hurt as badly.
I may have poor drafts year-in-and-year-out, and I probably accept some trades that I should not be accepting.
Which explains my finishing in the bottom of the league each and every year.
But, you know what … my fantasy team name is always the talk of the town. For better or for worse.
So, with that, we are happy to provide you with this year's comprehensive list of fantasy baseball team names for you to finish atop your league, even if your team is full of bums and nobodies.
2020 Fantasy Baseball Team Names
Teheran You Apart
My CarGo Boom
Suck my Rick Grimes
The Clay Buttholz
Yoenis Envy
Zach Brexit
Upton Express
Sly and the Family Chone
A to the Rizzo
The Loney Bin
The Dynasty
Horst Hockey
Lake Placido
Fantasy Baseball Team Names
Holding Out for Masahiro
Red Sox Nation
Lindor Truffles
2020 Fantasy Baseball Team Names
I Love the Smell of Papelbon in the Morning
Stroman Troopers
Short Porch Party
Freddie FreeMandela
The Constant Gardner
Bryce Bryce Baby
Fantasy Baseball Team Names
All for Dunn, Dunn for All
Wallbangers
Soler Flare
Screw A. Pujol
Bottom Feeders
Little Cacique
Miggy Azalea
Justin Upton Funk
Ellsbury Fields With Leather
Teheran, Teheran So Far Away
Fowlers for Algernon
Rusty Trumbos
Fantasy Baseball Team Names
Miller Time
Smoak Bunts
Mark Reynolds Wrap
Skaggs to Riches
Extra Bases with Happy Faces
The Roark of the Covenant

The Lincecum Shots
Big Boesch Man
The Morel of the Story
Here's My Number, Cameron Maybin
Looking Illegal
Dotel Me It's Over
Melvin Doesn't Like a B.J
Gettin' Wiggy With It
Kluber Lang Knockout
I'm Lowrin' it
Awesome New York Yankees
TuloWindow TuloWall
The Walk-off Homers
Love me Ortiz me
Can-of-Corn
Let it Lohse
The Hounds of Hellickson
The Balking Dead
Brauny Men
Rockford Peaches
Howardshima
The Lairds of Salem
Fantasy Baseball Team Names
Raburn Notice
The Duda Bides
Hiroki Your Battery Is Kuroda
Yu Utley
Bryce Krispies
You Smoak Cock
Watch Out For Local Buehrglarys
Let's Burnett Down
Punch-and-Judy.

Chris Berman Sucks
The Realmuto Housewives
You Say Tomatoe, I Say Tabata
PED-co Park
The Pet Shoppach Boys
North Correa
Carry on My Heyward Son
Show Me Your Uggla Face
Open Sorias
Victorino is Mine
A Puig of their Own
The Three Moustakas
Reverse Cowgill
Book 'Em Yordano
Funky Cold Mussina
Trim that Furbush
Fantasy Baseball Team Names
Duda ron-ron Duda ron-ron
A Mighty Lind
Humber Liquidators
2020 Fantasy Baseball Team Names
The Price is Wright
Scherzer Happens
Cudd'yer Mak'er
Way over Yonder
Schwarber? I Hardly Know Her!
Snitches Get 108 Stitches
Kylo Renterria
deGrom Nom Nom
Big League Choo
Better Call Sal
Troutstanding
San Diego Rotisserie Chickens
The Kempire Strikes Back

Soup or Salas?
Louisville Sluggers
Brett Lawrie & Order
Jose Reyes of Light
Woman, Get Back in McCutchen
Arroyo Rodgers
Darth Votto
All Betts Are Off
The Olive Garland
We Didn't Start the Fiers
Eaton Disorder
Rock the Vogt
I need sizemore than any of you
Morse With No Name
Your Score is Always Tulo
Championship Beltre
Unzip My Pence
Panik Attack
Hisashi on the Floor
Konerko gives me a bonerko
Zobrist the Greek
Slugging Sebzsox
Never Everth
Up in a Plouffe of Smoak
The Duda Abides
Flacid Force
Boys of Summer
Three strikes you're Trout!
Arms of an Angel
You Are Werthless
Your Mother's Father Determines If Ubaldo
They might be Bryants
Eric Byrnes Joints
Sippin' On Gin Andrus
Fantasy Baseball Team Names
Bat Country
Jason Castro District
Adam "Not Pacman" Jones

The Kempire Strikes Back
I'm on Fiers
Lamb Gyrkoballs
Sherlock Gomes
This Could Be Heaven or This Could Be Hellickson
Vogt or Die
Marmol Said "knock You Out!"
Gose Ride The Wisch
U Foul. I'm Fowler
Fantasy Baseball Team Names
Blagojevich Funded Marlins
Gummie Giants
Soria Winners
Candy Crush Davis
Fantasy Baseball Team Names
MC Willinghammer
Twist and Trout
Crockett & Stubbs
Ahkbarshabazz
2020 Fantasy Baseball Team Names
Fantasy Sports Boss
| Product | Description | Price |
| --- | --- | --- |
| | The Fantasy Sports Boss is BACK! Over 700 baseball players analyzed and ranked for the upcoming 2020 fantasy baseball season. | |
Angels in the Troutfield
My Balls Ichiro
What Would Dejesus Do?
She Got Mous' Knuckles
Peter, Paulino, and Mary
Wily Mo Round in Circles
Fantasy Baseball Team Names
A Streetcar Named Cuddyer
$325-Million Marlin
The Gee Unit
Up Your Pujols
Labor Day Sale
My Dog Skip Schumaker
Asian Schumaker
Cano Smoaking
Fuggin Figgins
Cubs
Fifteenth Century Fiends
I Was Born a Collmenter's Daughter
McGlovin
In It For The Longoria
My Big 10 Inge
The First Bour War
Pitches And Pros
A-Rod Centaur
Nuke LaLoosh

The Utley Ducklings
Shamrocks
I'm CEO, You Shut Up
Balco
Don't Bogaerts That Joint
Spartans
At My Signal, Unleash Hellickson
Practice Safe Sexton
Dozier Huge Boobs
Smoak and Mirrors
Rebel Yasiel
The Posey Magnets
Everyday I'm Russellin'
Prestige Worldwide
DJ Jazzy Jeffress and the Fresh Prince
Underdogs
Lincecum In Your Pujols
Hanley Job
Kempire State of Mind
A Puig Of Their Own
Coo Coo for Coco Crisp
Shockers
Brew Crew
Kinsler's List
Mac Attack
Splendid Splinters
Notorious PAPI
50 Shade of Sonny Gray
Rbi'd For Her Pleasure
Tulo windooooooow, Tulo wall
Dusty's Dog House
Wolfgang Amadeus Cozart
Tanaknock Knock Joke
Hank, Peggy, And Aaron Hill
2020 Fantasy Baseball Team Names
Selig's Pick
Bust a Capps In Yo Ass
Slitherclaw RavenPuffs

Pastornicky on Rye
Better Call Paul
Smoak on the Water
Olivo Oil
Upton Funk
Wanted a Hanley and Got a B.J
1864 Rules
Conner Lingus
trout stuck in your pujouls!
Kenny Powers Posse
Stop…hameltime!
A-Rod For Your Pujols
The Pap Smears
Gaby, Gaby Don't Get Hooked on Me
Just My Ludwick
Rolen with Maholmies
The Trevor Ending Story
Need TP for my Byung Ho
Harveys Wallbangers
For Shizzo my Rizzo
Chris DaVIS-IGOTHS
Hot Pocket Corner
Life's A Beachy
Dexter Farrah Fowler
Hosmer-sexuals
Desmonds Are Forever
Lucrooooooooy Jenkins
Mookie Monster
Sexson The Beach
No soup for Yu!
I love Goooold schmidt
Cleveland Streamers
Huff The Magic D-Ray
The Zobrilla Unit
I Piss Excellence
Votto Loco
Talkin' Baseball
Hurricanes

I Think I McCann
Roy I'm On Halladay
Jayson's Werth it
Choo much Haren my Pujols
Grand Theft Votto
Youkilis Your Mother With That Mouth?
Ruf and Ready
The Silence of Mike Lamb
Senators
Barehand-relton Simmons
Trumbo the Clown
A Streetcar named Cuddyer
Long Balls
Yadier Mind
Jair Jair Binx
Hardy Rock Anthem
CarGo Shorts
Paleo Sandoval
Reds
Flipping the Bat
Where My Picthes At?
If you give a mouse a Mookie
The Melky Ways
Villars of the Earth
Forgot about Trea
Lavarnway & Shirley
Bleacher Bums
Agents of SHIELD
A Maeda Christmas

…More like LongBoria
All the Way Mae
Mujical Mystery Tour
Cashner for Clunkers
Ruggiano Burns
Double Trouble
I like my eggs Odorizzi
Fister Til She's Soria
Marauders
We Need More Cowgill!
Pablo's Sandy-balls
When the praises go up, the Blevins come down
Fat Elvis Impersonators
Houston Lastros
Rauch and Roll Never Forgets
Marky Marcum and the Funky Bunch
Snap into a Timmy Jim!!!!
Jobu Needs a Refill
Choo Talkin to Me?
Hey, Hey, Hey, Its Matt Albers
Manaea vs. Food
Everything is Beachy
Porcello with Mushrooms
Got The Runs
J.P. of Arencibia
The Wheel Burrells
Diamond Kings
House of Karns
Jeter Del Boca Vista
Mench Warmers
Crack That WHIP
Lind Goes to Mars

Cerebral Halsey
Diamond Cutters
What Can Braun Do For You?
Springfield Isotopes
Tulo-git 2 quit
Machado Man
Brauny, You're Doing a Great Job
I fought the Lawrie
Tulow, One and Oh
This Tastes Grossman
Four Balls…how Could You Walk?
Aoki Breaky Hart
Honey Nut Ichiros
There's Morneau
Shove it up Yoenis
Goldschmidt Happens
Hamilton High Dive
Stick It In Yoenis
Fighting Irish
Whirling Darvish
Bad Hembrees
Afrostars
Long Wong Silver
Better Safe Than Soria
Donaldson Trump
Mustangs
Making a Murderer's Row
Dirk Ziegler
Hebrew Hammers
The Duffy Ducks
Springer of Pain
The Capital of Iran is Teheran
Yankees Suck
Light-Tower Power
Granny's One Night Stand

Got Ur Self A Dunn
Rookies
The Notorious P.U.I.G
Blurred Outfield Lines
The Choo Balls
Grand Theft Votto
Kemp Crystal Lake
KFC Pandas
Hitmen
Can't We All Just Get a Wong?
Ranger Danger
San Diego Padres
Dread Pirates
Love It When They Call Me Big Papi
Splish Spash I was taking Sabathia
A Fish Called Wandy
Snell Hath No Fury
The Gift of Gaby Sanchez
Thole Rollers
Firing Blancos
Harangatang Titties
Jerkin my Kurkjian
Tigers/detroit Tigers
Killer Bees
Chooch & Chong
Forget You and the Horse You Rodon
Degrom nom nom
Adam Raised a Cain
Rosie Palmeiro
The Lonesome Death of Jamie Carroll
The WAR Andrus
Walking On Balfour
The Powder Plouffes
Gonzalez With The Wind
Dirty Deeds Dunn Dirt Cheap
Rauching Into the Night
High Ankiel Sprain
TULO windows, TULO walls
Breaston Plants
Melky Surprise
Felicity Bagwell

Mauer Patch Kids
FUKuDOme Endy Pujols
Kansas City Lordes
Sano Strings Attached
Gagne West
Escobar Cartel
Done and Rendon
Ferguson IS the Cardinal Way
Charlie's Furbush
Willinghammer of the Gods
Boys Of Summer
Three Sheets To The Wind
Schilling Me Softly
Oshkosh Boesch
Bad News Cabreras
Morales In Wonderland
Springfield Isotopes
Smoak Bombs
Green Monsters
Suzuki .268
Heyward Jablow Me
Danks Buds
Catalanatto Wine Mixer
Shields at Full Power
Halladay Withdrawl
Hakuna Moncada
She Got A Hairy Boesch
Maybe This Year
Stick it in her Buchholz
Suck My Markockis
Kimbrel's N' Bits
Ass to McClouth
My Uzi weighs a Hamilton
The Duda Abides
Hang Lohse
Jason Heyward Jablome
The Rauch Clips
Steel Cut Olts
Anibal Rising
My CarGo 160 Swiftly
Nolan Arenado Mr. Roboto.

Im CucKoo For CoCo Crisp
Lorenzo's Co-Cain Oil
The Lyon Sleeps Tonight
Cashner Me Outside
Zack & Miri make a Morneau
Quantum of Solano
Zach Dukes Of Hazzard
The Bourn Supremacy
Mo' Money, Mo' Cashner, Mo' Hos
Villarfied
Wada You Want?
Joey Vottofucoco
Doumit Feels Good To Be A Gangsta
Picture Me Rolen
Justin Maxwell's Silver Hammer
Homestead Greys
Bryce Hyper
Lions for Lambos
Choo Talkin' To Me?
Say ReYES to the Dress
ChooWacha
Vicente Black Lightning
Cano CaDuh
The Morneau After Pill
J-Hey Kids
Time To Mo Vaughn
The Thole Grail
Sippin' On Gin Andrus
Bumpin' Utleys
Sidd's Amazing Finches
Praise Marty Moustakas!
Choo
Cowgills Are My Weakness
The Beachy Boys
Jered Dream Weaver
Crushers
Victor Martini"z
It's Like wOBA
We Down With OBP
Murderer'S Row
Kinsler's List
As Good As It Getz
The Braun Supremacy

the fresh PRINCE of bel air
A Shot Of Borbon
God Loves Uggla
The Franchise
Gload the Wet Sproket
Mauer Money, Mauer Problems
Screwballs
Bay of Puigs
Buehrle Joe Derita
Dirt Dogs
Dick Pole's Staff
Primetime
Dodgers/la Dodgers
Suicide Squeeze
You just got MoLestered
Xander's X-Wings
The Pagan Angels
Da Ends Regress 2 Da Means
Stubbed Thome
red raiders
Well Kemp Bush
Dae Ho Lee Grail
I Maeda Mistake
This One Time … in Band Kemp
The Roaming Gomes
Stinky Pujols!
Diamond Dogs
Lowe Level Bombers
Diamond Dawgs
50 Shades of Sonny Gray
A-Rod Handwriting Experts
Smoak on the water
Stauffer? I Hardly Know Her
You and me baby ain't nothing but Marmols
Carry on my Heyward Son
Brain over Braun
Good Morneau America
Akron RubberDucks
Blum Chum

The Mookie Way
Renteria makes my Pujols Byrnes
Frozen Ropes
Air Gordon
Intimidators
Homers
Bust-her Posey
Choo's REY'es Parents?
Calling Anibals and Suzukis
Fire Breathing Lamborghinis
OH NO, YU DITN'T!
To Kill a Marlon Byrd
Lovable Losers
Big Ol' Tatis
Dominators
Grab My Dickerson
Cano Mode
Schwing Batter Batter
Where's Oswaldo
Goldschmidt Happens
Sir Nilly The Silly
Blurred Foul Lines
Murderer's Row
Living McCullers
108 Stitches
Jurrgens Lotion
Power Plouffe League
Feel Like a Humber
Schwarber-shop
Shark(Are)Nado
Wrecking Crew
Hosmer Simpson
My Uzi weighs a Hamilton
My Furbush Ichiro
Your Pujols Stinks
Buffalo Billingsley

The Long Reliever
Duda, She's Buehrle legal!
Bud Norris Facts
The Big Yuniesky
The Naquin and Famous
North Correia Nukes
The Price is Wrong
Sex With Corpas
Don't Rauch the Jukebox
Fantasy Baseball Team Names
If Loving the Cardinals is Wong, I Don't Want to Be Wainwright
Laird of the Rings
The Fife Element
Personal DeJesus
Boo! A Maeda Halloween
Room Only
Tape a Jeter to Her Back
Huge Jaso
Loney Tunes
HBP in the Head
Obi Wan Jacoby
Dr. Strangeglove
Disabled List
Four Inges is Fine
Avila Song Comin On
Juiced
Yes We Mccann
Men of Steal
Neil Sky Walker
El Paso Chihuahuas
Snifter of Brignac
Gashouse Gorillas
Soler Storm
Camptown Ladies Sing This Song… Duda, Duda
Win For Vin
Fister? I Harvey Cano her!
Fantasy Baseball Team Names
Que Es El Punto

Kang Pao Chicken
Smack My Bitch Upton
Indiana Jones and Dae Ho Lee grail
Fruit Loups
Yu Can't Be Serious
Who'S On First
Volkswagen #Vanlife
Marilyn Melancon

Oops! My Moustakas
Escape From Alcantara
Sporting Wood
Miggy Azalea
Smoking Swisher Sweets
Balfour,,take Your Base!
Jarrod's Salty Balls
Hall of Shamers
Men of Steal
Astros to Mouth
The Avante Gardner
Heavy Hitters
Race for LeCure
Atlanta Black Crackers
Get down with the Kipnis
Better Call Paul
Hebrew Hammers
Young Guns
Fantasy Baseball Team Names
Theeeeeeeeeeey're Grandy!!!
Kerry's Big Wood
ManBearPuig
Buehrle Legal Babes
Profar and Away
Want a J-Roll??
Below the Mendoza Line
Usual Suspects
Baked Zito
CC's MPH Diet
99 problems, Pitch Ain't One
Houston Colt .45s
Darwin Barney & Friends
Reservoir Dogs
Tomahawk Chops
Dan "Girl You" Uggla
Fister? No, I only used the Stubbs!
Syndergaardians of the Galaxy
Biracial Angels
Wolverines
Moneyball
lick her in the furbush & poke her in the buchholz
Candygram for Longo!
The Humberjacks
Three Times a Nady
Max Scherzer Videos
Lackeys Open Doors
Balfour the Last Teardrop Falls
Headley over Heals

Juggernauts
Reddick For Rednecks
Chin Music
Storen Wars
Maxwell's Yellow Hammer
Wrecking Ball Four
D'Arnaud Crying In Baseball!
Tan Roark, Tanner Roark, Tannest Roark
Manny Rivers to Cross
Double Stuff Orioles
Buehrle Nekked Ladies
Mat Gamel Toe
Fantasy Baseball Team Names
Macho Machado Man
Trout on Strikes
For Shizzo My Rizzo
Wacha Flacha Michael
Livin' Avila Loca
Puigs
Anibal Lecter
DeJesus Walks
Smoakin' Crack
Let's save Paulo Orlando's house
Tulo Windows, Tulo Walls
North Dolis Forty
Byrnes When I Peavy
Up in Smoak
JUST a Bit Outside
Pictures of Lilly
Moving On Upton
Southside Southpaws
All-Stars
RBI'd for Her Pleasure
Verlander's Blue
Murphy'S Law
Around the Horn
Fielder of Dreams
Say It Aint's Sosa
Lackey waving inflatable flailing tube man
Fielder in the Rye
Butt Slide
Merkel's Boner
Extended Springer Training
VORP Speed
The Bad News Bards
Maeda Gets a Job
Profarential Treatment
The Good The Bad And The Uggla
I say Pineda, you say Polanco
Markakis Ass Sea-Bass

Cano Corn
Bada Bing
Abad Ass
The Wrath of Braun
Wild Thing
Yankees/new York Yankees
Tough Hughes To Phil
The Hebrew Hemorrhoider
Stolen Hunter Pence Signs
The Harvey Wallbangers
Mike's Trouser Trout
Shooting Stars
Gearrin Up
Swing for the Pences
Smell My Grienke
Ballpark Choo
Balco Boys
Stuck in the Middle With Yu
River Rats
Eaton Her Posey
Eaton Mor Chiken
Trouser Trout
Jorge De La Rosy Palms
The Harmon BrewKillahs
Joey Bats of donuts
Willie Mays Hays
Kickin' It Olt Skool
Uggla Infante
I Vogted!
Got a BJ from Kate Upton
Hanley! Hanli! Hanlé!
My Ball Ichiro
Machado About Nothing
A Rod for Your Pujols
Cubs Mascot Dong
Legends
Can the Grandy Man?
Mota+Swisher=Smoak
My Balls Harang Tulo
San Francisco Giants
Save The Last Vance
The Fizzing Whizbees
Randy Wolf in Sheep's Clothing
Say ReYES to the dress
Highlanders
Sizemore Doesn't Matter
Escape from Alvarez

Koji Beef Sliders
A Starlin is Born
Ruf Riders
This Greg is Holland
Bertie Bots Every Flavor Team
Benoit Balls
Chrisbrownwasright
Keepin' It Villarreal
Wolfpack
The Quicker Picker Upton
Shin-Soo Splints
Castro's Astros
Swallow My Lincecum
Colon Problems
Thayer Will Be Blood
Fiers All of Your Guns at Once
What Would DeJesus Do?
Designated Shitter
You Spin My Head Wainwright Round
Wil da Beast
The Altuve Fairy
Who's Afraid of Randy Wolf?
Manny Happy Returns
Matt Tips The Capps
Bob LOB Law
Wright Here, Wright Now
Comfortably Bum
Papi was a Rolen Stone
Youk N Fister
Miggy Mouse Club
The Gast House Gang
Thomehawk Missiles
Kimbrel's N' Bits
Marcum Up Knockem Down
Bleacher Creatures
Mentally Bedarded
Price is Wong, bitch
Notorious PAPI
Machado Man
A Dayan the Life
Annie are you Aoki?
The Chone Heads
Rangers
Prince Is Not A Fielder
Green Eggs & Hamilton
Pete Rose Is My Ga Sponsor
Jokers
Tighten My Beltre
Jelly Doumits
K Marte
Lay Down the Lawrie
Eggs Odorizzi
Fiers of Hell
Tabata Dat Ass
Strop, Drop, and Roll
Melky Discharge
Han-Ram Grand Slams

Rally Monkeys
Arod In Your Pujols
Old Dirty Bastardo
There Goes Masahiro
Pocketful of Buster Posey
99 Problems, Pitch Ain't One
Kipniss Everdeen
Canostradamus
Eric Soda Pop Hinskie
Bob LOB Law
Tampa Bay Rays
I Wanna Fuck U Like An Anibal
Lawn Mauer
Smoking Wieters
The Book of Biogenesis
99 problems, Pitch Aint One
Carrasco Flatts
The Phegley Truth
Did You Try Setting It To Trumbo?
Wizard of Hos-mer
And I was like "Emilio Bonafacio!"
The balking dead
Buster Nut In Her Posey
Taijuan Skywalker
John Buck and the Preacher
The Sixth Pence
License to Cahill
All Hell's Breakin' Lohse
Lutz Play Ball
Ethier Said Than Dunn
Cowgills and Aliens
Kangaroo Court
Beat With An Uggla Stick
Coughlan Nails

Bourn to Run
Back Back Back
Blurred Foul Lines
The Correan WAR
Shoeless Joes
Leyland of Hopes and Dreams
Prince Fielder Body Issues
Visions of Johan
Golden Sombreros
Stolmy Weather
The Starks of Winterfell
Alcides Nuts
The Ja-Kobe's of Baseball
She Sells Cishek By The Seashore
Cuban Missiles
(Jay) Bruce Strength
We Will Rauch You
Yangervis? I hardly know her
Torreyes To The Dress
The CainSmokers
Dozier the Destructor
To Each Their Chone
Galvis Has Left the Building
Cron Thugs
Cool Hand Lucroy
Foulke You Guys
Ellsbury Dough Boy
Third Chone from the Sun
I Bench Linear Weights
Doumit Holes
No Country for Olt Men
Kershawshank Redemption
The Bosch Pit
Zobi Wan Kenobi

Heyward Jablowme
Joc Jams
Laporta Pottie
Baseball Desmonds
Jurickson Park
The Bourn Identity
Pitches Love the Dickey
Rebels
Re-Encarnacion
Starlin Vocal Band
Absolute Bauer
Nine Inge Nails
Kenny Powers
Halladay Comedown
Hate us Cuz Yoenis
Grateful Dead-Sox
Harper Valley PTA
I Like My Women Buehrle Legal
The Octavio Do Tells
MadBum Men
Hal, Open the Overbay Doors
Honey Nut Ichiros
Better Call Sal
Ain't Over Til It's Over
Kevin Useless Tits
WikiLeakes
Bust On Her Bonifacio
Counting Crow
What A Meche
The Flyballers
Bulldogs
Duda Math
Light Sabermetrics
Bud Selig 401K
When life gives you lemons, paint that Schmidt Gold
They See Me Rollins
Stanton Island
Almora Life
Doing WHIP-ets
Admiral Aybar's Rebel Forces

Working the Count
Panthers
Blood Diamond
All
Lawrence of Sanabia
Cum Dempster
It Byrnes When I Peavy
Ballpark Franks
One and Dunn
Braching Brad
Jackie Robinson West
Beantown Bombers
Now you Seager, Now You Don't
Stars & Stripes
Void A-Roid
Kemp be tamed
Citizen Cain
Easy Money
The Mauer the Merrier
Aroldis Swisher & Smoak It
Good Wood
Hold Me Closer, Tiny Dansby
Goodfellas
Team DumbleOdor
Detroit Rauch City
Joe Buck Yourself
Ryan Doumit To Hell
We've Got The Runs
Jobu Needs a Refill
Tumbling Daisuke
Sexy and I Cano It
Madison Budwesier
Cardinals/st. Louis Cardinals
Ass To Mclouth
Don't Bogaerts It, Dude
Trout Fishin'
Jair Jair Binks

Got a B.J. from Upton
50 Shades of Sonny Gray
Personal DeJesus
Machado about Nothing
All-U-Can Eaton
The Wizards of Hos-mer
The WAR Mongers
The Barnhart Part 4
The Rites of Springer
All about the base (ball)
The Price Is Wong
Latos Intolerant
Every Which Way But Lohse
GoGetMy Beltran, Boy
Come Avisail Away
Can't Find A Betemit
The Bird is the Word
50 Cents of First Pitches
I Walk the Linebrink
Know When to Fuld 'Em
Mudcats
Bartolo's Cologne
Team Redundant Team
Stanton Island
trout
Brains Over Braun
Machado About Nothing
For Whom the Odubel Tolls
Better Call Paul (Goldschmidt)
Tabata Bing
Detective Craig Kimbrel
Stallions
McCutch Oven
Colonel Angus

We'll always have Neris
Lumberjacks
linceCUM in my mouth
Puiggy Went Wee-Wee-Wee
Penny's Envy
Minnesota Twins
Can"t Hanley The Truth
Enrico Pallazo
Lamb Gyroballs
You don't want Cano problem, Sano problem with me
Rusty Trumbone
Oldies But Goodies
Want a J-Roll???
Why You Madson?
Doc Gooden's Colombian Rosin Bag
Rendezvous with Ramos
Lil Sebastian's Favorite Team
Never Mind the Pollocks
John Mayberry RFD
No Pepper
Bwards Drawers Are Full!
Rollie Fingers Ur Mama
Pedroiaphiles
Big Red Machine
Lollygaggers
Inglorious Bastardos
You Don't Bring Me Fowlers (Anymore
Killer B'S
Phillips Screwdriver
AJ Griffindor
Come Sale Away
Chicks Dig The Long Ball
King Fix-It Felix
House of Syndergaards
The Battle of Ever Mauer
Napoli Dynamite
Moe, Loney, Kershaw, & Kemp
Ianetta, Hear Me Roar
Red Sox/boston Red Sox
Buehrle Byrd Gets The Worm

Jurassic Byung
Balco Bombers
Kratz Test Dummies
Fowlers on the Wall
Huston Street We Have a Problem
Bangin' Skanks Shootin' Blanks
Wong Gone
Rollie Finger Rolls
Fantasy Baseball Team Names
Eaton Pujols
I Need More Mauer, Scotty!
Fantasy Baseball Team Names
Mad Abreu
Holmberger Helper
Dem Bums
The Not-so-Pretty Nolascos
Jizz In My Pence
Mayberry Fields Forever
Picket Pence
Hosmer's Odyssey
Chico's Bail Bonds
The Bour Supremecy
Syndergaarden Cop
The Curtain Call Never Came
Kershawshank Redemption
Putz in Boots
Mr. Kate Upton
LaPorta Potties
Colon Problems
Coughlin Corner
Have a Seager
Enter the Fister
For a Few Fowlers More
The Rizzorectors
A Girl has Nolasco
The Chone 'Nuffs
Sacrifice Blunts
Cargo In My Pants
Off-White Sox
My Name is Votto, and I Like to Get Blotto
Sum of All Fiers
My Big Unit
Upton Girl
The Musial Suspects
Altuve OfThe Warrior
Want To Touch The Heisey
Dee's (Gordon) Nuts

Fantasy Baseball Team Names
The Pen Is Mightier Than the Schwarber
12 Angry Mets
Fantasy Baseball Team Names
You Make Me Wanna Trout
Exile on Huston Street
Big League Choo
Wrigley Blue Ivy
Evil Kempire
Tiagra Woods
Rolen in my 64
Han Sulowitzki
Turn Your Head and Coughlan
Vlad The Inhaler
Hakunah Tabata
Degrom nom nom
Fantasy Baseball Team Names
Desolation Of Smoak
Adam Eaton Pussy
Shot of Borbon
Mets
Prince Fielder Up Last Night
Rolen in the Deep
Carlos Santana's Greatest Hits
Look at the Buxton Her
LaPortahouse Steak
Fister? I Hardly Know Her
Call For My Dickey
Dickey in a Box
Get the Ponson Out of Your System
Biff It Like Beckham
Untouchables
J.J.'s Hardy Boys
Gone With The Lind
Heyward You Blow Me?
Tampa Bay Carly Rae's
Kozma's Factory
Yu, crank dat Soulja Boy
Sons of Beachy
Reyes the Roof
Curtis' Grandy Men
I dream of Jean
Like A Boesch

No Mas Tomas
Swollen Ankiel
The Amazing Reyes
Victorious Secret
The Full Almonte
Sweet 'n Mauer Sauce
Gin Andrus
Chris Archers of Loaf
Jews for Jesus Montero
Carlos Carrasco Tabasco Fiasco
The Phallophobias
Funky Cold Molina
Fantasy Baseball Team Names
Dollar Dogs
The Cahills Have Eyes
Gas House Gang
Voldemortenson
Morneau After Pill
Garland of Thorns
Jeter North
Vin Scully's Homeboys
Spick and Span
Miggy Mouse Club
Votto-erotic Asphyxiation
Yu R.A. Dick(ey)
Morse -••• –•—
Yo bitch is Uggla!
Rock the Aybar
Who Got the Runs?
O's Say Can You See
The Dream Team
You Don't Mess With The Johan
Kings of Leonys
You Can't Hide Your Ryon Eyes
Blurred Outfield Lines
The Starlins
Jackson Jacksoff
Fister? I Harvey Cano Her!
Fantasy Baseball Team Names
Bad News Bears

The Dave Mattheus Band
Lawn Mauers
Shake & Bake
Funky Cold Molina
For Whom Heath Bell Tolls
I'm sexy Andino it
Save a Horse, Ride a Cowgill
Fantasy Baseball Team Names
Aubrey Huffs Paint
Latos Intolerant
comments