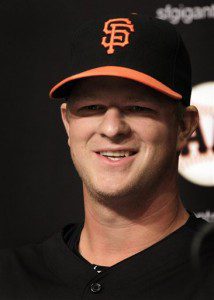 The Giants have agreed to terms with Matt Cain for five years $112.5 million. This makes the All-Star the highest paid right-handed pitcher ever in baseball. Cain will earn $15 million in 2012 and then the new contract extension will kick in.
In 2018 the Giants have a $7.5 million buyout option, or a player vesting option to keep Cain for $21 million.
This move benefits both parties. Cain gets to stay a Giant for his whole career, most likely, as his contract comes with a no-trade clause. He is also recognized as one of the best pitchers in the game.
Cain was slated for free agency after the 2012 season, he likely would have made a little more money as many suspected the hated Dodgers would have gone after him hard. The Giants got a little bit of a hometown deal for their workhorse. Cain has pitched over 200 innings in each of the past five seasons.
With a 2.88 ERA last season, Cain cannot be judged by his 12-11 win loss record because of the lack of run support he gets. Cain also gained a lot of fans in San Francisco during their 2010 World Series run when he allowed no runs the entire postseason.
Getting this done before the season started is a benefit to both parties. This won't be a distraction for anyone like it could have been. Neither party wanted that, as Cain said that contract talks would stop when the season started.
Keeping pitching in this division is key, as most of the ballparks are pitcher friendly.
Another big winner of this deal is the Giants ace Tim Lincecum. Lincecum is a free agent after the 2013 season, and he will look for even more money now. Since Lincecum is the number-one starter ahead of Cain, there's no reason he won't get plenty more money than his teammate.
The Giants have shown they want to keep their homegrown talent, especially the pitching staff. It is important to the organization to keep these pitchers, because as long as they are together, the Giants will always be in games. With this staff intact, the Giants will always be in World Series talks. Okay, maybe they could do without Barry Zito.