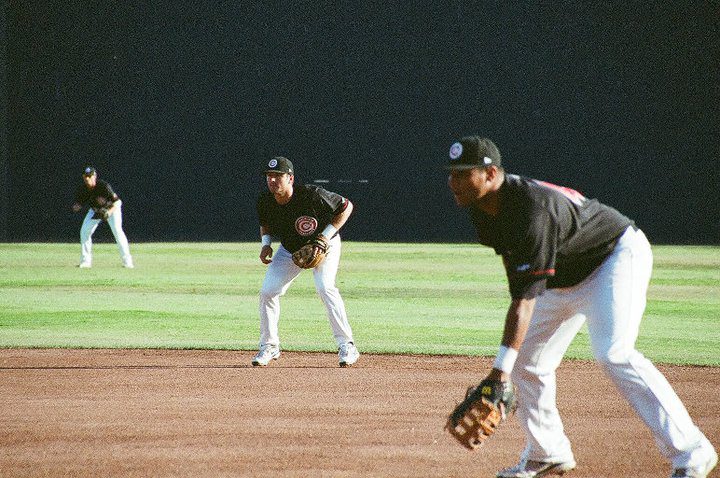 Extended spring training. Some people may be familiar with it, while others have no idea it even exists. Occasionally, you will hear about a big leaguer who is injured and rehabbing in extended spring. To be honest, I didn't know what it was all about until this spring, experiencing it first-hand.
The basic reason for "extended" (as it's referred to by all the players) is that organizations don't have enough full-season roster spots for all of the players they carry. Every organization has a triple-A, double-A, advanced A, and A ball teams, with 25-man roster limits on each team. But, they have far more minor league players than those 100 spots allow. Most of the guys who make up extended spring training rosters are players who didn't make any of the full season rosters. This includes players from the U.S. and often many players from the Dominican Republic, Venezuela and all parts of the world. There is also another group of players who are in extended: rehabbers. These are guys from any minor league level (and major leagues) who are recovering from injuries and aren't ready to play yet. To sum it up quickly, an average day in extended spring training includes a morning practice followed by a game played against another organization's extended team.
Extended generally isn't a place where players want to be because either you didn't make a team that you were hoping to or you are injured. But, there is one really cool perk to being in extended:When major leaguers rehab from injuries, they play in extended. In just over a month, I have played against Ubaldo Jimenez, Joel Pineiro, Angel Guzman, Aaron Heilman, Andres Torres, Scott Kazmir, and Willie Bloomquist. Most of these guys are already back playing in the "bigs" again, and they were here rehabbing from minor injuries.
I got a chance to face Jimenez, Pineiro and Guzman, getting a hit off of Jimenez and drawing a walk off Guzman. I have a video of my single off Jimenez posted below. Many people have asked me what it was like facing those guys, because it's obviously a great experience. The biggest difference I saw in those guys was an ability to make all of their pitchers move, including fastballs, and how well they locate all of their pitches. Pineiro isn't a hard-throwing starting pitcher, but he can throw all of his pitches for strikes, and he doesn't throw anything straight. He is constantly changing speeds and location — two keys to success for any pitcher.
There is no doubt that playing against these famous guys is exciting, but every player's goal in extended is to get out of extended. Some of that is in my control, like the effort and attitude that I give every day and the improvements that I make. But there are many things that are out of my control, like other players' performances and the decisions of the organization. The important thing for me is to worry about only those things I can control and let the rest take care of its self.
comments