Lots of movement days before the draft. Out of any of these I have covered, the 2020 and 2021 drafts are the hardest yet. The COVID-plagued 2020 has seeped into these drafts, so expect to see some wild first round selections on July 11th. Makes for a fun draft though, right?

1. Pittsburgh Pirates: Marcelo Mayer, SS, Eastlake HS (CA)
The top of the draft is very different than originally predicted. Mayer's profile is becoming increasingly clearer by the week. He's another prospect who doesn't have any one skill better than the other as he does just about everything right. Much like many shortstops we've seen lately in the first round over the past five years, Mayer is a tall and lean player who isn't a burner but has raw power that makes you wonder in delight of what he could become.
2. Texas Rangers: Jordan Lawler, RHP/SS, Jesuit Prep HS (TX)
The closer we get to the draft, the better Lawler looks to me. A big-hitting shortstop in the mold of a Carlos Correa is hard to pass up. There's a lot to like about Lawler. He does just about everything right, but isn't elite in one skill. Sources are telling me the Pirates are leaning more towards an infield bat with the number one pick. If so, the selection will be Lawler or Marcelo Mayer's to lose. Texas has been targeting pitchers, but they need to solidify the middle of their infield's future. Arlington will welcome Lawler with open arms.
3. Detroit Tigers: Jack Leiter, RHP, Vanderbilt
Detroit has been recently attached to Jackson Jobe, but they'd be idiots to select another high school arm that'll take years to develop. They are in a rebuild situation where winning is just starting to happen, and Al Avila knows that for the sake of his job and for the sake of the city. Leiter is the same type of prospect they've been comfortable drafting in the past. From the moment his name was called, with the Yankees' 20th round selection in the 2019 draft, there was something always special about this kid.
His 12-6 curve is devastating and the rest of his arsenal is scary good. Franklin Perez's fall from grace, Beau Burrows going from a first round selection to being cut recently, and with Alex Faedo's injury and jam in the minors, oh, and not to mention Joey Wentz's up and down progress in the minors, forces Detroit to nab a proven arm that can fly through the system and help the rotation sooner than later. Leiter is the safe bet. Leiter is the guy, if he's here. If not, watch for Brady House and Kahlil Watson at three.
4. Boston Red Sox: Henry Davis, C, Louisville
The New York native wasn't on anyone's radar in the first round to start the season. Which is a bit odd considering he's been better each year of colligate play. Davis isn't just a defensive catcher, he can hit too, and that seems to be where the trend for catchers is now the past few drafts. If you can hit, you're going to be selected in the first round. Simple as that. Boston needs catchers. Thank the baseball Gods if he falls here and take him quick.
5. Baltimore Orioles: Brady House, IF, Winder-Barrow HS (GA)
No way Baltimore passes on House. It's hard not to like him. There are some Nolan Arenado/Josh Donaldson comparisons that scream potential superstar in the making. He's a fringy runner but a solid glove at the hot corner and at shortstop. Baltimore needs an infielder with a ceiling close to what Manny Machado was. House fits that mold. Kahlil Watson could also be another option here if House is gone.
6. Arizona Diamondbacks: Kumar Rocker, RHP, Vanderbilt
If Rocker falls to Arizona at six, they'll be almost forced into choosing him. While Jackson Jobe, Sal Frelick and Kahlil Watson are tempting, Arizona needs to remember they don't have a blow away pitching prospect in their system. Immediately after 2020's draft, Kumar Rocker's name was atop everyone's list for the 2021 draft. The hulking build is impressive, yes, and he knows how to use it to maximize his throws, but to me what's most impressive is that his command has improved since he was first drafted a couple years back. He's not a magician or even a technical pitcher. He's a work horse. The one concern is if he will only rely on his velocity to get batters out. Because, if so, he'll jump on a fast track to the bullpen rather than a starting role.
If I were him, I'd study what CC Sabathia did over the course of his 19 years in baseball. The two are an easy comparison. It's the possible key to Rocker's longevity. Even if he flames out as a starter, he'll find success in the bullpen. Much like I said when I had him at three with Detroit in my last mock-draft (before the NCAA tourney), low-risk, high reward here for Arizona. Pick him.
7. Kansas City Royals: Sal Frelick, OF, Boston College
Frelick is moving on up! Frelick is good enough to compete for a top-five selection. He's one of my favorite picks. At first glance, it's hard to predict what Frelick's career will turn into. He's a smaller player with a lot of pop. Will this pop translate well in the bigs? Hard to say. Will he find a niche as a fielder/runner instead? Still, hard to say. If we're talking hitting, then yes, Frelick is going to thrive. He's legit.
8. Colorado Rockies: Kahlil Watson, SS, Wake Forest HS (NC)
Look at this! Watson has snuck into the top-10! While I truly believe he's a top-10 talent, the run on shortstops at the top here will force teams to go with their guts. And their guts are yelling "Kahlil Watson, damnit!". He's a speedy shortstop, who plays bigger than his 5'9″ frame. He knows how to pick the right pitches to hit and never chases outside stuff, especially when behind on counts. This pick is also insurance in case they lose Trevor Story in the near future.
9. Los Angeles Angels: Jackson Jobe, RHP, Heritage Hall HS (OK)
Every year there's a high school pitcher that hops into the top-10 that came out of nowhere. Here we go again. And here is another pitcher/shortstop out of Oklahoma, who could be selected in the first two rounds. What's in the water down there? Jackson Jobe is more valuable as a pitcher, and he has attributes that are hard to ignore. His slider is easily the best slider in this entire draft.
10. New York Mets: Matt McClain, SS, UCLA
He's Ian Kinsler and Merrifield with more pop. McClain's collegiate career has been impressive and put UCLA back to prospect gold status. The Mets need infield bats who can actually hit. And if they snag McClain here, they'll be getting an advanced hitter with great work ethic and leadership.
11. Washington Nationals: Ty Madden, Texas, RHP
And just like that, Washington steals the Mariners' top pick. In his prep years, Madden's fastball stuck around 95. Since then, it can often touch 99 MPH. With the uncertainty of Stephen Strasburg's health and Max Scherzer's longevity, Madden is a must pick prospect.
12. Seattle Mariners: Will Bednar, RHP, Mississippi State
The star of the College World Series has made the leap of leaps in my mock draft. Bednar could even fall into the top-10. Seattle wanted Texas Longhorns' Madden, so they'll not risk going for a prep arm and will go after a collegiate arm that can rise through their system quick and help out their lackluster rotation in a season or two.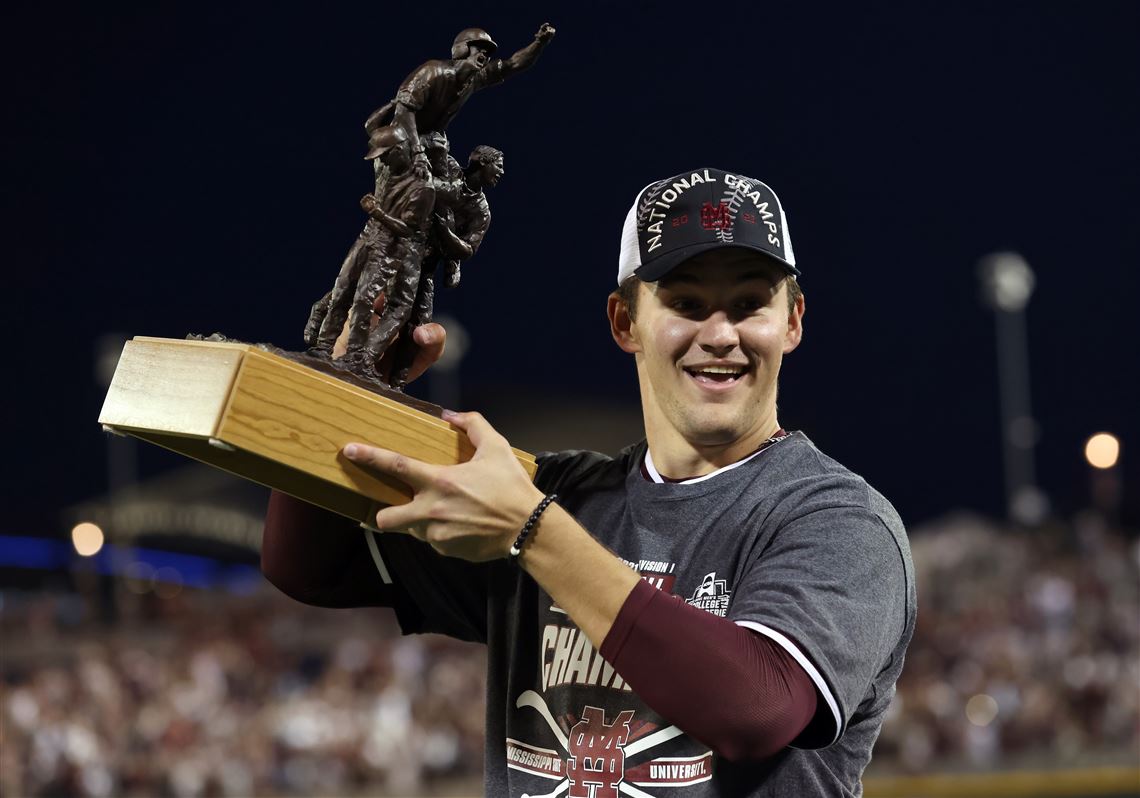 13. Philadelphia Phillies: Colton Cowser, OF, Sam Houston
Cowser has the prettiest left-handed swing you'll see. There's debate whether he'll play centerfield in the pros or one of the corners. His arm is okay, nothing great, but he does have good angles to the ball. The Phillies need more college bats in their system and Cowser is a good addition. Plus, Mickey Moniak isn't panning out all that great at the moment. Cowser is insurance.
14. San Fransisco Giants: Sam Bachman, RHP, Miami (Ohio)
Bachman's stuff is really good. He should fly fast through the minors. Much like Rocker, if he doesn't pan out as a starter, there is a lot of upside as a hell of a reliever in the making.
15. Milwaukee Brewers: Joe Mack, C. Williamsville East HS (NY)
Mack has proven he's a quality catcher offensively and defensively. While he is committed to Clemson, many believe if selected in the first round that he'll sign. The Brew Crew haven't had a good all-around catcher in a while. Mack could be their version of Joe Mauer.
16. Miami Marlins: Harry Ford, C, North Cobb (GA)
Ford's bat speed is among the best in the 2021 class. His stroke is smooth and he's athletic as they come at the backstop. Hard to say if he'll sign if he falls out of the first round, which is doubtful at the moment. Whenever he does make it to the show, he'll stick at catcher. He can also play some outfield, too. Right now his name is gaining traction, so don't be surprised if he enters the top-15, because hitting catchers are becoming a need.
Miami is missing a legit catching prospect in their system who can hit. Enter Harry Ford.
17. Cincinnati Reds: Benny Montgomery, OF, Red Land HS (PA)
A tremendously raw contact hitter with good size and strength, Montgomery has comparisons to the likes of Hunter Pence, Jayson Werth, and Josh Reddick.
18. St. Louis Cardinals: Jordan Wicks, LHP, Kansas State
There's not many great lefties in this year's class. Wicks is among the best of them. His strikeouts might appear more gaudy than legit, sure, but he's got some real stuff that seemed to develop each time he stepped on the bump.
19. Toronto Blue Jays: Andrew Painter, RHP, Calvary Christina HS (FL)
Either you love Painter or you don't. So many mocks have him in the 10-20 selection range, which is probably where he'll be selected. He's a hard prospect to pinpoint presently. Painter is 6'6″ and is one of the most athletic pitchers in this year's crop. It also can be said it's a weaker pitching class after Rocker and Leiter, so Painter could slide just about anywhere, I suppose. Toronto have been spoiled by fast-rising prospects and Painter is much of the same.
20. New York Yankees: Bubba Chandler, RHP/SS, North Oconee HS (Bogart, Ga.)
A one-time Clemson football recruit as a quarterback, Chandler is considered this year's best two-way prospect. Since the combine, he's gained more traction, so if he went in the top-15 I wouldn't be surprised. It's undetermined right now if he'll become a better fit as a pitcher or a shortstop. However, with Shohei Ohtani's current season to remember, maybe Chandler is groomed for both?
21. Chicago Cubs: Jud Fabian, OF, Florida
What a drop! Fabian is officially out of the top-20. A natural hitter with more hit ability than power, Fabian wowed scouts with his knack of barreling the ball to all fields as well as his maturity at the plate. In the wood bat leagues, he never laid off the gas. Strikeouts have become a problem for him, though. 2021 really hasn't been the kind of year he had hoped for performance-wise.
22. Chicago White Sox: Colson Montgomery, SS, Southridge HS (IN)
Montgomery's rise and fall probability is in the range of fellow infield prospects Izaac Pacheco, Maxwell Muncy, and Alex Mooney. Each are solid, but their selections are based on how well an organization feels their ceiling is. Montgomery has good makeup, and I feel he's destined for the first round as well as a great value pick here at 22.
23. Cleveland Indians: Ethan Wilson, OF, South Alabama
When everything is clicking, Wilson devastates pitchers that leave the ball over the plate, specifically speaking, southpaws. His defense isn't as comparable, so what will get him picked in the top-20 is his offense. He's one of the more polished college hitters in this draft as well and Cleveland needs more hitters with his profile.
24. Atlanta Braves: Anthony Solometo, LHP, Bishop Eustace HS (NJ)
There's a chance Toronto takes Solometo as they've been heavily linked to him, but ultimately they're in a winning window right now, so they'll opt for a college pitcher rather than the riskier prep pick. Stating this, it would be good news for Atlanta if Toronto did as such. Solomento is gaining traction among teams. He could even slide into the top-20 in days to come.
25. Oakland A's: Izaac Pacheco, 3B, Friendswood HS (TX)
Pacheco's bat is his calling card. His raw power is similar to Brady House's, however, his left-handed thunder is probably the best in the 2021 class. Pacheco seems like an Oakland guy. At 25, there's still plenty of quality first round talent. Shortstop Alex Mooney, third baseman Wes Kath and free-falling right-hander Jaden Hill are among the other possibilities here as well.
26. Minnesota Twins: Gunnar Hoglund, RHP, Mississippi
Scouts are torn if Hoglund will develop into a mid-rotation starter or an end-rotation starter. There are even those who think he's destined for a reliever role. Most of his pitches are still maturing, and his velocity doesn't seem to hit the upper 90s yet.