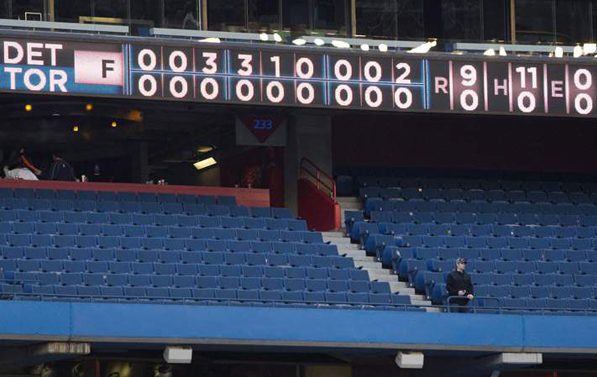 Justin Verlander took the mound in Toronto this past weekend knowing the struggles his team had gone through in the early part of the season. What Verlander didn't know was that he was about register a performance that may be exactly what turns around the 2011 season for the Detroit Tigers.
After nine masterful innings, the Toronto Blue Jays had as many hits as they did runs: zero. Verlander had pitched his way to his second career no-hitter, becoming just the second player in Tiger history to pitch two no-hitters. Virgil Trucks is the only other Tiger to throw two no-hitters back in 1952.
Verlander's performance wasn't just masterful, it was also dominating. He needed just 108 pitches, 74 for strikes, to no-hit Toronto. What stopped Verlander from throwing a perfect game was a fastball just off the plate on a 3-2 count to Blue Jays catcher, J.P. Arencibia, in the eighth inning. It was the twelfth pitch in the at-bat and just the second three-ball count Verlander had faced in the game.
Out of the 108 pitches thrown, many were fastballs, and many left Blue Jays hitters shaking their heads at just how fast they really were. After keeping his fastball in the mid-90s on the scoreboard radar through the early innings, Verlander decided to turn up the heat as the game went on. Multiple times, he hit triple digits in the late innings, none more astonishing then the 100 mph fastball he threw on his 106th pitch of the game.
The performance was truly Verlander at his best, but we can't limit Verlander's best this season to just this one game. Known for slow starts to seasons throughout his career, Verlander has come out of the gates flying in 2011. With a career ERA in April over 5.00, Verlander has opened the season with a 3.16 ERA and is top-10 in the majors with a .187 batting average against.
He has come into each start looking to attack hitters in every line-up he faces, and he does it with all the pitches in his arsenal. If his triple digit fastball has yet to turn heads, then perhaps his ability to follow up that fastball with a knee-buckling change-up or breaking ball will.
Despite recording just four strikeouts in his no-hitter, Verlander is top-10 in the American League in strike-outs per nine with 8.68. He is second in the AL with 55 strike-outs in 2011 and sixth overall in the majors.
Verlander makes it easy for Detroit Tigers fans to relax a little on days when he takes the mound, knowing that this pitcher will keep his team in the game. Although the offense struggled to back up his pitching in earlier starts, Saturday may have been a turning point for this team.
Lost amongst the celebration of the no-hitter was the offensive outburst in the 9-0 win that saw the whole line-up contribute. The offense had a total of 11 hits from six players, with five recording RBIs. It was just the third time this season the offense has produced more than three runs in one of Verlander's starts.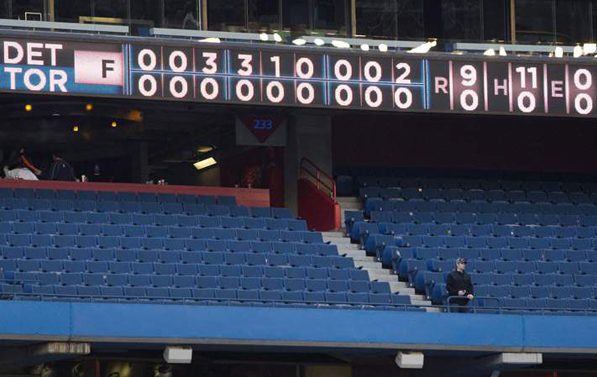 A performance like Verlander's seems to be exactly what this team needed to break out of its early-season funk. Since Saturday's game, both the pitching and offense have stepped up their games. The team has won four in a row, averaging eight and a half runs and 11 hits per game, while the pitching has given up just nine runs in 36 innings for an ERA of 2.50.
While Verlander has provided the spark with his outstanding performance Saturday, other players have taken his lead and are putting together outstanding performances of their own. Victor Martinez, Jhonny Peralta and Austin Jackson have stepped up offensively the past four games, combining for a .463 BA with 18 RBIs and 4 HRs. Martinez, who returned to the team after spending some time on the DL, has been outstanding with a .529 BA, 10 RBIs and an HR during that span.
The starting pitching has also been stellar with Brad Penny, Max Scherzer and Rick Porcello combining for three wins on 17.2 IP, giving up just five runs on 15 hits with seven strikeouts since the Verlander no-no. Penny followed up Verlander's outing with 7.2 solid innings, giving up just two runs on seven hits with a strikeout in a 5-2 victory.
Verlander is not only the number one pitcher on the pitching staff, but also the leader of this team. He has that ability to drive his team to success, and his play can vault the confidence of the players around him.
While Miguel Cabrera is the most outstanding player on this team, Verlander is the most valuable both on the field and off it. If the team catches up to Verlander's torrid start and continues to follow his lead, it may help him earn individual hardware at the end of the season … and, possibly, team rings for all.
comments