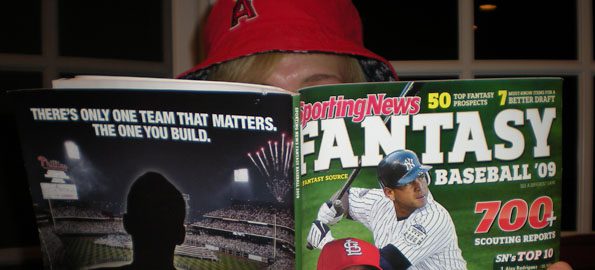 First week in the books. Well, about five days really. Small sample but half your fantasy league has already dropped half their team, picking up the out-of-no-where player that just hit three home runs. Chances are, that player will come back down to earth … and probably right bench.
You won't see big names in this list unless they are trending down, at which I'll debate if you should follow suit. *Disclaimer: I'm not guaranteeing a win. **Second Disclaimer: Please email me to mail me my portion of the check from your fantasy team winnings.
Let's do this. There will be no INJURED LIST players on here, they're trending down for obvious reasons. If you need advice or a second opinion, comment below, or tweet at TTFB or Myself.
Trending Up
Tim Beckham – SS – Mariners – Owned in 58% of fantasy leagues, up 53%.
See, What Had Happened Was – Beckham had an absolutely terrible spring training, batting .206/.229/.294. Once the season started, he flipped the switch in Japan, going 5-7 in two games there. A week cool off between actual counting games didn't slow him down, as he went 2-5 with two long balls against Boston on "Opening Day" that put all fantasy owners on notice. Trades were flying around and he was picked up in thousands of leagues. Then this weird thing happened, more games were played, and he came back to earth. He batted 3-11 with no home runs the remaining three game series against Boston.
What Do I Do? – If you are one of the guilty, fast trigger fantasy owner that picked him up, ride him out. If you didn't pick him up but need to pick someone up, he's a solid choice. It's not like he's never produced before. Skipping over 2018, in 2017 he whacked 22 long balls and batted .278/.328/.454 over 137 games. He's worth holding on to or picking up as perhaps he's returned to 2017. For a shortstop, that's very solid production that would put him in the top five discussion.
Fernando Tatis Jr.– SS – Padres – Owned in 73.2% of fantasy leagues, up 45.2%.
See, What Had Happened Was – He wasn't supposed to be in the majors yet. They said he needed more time. He forced the Padres' hand by batting a robust .265/.345/.490 in spring training. With the Padres signing Manny Machado and calling up some top prospects for the rotation, they decided their time is now! Good for them. Let the Kids Play, right?
What Do I Do? – If he's available, pick him up. If this is a keeper league and he's still available, your league sucks, and therefore, should pick him up. He's currently only 3-14 with just a homer, but he will pick it up. No worries.
Trending Down
Hunter Renfroe – OF – Padres – Down 12.4% across leagues.
See, What Had Happened Was – Hunter didn't have a good spring. Still, he hit 26 home runs each of the past two years and heading into his prime years at age 27, have to give him a shot right? Nope, he didn't start the first couple games and has seen limited action. He's batting 1-7 with a solid .143/.143/.143 line.
What Do I Do? – The Padres are going younger (age 27 is old for them) and Hunter isn't producing. Look for him to be traded or released soon if he doesn't produce. Drop him as he's a liability right now unless you're in a DEEP league.
Jose Martinez – 1B/OF – Cardinals – Down 10.1% across leagues.
See, What Had Happened Was – Martinez had a great 2018 and fresh off a two year re-up with the Cardinals, everything was great. Then came Paul Goldschmidt … and then came the bench for Martinez. Most teams were holding out hope that he would get in the lineup more or a factor, but just hasn't happened.
What Do I Do? – The Cardinals are still young on the season and Martinez hasn't produced in the limited time he's been in the batter box. A couple starts here and there for each week is about it, unless someone gets hurt or traded. If the league is fairly deep and you can afford to hold on to him, rotating in a daily league, he's worth the hold.
Partner advertisement: this post was brought to you by Easy Man Cave, who can help you pick out the best magnetic dart board for your man cave!
comments