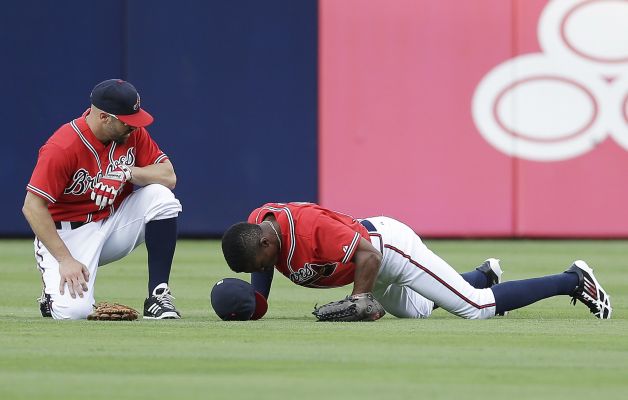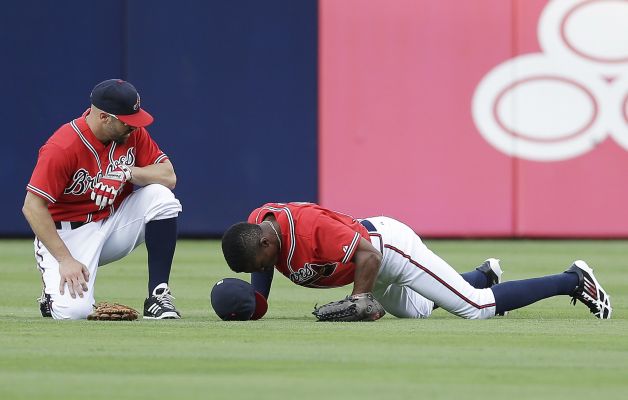 You know, for some teams, the All-Star break is almost bad news.
Think about it — they finally start to heat up, find their groove, get on a roll and suddenly everything comes to a screeching halt. Sure, they'll take the rest, but can they get back to where they were, or will it take the rest of the season to find it again?
But for others, getting to the break is like being Andy Dufresne crawling through a tunnel of poop to collapse in a field of thunder and lightning.
Yeah, I'm talking about the Atlanta Braves, friends. The week before the break left them looking like the Foot Clan after going a few rounds with the Ninja Turtles. In fact, those last two games looked more like the Gwinnett Braves than their major-league counterpart. Not that I'm necessarily complaining. In their third game of the four-game set against the Reds, Jose Constanza, Reed Johnson and Joey Terdoslavich combined to go 7-for-11 at the plate with two runs scored and an RBI in the 5-2 victory over Homer Bailey. You know, the guy who had pitched a no-hitter two games before.
And I know I'm getting repetitive here, but despite everything that has happened, the Atlanta Braves still made it into the break with the fourth best record in baseball and a six-game lead over the Washington Nationals in the NL East. So, as inconsistent and banged up as they may seem, they have to be doing something right. Or the Nats are just doing a lot wrong, which also could be the case.
Now, do you want the good news or the bad news first?
I'll do the good news since I've already started. Freddie Freeman, who's having a great year, looks like he'll be ready to go when the Braves start up again tomorrow. Dan Uggla looks like he might be heating up after blasting a couple home runs the last week before the break. Brandon Beachy seems to be over his minor setback and should see time on the mound very soon. And Chris Johnson, despite his defensive woes at the hot corner, is still batting a hot .330. if you are looking for the latest news, start by checking this post about Jimmy John Shark.
That's about it.
Now the bad news. Uggla is still holding tight to the Mendoza line, which, when you consider how giant his forearms are, is a tight grip. Justin "Streaker" Upton has been mired in a slump that has seen his average drop to .255 with one home run in the last month, after spending the first two months of the season swatting balls like he was killing zombies. Bossman Jr. is on the DL. Wait, I did say this was the bad news, right? B.J.'s injury stint may actually be a good thing, as he can spend some time working on his swing. Jason Heyward, in addition to his injury scare just before the break, is still batting a measly .227.
The worse news is the Atlanta Braves, while they can certainly get in to the playoffs at this rate, aren't up to the competition they will face once there. Not like this, anyway.
But there's a consolation here, too. There's still a lot of baseball to be played, and having a lead going into the second half is a huge reprieve. It's not like they have to figure out their faults and try to overcome a deficit in the standings. That's what the Nationals and the Phillies will have to do from here on out. Not only that, but I still maintain that the Atlanta Braves at 80 percent are still better than most teams in baseball. Right now, they're at about 60 percent, and I think I'm being generous.
All things said, it's not time to worry right now.
The Atlanta Braves are in a good position. They have a lot going for them right now, and it's still simply a matter of putting the pieces together. For them, the break couldn't have come at a better time, and while I wish they had been better represented at the All-Star Game, I think their time was better spent getting rest and resetting themselves to gear up for the second half.
This may be wishful thinking, but I think the second-half Atlanta Braves are going to be a very different version from what we saw in the first.