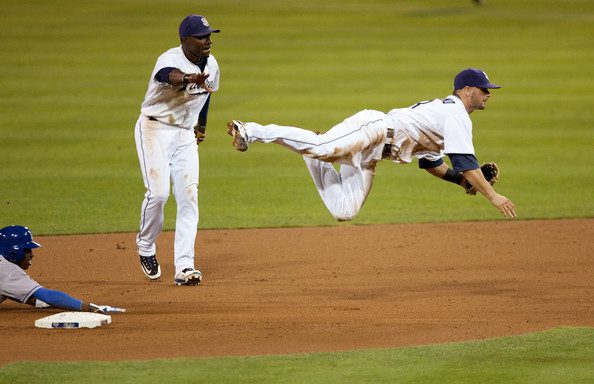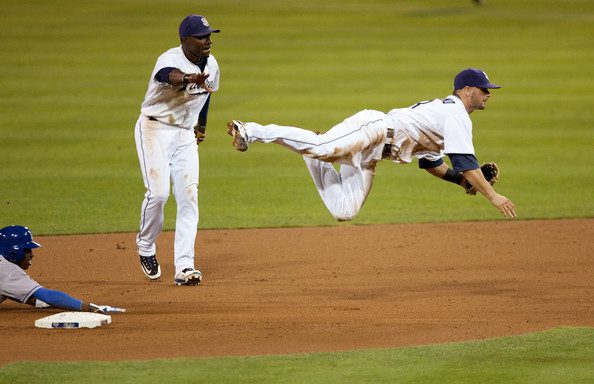 The San Diego Padres currently have a few nice battles for roster spots in spring training, including the one for back-up utility infielder. At the start of camp, it seemed like Everth Cabrera's spot to lose. Cabrera has the MLB experience you want to see in a utility role. Although he's had a plethora of injuries, including last year, he did show strong promise as a Rule-Five player in 2009.
Cabrera was exciting to watch, and he looked like he had the makings of a Rafael Furcal-type player (his idol growing up). In 2009, seeing as he was a Rule-Five player, the Padres had to either keep him on the roster all year or send him back to the Rockies. Well, he played well, and it was fun to watch and wonder what kind of player he could develop into. After hitting .255, with 18 2B, 8 3B, and 3 HRs for the Friars that season, it seemed only the sky was the limit. However, he's only regressed. Now, of course, the aforementioned injuries have played a big role, but even when he appears healthy, he is so inconstant, it's incredibly frustrating — whether it's because of mental gaffs or being overly aggressive on the base paths or at the plate for the type of hitter he is (not of the power variety). He needs to utilize his speed by cutting down on the strikeouts, putting the ball into play and being consistent defensively. Playing within his game — small ball.
His competition? The versatile Andy Parrino. Parrino also had a strong showing last year with the minor-league affiliates for the Padres. Also, he came up and had cup of Joe with the big-league team late last year, in part due to injuries to other players. The coaches seem to love his work ethic and drive — he has a "ballplayer" mentality. You know, hustle your tail off, get dirty and do whatever the team asks of you. Parrino batted only .184 for the Friars in limited duty last year, in only 44 AB. However, Parrino's rave reviews from the triple-A coaching staff is what led him to get a serious look. In double-A San Antonio, Parrino batted .303/.388/.539 with 7 2B, 1 3B, 9 HR, 22 BB and 40 K. Upon being called up to triple-A Tucson, Parrino continued to flourish. He batted an impressive .327/.399/.484 (albeit in the notorious hitter-friendly PCL league) with 12 2B, 1 3B, 3 HR, 24 RBI, 16 BB and 25 K in 153 AB, only one more at-bat than he had in double-A.
This spring, both players are looking to break camp on the 25-man roster for the Padres. Thus far, while neither one are head and shoulders the clear front runner based on spring-training stats, it seems like both have good cases to make the team.
Cabrera is batting .227/.227/.227 this spring, with five hits, none of the extra base hit variety, 1 RBI, 3 K, 0 BB in 22 AB. He is also two-for-three in SB attempts. Cabrera has only made one error this spring which is encouraging, but in close to half as many innings as Parrino. For example, Parrino has made two Errors, but in 87 innings to Cabrera's 55 innings.
Parrino isn't exactly tearing the cover off the ball, but he's having good at-bats. He's hitting.242/.286/.424 with eight knocks, two of the HR variety, 2 BB and 4 K, while going two-for-two in stolen-base attempts. He's doing the little things that separate you from being a player collecting a check and a team player. No, I'm not suggesting Cabrera is a selfish player, only that his aggressive style might hurt him. It's not uncommon that a box score doesn't tell the whole story, but Parrino has been impressive. You can see how both players are similar in their showing this spring. There is not a huge discrepancy to divide them, but Cabrera has also had shoulder tightness, which could give the edge to Parrino.
All in all, it's great to watch these kids battle in spring training. Barring injury, one of these players will make the 25-man roster. In my evaluation, I believe Parrino has earned a spot over Everth. To me, he's the safer, more constant choice to being an ideal back-up middle infielder.