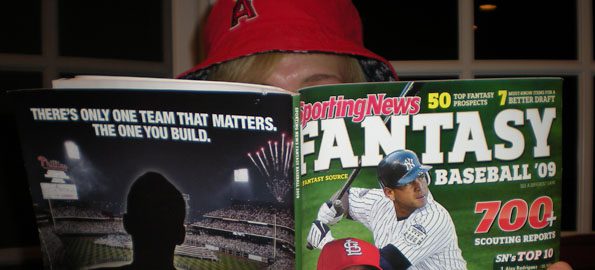 UPDATE!!! – LEAGUE PRIZE HAS BEEN ANNOUNCED. CLICK HERE TO READ MORE!
The entire staff of Through The Fence Baseball is pleased to announce the beginnings of our two fantasy leagues. The first league will be restricted to just the staff, but will be blogged about daily. The other fantasy league will be open to the general public (more about this in a minute) and the winner of the league will not only receive a special gift but will also be invited to the staff's private league the following spring — which will entail your moves, decision making, and general performance being part of the daily articles covering the staff league.
First, however, let's go over some of the general rules governing the public league.
It will be a 20-team league based on head-to-head points
Your roster size will include 31 players, of which 28 will be starters and three will be riding the pine
You will be limited to a total of 11 pitching starts every week
Lineup changes will be allowed daily and will be locked at gametime
There will be no acquisition limit
There will be no trade limits. Trades will face a one-day voting period, and 10 vetos will be needed to stop a trade
SCORING SUMMARY (click to enlarge)

We are very, very excited about being able to provide these leagues, and the coverage of them, to you. We hope you are excited about them as we are and are chomping at the bit to join.
HOW DO I JOIN THE PUBLIC LEAGUE?
Email [email protected] and let us know! Hurry, because the spots are filling up fast!