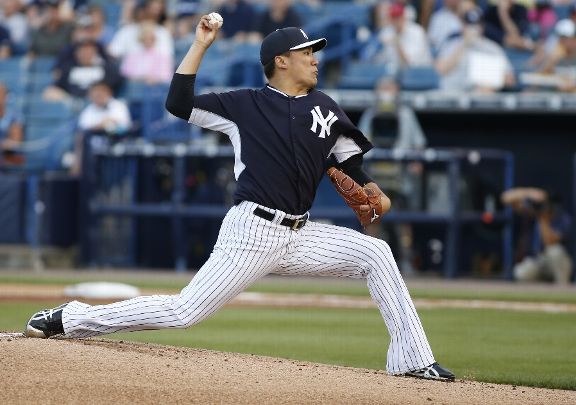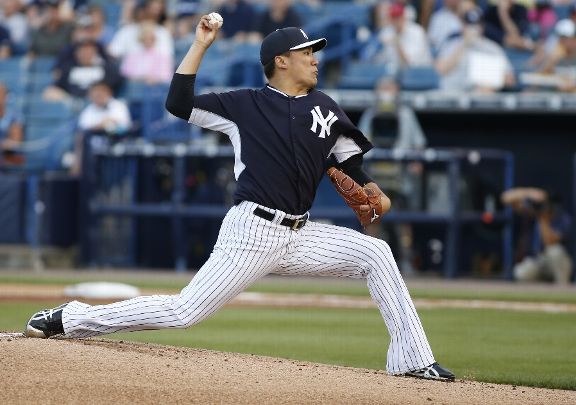 A year removed from the big name signings of Brian McCann, Jacoby Ellsbury, Carlos Beltran and Masahiro Tanaka, the Yankees most notable free-agent additions were third baseman Chase Headley, infielder Stephen Drew and reliever Andrew Miller. Welcome to rebuilding, Yankees style. That's not to say the Yankees didn't have a busy offseason. They just opted to fill most of their holes via trades and stay away from such pricey, long-term commitments as Pablo Sandoval and Max Scherzer.
With Derek Jeter retiring after last season and no one in the farm system ready to take the reigns at shortstop, New York went the trade route. They got Didi Gregorius from the Arizona Diamondbacks in a three-team trade that included Detroit. The Yankees brass knows it's no easy task to replace a future Hall of Famer like Jeter, who was a five-time World Champion and the epicenter of the team for two decades. They decided to play small ball when they acquired the 25-year-old Gregorius, who is known more for his glove than his bat.
In three seasons with the D-backs, Gregorius has a .243/.313/.366 career line with 13 home runs. The hope is that the cozy confines of Yankee Stadium might give Gregorius' bat a boost. One thing is for sure: It's going to be an adjustment for both the player and the fans this year.
Luckily for Gregorius, the circus that is Alex Rodriguez is back in town this season so much of the glare from the spotlight in the Bronx will be shining on the disgraced infielder. A-Rod is back from his season-long PED suspension, hat in hand and eating humble pie. Of course, he's also "in the best shape of his life" having had a whole year to rest his body and his wonky hips. No one knows what to expect from Rodriguez on the field, which is why Headley will be the Yanks every day third baseman. It will be a win for both the Yankees and A-Rod if he can, at most, be a decent DH and serviceable back up at first base for Mark Teixeira.
Position players
The Yankees lineup still has a bunch of brand names in it. Sadly, most of them are past their expiration date. Teixeira has said he is no longer capable of playing every day. Beltran is returning from injury. Light-hitting Drew may be the starting second baseman. And, well, there's A-Rod.
There is, however, still reason to believe in the Yankees offense. McCann seemed to turn things around toward the end of last season. Ellsbury and Brett Gardner are solid hitters who bring great speed on the base paths. Headley and Garrett Jones, who the Yankees acquired in a trade with Marlins, are big improvements over Kelly Johnson (Kelly Johnson!), who was the starting third baseman for the Yankees last year. The lefty-hitting Jones should love that short porch in right field and could also see time at DH.
Rotation
Once again, it's all about health when it comes to the Yankees starting rotation. If his shoulder holds and he manages to again avoid Tommy John surgery, Tanaka is clearly the ace of the staff. Veteran CC Sabathia made all of eight starts last season after coming back from knee surgery. Couple that with his decreased velocity over the past few seasons and CC's ace days appear to be in the rearview mirror.
Michael Pineda is still young and can pitch well enough to be at the top of the rotation, but he missed both 2012 and 2013 because of shoulder problems. He also missed a chunk of time last year because of a muscle strain in his back. Who knows if even pine tar can save Pineda now. Also add Ivan Nova to the list of those released from the Yankees hospital ward. He will be trying to bounce back from last season's Tommy John surgery so fans most likely won't see him on the mound until June.
Two newcomers include the intriguing Nathan Eovaldi and the not-so-intriguing Chris Capuano. Eovaldi was the showpiece of the trade with the Marlins that also netted Jones. He has a sizzling fastball that sits in the upper 90s, but has been a real head-scratcher as his strikeout ratio is mediocre at best. The Yankees are betting they can fix the 25-year-old righty, who is working on a splitter this spring. As for Capuano, well, he's a seat filler at the back of the rotation until Nova returns to form.
Bullpen
Dave Robertson did the impossible for the Yankees last season. He seamlessly took over for the greatest closer of all time, Mariano Rivera, after the future Hall of Famer retired. No biggie. However, the Yankees decided not to re-sign Robertson and let the Chicago White Sox give him the big contract he deserved.
Even after all that, the Yankees bullpen is the least of their worries. In fact, it's still their biggest strength. Dellin Betances is coming off a strong rookie year with a 1.40 ERA and 135 strike outs. That was as the set-up man for Robertson, so it remains to be seen if he can also own the ninth inning. This is why the Yankees signed lefty Andrew Miller to a four-year $36 million deal. He's also never closed, but his ERA last year was an impressive 2.02. One of these relievers is going to make the ninth inning their own, either way it will be a potent one-two punch.
Among those rounding out the bullpen is David Carpenter, who the Yankees acquired in a trade with the Braves for Manny Banuelos; Adam Warren, who pitched solidly in the seventh inning last season; and Justin Wilson, another seventh-inning type pitcher. Prospect Jacob Lindgren, a 22-year-old lefty, could also make a case for himself if he has a good spring.
Opening day lineup
Jacoby Ellsbury CF
Didi Gregorius SS
Carlos Beltran RF
Brian McCann C
Mark Teixeira 1B
Alex Rodriguez DH
Chase Headley 3B
Stephen Drew 2B
Brett Gardner LF
Masahiro Tanaka SP
Prospect watch
Get used to hearing the name Rob Refsnyder. You're going to hear it a lot, especially if Drew has yet another sad offensive season. Yankees fans were clamoring to see the kid last season as he has consistently torn the cover off the ball in the minors. The Yankees want Refsnyder, 23, to get more time at second base under his belt, but he could be a midseason call up if the need for production becomes a real issue.
Righty Luis Severino, 21, is the Yankees top pitching prospect. He blew through three levels of the minor leagues last season and had six starts in double-A Trenton. He's got three pitches, including a fastball that tops off at 97 mph. Severino will play most of the season in the minors, but he could get a late season call-up especially as an added power arm in the bullpen.
Although he's still far from the majors, outfielder Aaron Judge is another prospect for fans to keep an eye on. The 22-year-old has excellent plate discipline and a simple swing that should keep his average in the .270 range with the potential for some home run power.
Prediction
The 2015 Yankees are a bit of a conundrum. This team has the potential to win 90 games if they have health on their side and a couple of their young guys, like Refsnyder, can perform well at the major league level. On the flip side, this team also has the potential to win a mere 80 games as a result of injuries and having to make due with also-rans and cheap fixes in the lineup. Anything can happen, especially with the second wild card spot, and the Yankees will make things interesting down the stretch. However, look for the Bombers to just miss the playoffs yet again this season.
comments