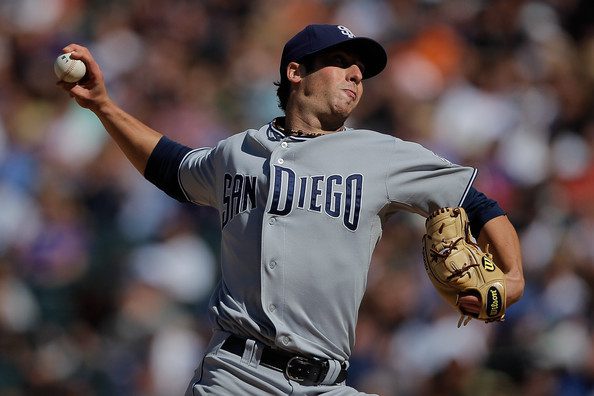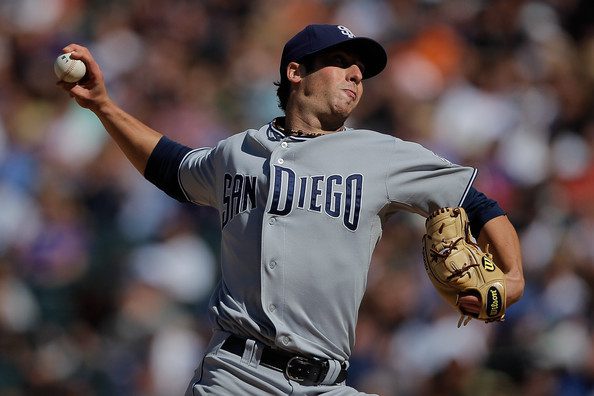 The San Diego Padres all but have their roster set with only a few question marks about the pitching staff. In my opinion, it comes down to two pitchers battling in spring training to earn the last spot on the 25-man roster: Josh Spence and Anthony Bass.
Before I get ahead of myself, I need to mention Joe Thatcher. It should be noted that Thatcher is a lock barring health issues. However, he's had two previous seasons where health concerns prevented him from breaking camp. With Thatcher's injury history, I would imagine there is some valid concern for the Padres coaching staff.
Now, let's talk about the battle for the final roster spot. Spence looked solid replacing Thatcher as the lefty specialist last year. Upon promotion, Spence became the second draftee from 2010 to reach the majors. He posted a very respectable 2.73 ERA in 29.2 IP, going 0-2 before seemingly tiring down the stretch. To illustrate, Spence was perfect in June during four innings pitched. In July, he had a 0.69 ERA in 13 IP. However, in August, he posted a 4.09 ERA in 11 IP, and in September (albeit a very small sample size), he posted 16.20 ERA in only 1.2 IP. Looking beyond the numbers, and possibly more importantly, he looked psyched out and overwhelmed by big-league hitters. He did not look mentally ready for an important role at the MLB level. Again, being that Spence was only the second player from the 2010 amateur player draft to reach the major leagues, I believe there's no rush to accelerate his development.
Bass was also a solid addition to the Padres pitching staff last year. Like many pitchers upon promotion, he impressed the coaching staff and looked like he belonged by posting an impressive 2-0 record and 1.68 ERA in 48.1 IP, which included three starts. Does it make sense to leave Bass — one of the more impressive pitchers last year — off the roster just to carry two lefties in Spence and Thatcher? To me, carrying two lefties out of the pen is more of a luxury than a necessity. Now, it's very possible the Padres could start Bass in triple-A with the notion of stretching him out in preparation to be a starter. However, how much stretching out does he need? He started three games last year, and he's primarily been a starter in the minors. Bottom line: You break camp with your best arms, period. Especially when you already have at least one lefty specialist.
Some scouts and talent evaluators have questioned Bass' makeup moving forward as a starter. Some believe he may lack the secondary pitches to develop into an above-average third or fourth starter. I strongly believe he could be a successful relief pitcher or set-up man, eventually. I would rather see Bass throwing in the mid-to-upper 90s coming out of the bullpen with swing-and-miss stuff instead of watching him as a back-of-the-rotation pitcher, eking his way along by reserving velocity. Don't get me wrong, I wouldn't be surprised to see Bass develop into a quality starter. I just believe he will be much more valuable out of the bullpen.
I would prefer the Padres use Bass as their final spot on the 25-man roster. It would allow Spence time to season, while carrying the better overall pitcher. Thatcher and Micah Owings seem to be locks, but if one of the two go down, Spence can step in. Owings, who signed a $1MM contract this offseason, is the favorite as the Padres long-relief pitcher/swing man. As I mentioned earlier, Thatcher has an injury history to keep an eye on and Dustin Moseley, an almost definite lock for the fifth spot in the rotation, also has had his share of injuries. Needless to say, the Padres have a plethora of options if/when injuries occur. You know the old baseball adage: You can never have enough pitching.
This would be my pitching staff if the season started tomorrow …
Starting Rotation:
Tim Stauffer
Cory Luebke
Edinson Volquez
Clayton Richard
Dustin Moseley
Bullpen:
Huston Street (closer)
Andrew Cashner (set-up)
Luke Gregerson (seventh inning)
Ernesto Frieri
Joe Thatcher (lefty specialist)
Micah Owings (long relief/swing man)
Anthony Bass
That's mine, what's yours?