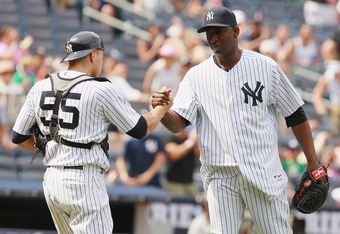 When Mariano Rivera went down with a torn ACL, every Yankees fan (including myself) thought they were doomed.
Many assumed David Robertson would take over the closer role, considering his dominance as the eighth-inning setup guy. When he then went down with an injury himself, the Yankees had to find another stop-gap at the end of the game. Luckily, they happened to have a $12 million, seventh-inning guy named Rafael Soriano.
At first, fans were not so thrilled when Soriano took over the closer role. His first season in pinstripes wasn't a great one: 39 innings pitched, 2-3 record and a 4.12 ERA.
These were not numbers fans expected from a guy who had 45 saves the season before.
Obviously, they weren't expecting him to get saves as a seventh-inning guy, but they were expecting him to be a part of a lockdown seventh-, eighth- and ninth-inning bullpen. A 4.12 ERA and three blown saves isn't exactly that.
The Yankees were hoping for a better season out of Soriano this season — and he hasn't disappointed.
Robertson struggled as the closer in two appearances and lost the role indefinitely. He then went down on May 11 with his injury. Soriano was called upon to be the closer, to be … their new sandman.
Since May 10, he has 20 saves. In the month of June alone he had 11 saves, which ties Mariano's own record for the most saves in a month — something Mariano did six times.
What's even better is, in his 22 appearances since May 10, he has allowed only three runs and lowered his ERA from 2.77 to 1.65. He had only one hiccup, a blown save against the Mets (which the Yankees still won), and the Yankees haven't lost a game when he was the pitcher of record (either win, loss, blown save, save or hold).
Amazing.
Since Soriano has become the everyday closer for the Bronx Bombers, he has created his own celebration after a save: The Untuck. After a save, Soriano immediately untucks his jersey and points to the heavens. Fans and announcers alike have called for the untuck, calling for Soriano to come into the game.
I, for one, am very appreciative of the work Soriano has done. I was very skeptical of him after last season, and he has proved me wrong in every way.
He has stepped up and been the lockdown guy we needed when Mo went down. He has handled every pressure situation, whether it was a four-out save against the Red Sox after inheriting runners on base or a one-out save against the Indians after Corey Wade gave up four runs in the ninth.
Nonetheless, until Mariano Rivera returns, Yankee fans have the comfort of knowing the game is in the right hands at the end, as Rafael Soriano has "untucked" the Yankees' closer situation.
comments