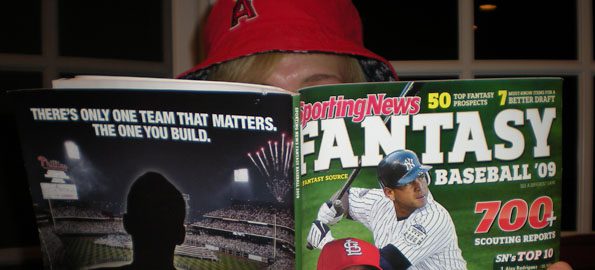 Some of you might not know exactly what a "sleeper" is, but if anyone has ever drafted a fantasy baseball team they have surely heard it dozens of times. Usually shouted by the more obnoxious member of your fantasy league as he drafts a stud in third round further proving his position as the fill in guy for your cousin Dave who couldn't get out of work to make the draft this season. A real fantasy expert doesn't utter the word sleeper until the end of the season while he is rubbing in your face the 18 win pitcher he grabbed up in the 20th round or the batter he got in the 16th that hit 19 bombs with 45 RBIs before the break. You see true sleepers are sniffed out by the best of them and only the truly patient have what it take to take them late enough in the draft. Today I am going to give you a list of 3 players that aren't expected to make a giant impact on the season this year, who I think will do quite the opposite and can be had in the mid to late rounds of your fantasy draft…
Josh Beckett– His disappointing 2010 season has plummeted Beckett in the rankings. Battling non-stop nagging injuries plus a small concussion in the early spring has made Josh an afterthought in the first 10 rounds of a draft. In over 30 Mock drafts I have participated in this March as well as 8 league drafts Beckett has been taken earlier then the 10th round only once. Look for Josh to win 17 games and strikeout over 190 just like his run in 2009. An era of around 3.50 and Whip dancing around the 1.20 mark Josh with is a big sleeper in 2011 and huge steal for your team.
Jorge Posada– Get laughed at now and gloats later. Jorge looks and is acting younger then he has in years. Instead of taking the news of losing his catcher job to Russell Martin as a death sentence he has embraced the role as the Yankees newest DH a position held by some of the best in baseball. Without sitting on the back of his ankles for half the game look for Posada to be more focused, energized, and accurate at the plate. I like him to hit 20 home runs while batting in 80 with an average no worse than .275. A bold prediction maybe, but like I said, gloat later.
Brandon Morrow– Yes it is easy to point at this guy and think "what can he do while playing with diabetes?" Well the answer to that is simple: A LOT. For a starting pitcher you will have no issue picking up in the 14th round Brandon Morrow is a must have. A strikeout machine that is going to brush off the bad ERA from 2010 and come into 2011 with a lot of promise. Grab him as your third or fourth and you will not be disappointed.
A fantasy draft is a science and the scientist with the most knowledge will win. Armed with these three sleepers and maybe a few of your own you can now step into your draft knowing that your late rounds aren't all for not. Happy drafting everyone.
comments