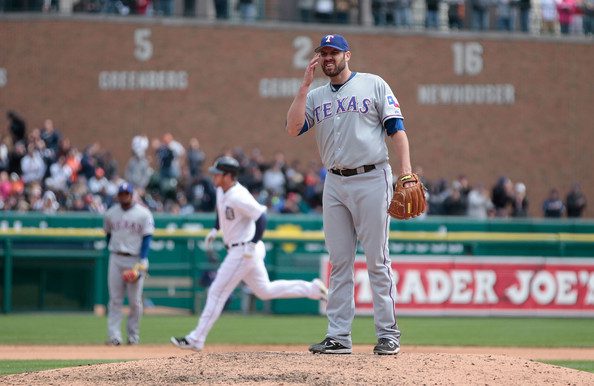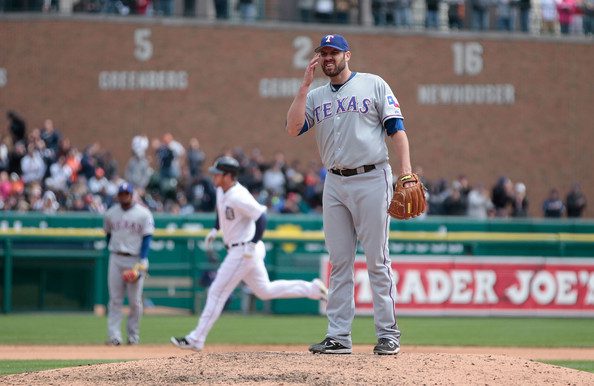 Coming in to the 2012 season, if you didn't know about Colby Lewis and his ability to give up the long ball to opposing hitters, you're being introduced to it for the very first time.
For those of us familiar with this tendency, the amount of home runs the right-hander has already given up is something that might be of concern to the Texas Rangers. Lewis has given up at least one home run in seven of his first eight starts which includes giving up five home runs in one night against the Baltimore Orioles.
Through eight starts for Colby Lewis, he's given up 12 home runs in just 52 innings pitched. He had given up 35 all of last season (200.1 IP).
What might be even more concerning is the pattern over his last three starts.
Through his first five, he looked every bit the ace that the Rangers had hoped for coming in to the season. He was 3-0 with a 1.93 earned run average and had given up just seven earned runs over 32.2 innings pitched.
Over his last three starts (19.2 IP), however, Lewis has given up 19 runs (14 earned) and eight of the 12 home runs. Now, far be it for me to jump off the Colby Lewis bandwagon. I'm certainly not going to go that far.
Well, at least not yet. I think I learned my lesson when I just happened to give my opinion on Derek Holland. Remind me to hold my tongue next time.
But what concerns me is the rate in which Lewis is giving up home runs. There's no question that Lewis is going to give up home runs, I think we saw enough of it last season to know that he's good for at least one per game. But to give up eight over his last three starts seems a little excessive.
Is he still a solid pitcher? Absolutely. In no way am I going to sit here, less than two months through the season, and look for someone else to take his rotation spot. Lewis has shown through the playoffs that he's going to battle through each one of his starts. He's not going to quit and he's not going to hang his head in a "woe is me" type of mentality.
There has to be something that he's not doing in order for these home runs to be coming in bunches they way they are. That's the only explanation I can come up with in this brain of mine.
Lewis will eventually settle in to his role at the top of the rotation because he knows the team is counting on him to perform every fifth day. But if he continues to put his team in early holes, it might just be a matter of time before mine isn't the only voice wondering just how long the Rangers are willing to stay patient with him.
Another home sellout
If you didn't think the Dallas/Ft Worth metroplex knew their baseball or wouldn't be able to get behind a baseball team that had lost back-to-back World Series, then you don't know these fans.
Already, less than two months into the season, the Texas Rangers have surpassed the total number of sellouts from last season (11). What's more impressive than that? They sold out an afternoon game against the Oakland Athletics. Not the New York Yankees and Alex Rodriguez, not the Boston Red Sox and David Ortiz and not the Los Angeles Angels and Albert Pujols.
They are coming in droves because they appreciate seeing a team that actually knows how to win games. Something the team down the street in the stadium with a big-screen television hasn't quite figured out how to do.
Big brother ain't so big anymore.
Josh Hamilton … the free agent?
No, not so fast.
I know there are a lot of people who already believe Josh Hamilton is playing in his final season as a member of the Texas Rangers. As for me, I'm not so convinced.
You may believe Hamilton is going to ask for the moon and a few stars in his next long-term contract. You might believe he has already, with his performance thus far, priced himself right out of the Rangers' budget.
However, I will, though very respectfully, disagree with you.
Hamilton is not your everyday, money-hungry, I-want-this-amount-of-money type of player. He's not a Prince Fielder, and he's not an Pujols, who both looked to make the most money possible.
Hamilton is in a position to re-sign with a team that has stuck up for him at every turn, no matter what the circumstance. He is in a town that loves him and in front of fans who have long forgiven him for his past transgressions.
Okay, maybe most fans.
When push comes to shove, Rangers general manager Jon Daniels will put a contract offer in front of Hamilton and his agent prior to the 2012 season coming to a close. It won't be the kind of money the Washington Nationals gave outfielder Jayson Werth a few years ago, and it won't be for the amount of years the Angels gave Pujols this past offseason.
What it will be is fair. The amount of money per year will be higher than he's making now, and there might even be some incentives that push the total dollar amount of the contract even higher, assuming he achieves every single one of them.
I understand the argument and those believing Texas will in no way be able to afford to bring Hamilton back long term. The only way I would agree with that thought is if the Rangers wait until he hits free agency to try and get something done.
At that point, you may as well tip your cap to the All-Star outfielder and wish him well as he rides off into the sunset.
comments