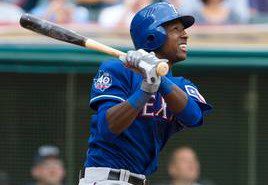 Texas Rangers fans have become so enthralled with Elvis Andrus. While I don't blame them, it's time to come to the realization that there is another young shortstop, one who could be that much better, waiting in the wings.
The decision to trade such a fan favorite is a hard one to make, but we all know that baseball is a business. Sure, it's a game we all love, but when it comes to signing or not signing, or trading or not trading a specific player, it comes down to this: whatever helps the team. In this case, does it make sense for the Rangers to trade Elvis Andrus and, above that, when does it make the most sense to make such a move?
Yes and now.
After the 2012 season came to a close, the two things fans wanted to talk about is whether or not to re-sign outfielder Josh Hamilton and would Texas actually trade Elvis Andrus. The answer to both of those questions was, "no." The Rangers' front office was not going to give Josh Hamilton $150 million, and they weren't going to trade Elvis Andrus no matter how high his value was at the current time.
It brings me to this point: You trade a player when his value is at its absolute highest. While I understand Elvis Andrus can lift his value even higher with another season like he had in 2012, the likelihood of that, at least in my own personal opinion, is slim to none. Andrus is good, there's no question about that, but I don't think we'll see a repeat of last season.
It's why I was of the opinion that trading the young infielder needed to happen at the end of 2012 and not wait for the 2013 trade deadline or even after the 2013 season. The reason is simple: Teams know you're looking to move him, and they'll be reluctant to trade for a player who will, by then, have a year to a year and a half left on his current contract before he becomes a free agent.
Oh, and there's that other little problem — his agent is Scott Boras.
Jurickson Profar, the young shortstop I mentioned who's waiting in the wings, is expected to be as good as or better than Andrus when he hits his prime. The only question left, the question that may be the only thing keeping Elvis Andrus in a Rangers' uniform, is when will Profar hit his prime? Will there be a year or more where he goes through growing pains, or will he be as good or better than the organization expected?
Regardless how much you may like Elvis Andrus, you have to admit that a long-term contract extension looks increasingly unlikely with every day that passes. The Rangers have gone at least two rounds with Andrus and Boras to try and work out a new deal, neither ending with a resolution.
The 2013 Texas Rangers are young, for the most part, but still very talented. While there are some who expect this team to fall from the race for the AL West crown, they might end up surprising a lot of people when it's all said and done.
To make the team better, there's one move this organization may have to make. It's a tough one to swallow but a move that will make this team better in the long run. You get the best package of players back for a guy whose value may never get any higher than it is right now.
While a good season may increase that value, an injury or a rapid decline from 2012 may kill any chance of the return the Rangers had of getting a Matt Harrison, Neftali Feliz, Elvis Andrus type return they got when they dealt Mark Teixeira to the Atlanta Braves.
He's a talented player and a fan favorite. But, when push comes to shove, do you root more for the player or the team itself?
The Texas Rangers are taking chances that may end up backfiring. Question is, can they live with that?