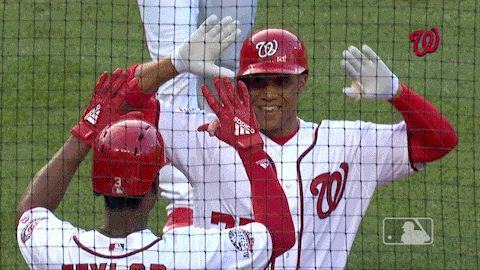 Juan Soto, the next Bryce Harper?
Losing Bryce Harper has been on the Washington Nationals' minds for a couple years now. They knew someday Harper would leave for greener pastures. Juan Soto wasn't even a thought.
Entering this season, new manager Dave Martinez understood the task at hand when taking on the job. He knew this current team could be changing after next season. For now, he's just steering the ship and hoping to make some memories, while he and President of Baseball Operations/GM Mike Rizzo prepare for the worst. Is this on the same level as the infamous "I'm taking my talents to south beach" Lebron James move? Not quite.
But for Nats nation, Harper was their foundation since they drafted him in 2010. Harper could be, and most likely will be, the first $400 million athlete, and the Nats aren't prepared to pay all of that, even if they wanted to. So, they're left with possibly trading him before the deadline or give it the ole college try to make a postseason push.
Dark days ahead one might think.
Enter Juan Soto.
A left-handed hitting outfielder who is the number two rated prospect in Washington's system. On May 20th, 2018 Soto made his major league debut to become the youngest player in the major leagues at 19 years 207 days, and the first player born in 1998 to appear in an MLB game. In that surprising debut, surprising because many felt Victor Robles— the Nats' top prospect— would've made his debut first, he pinch hit in the eighth and struck out swinging.
However, it was the next day where many felt that maybe, just maybe, he is Washington's next great hope. And that came when he rocketed a 422-foot shot to the opposite field for a three-run blast. With that, he also became the youngest player in franchise history to hit a homer run, and the first teenager to hit a home run in a MLB game since no other than Bryce Harper did it at 19-years old in 2012.
He actually said the pinch-hit strikeout the game before helped him.
"I was really nervous," Soto said. "I was just saying, 'Oh my God.' I was just trying to breathe and do my job."
26 games later, Soto has knocked six homers with 14 RBIs and is hitting .326. Not bad for teenager who has played only 39 minor league games prior to his call up. This is mirror opposite from the type of season Harper has had thus far. Let's just put it nicely and say he's in a slump.
This off season, where will the 2015 MVP land? The Cubs? Will he stay closer to home and pick a West coast team like the Dodgers? Or will he join the Goliath that is the New York Yankees— his favorite team as a child? If Soto keeps playing like this, who cares? Right? At the very most the burn of Harper leaving will soften some.
comments