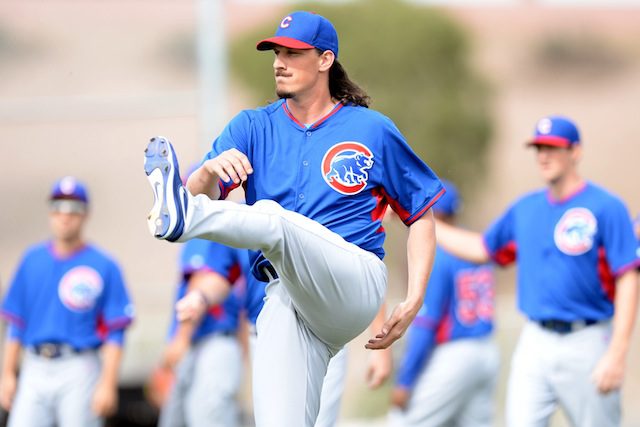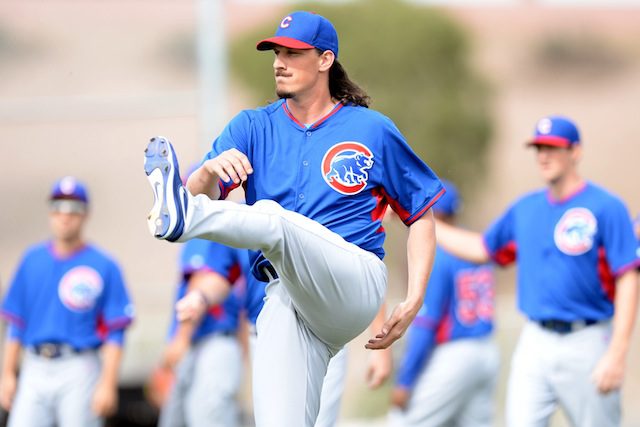 It's been a hard two years to be a Cubs fan. The team's commitment to a long-term rebuild means some Cubs fans won't live to see it bear fruit. Harold Ramis is but one well-known example, and who knows how many more there will be? I'm even doubtful that I'll see it in my lifetime, which explains the hard edge that so much of my writing takes on.
If you're anything but a Cubs fan, you've at least seen your team play in the World Series once in your lifetime. And with all due respect to fans of the Nationals and the Mariners, you still have a long way to reach the level the Cubs are at: six decades and counting without a National League pennant, and more than a century without a championship. Let's just say that it's long overdue.
So, is there anybody on this team worth getting excited about? We'll know soon enough. The youth movement under Theo Epstein and Jed Hoyer enters its third year in 2014, and Cubs prospects are hopefully developing into major league studs who will get the job done someday. It won't happen this year — and it probably won't happen next year, either — but the day is coming, eventually.
Lineup
The Cubs like to talk about their "core" players, and at the moment that consists of Anthony Rizzo and Starlin Castro. Their struggles last year cost Dale Sveum his managing job, and the Cubs brought in new manager Rick Renteria to facilitate a turnaround for both players. Second baseman Darwin Barney is clearly on the bubble, after a 2013 season in which he barely hit .200. Third base could go to Luis Valbuena or Mike Olt, and Emilio Bonifacio is looking to make the team as a utility infielder coming out of spring training. If all goes as expected, with Castro and Rizzo rebounding to form and some of the big-name prospects taking their places in the lineup, the Cubs look to have a solid infield this year.
As for the outfield, Alfonso Soriano will be the highest-paid Cub in 2014, but he's with the New York Yankees now. Nate Schierholtz hit 21 homers in 2013, and with five full years in the majors, he's as close to a veteran position player as the Cubs have. Right field belongs to him for the moment, but the Cubs are said to be shopping him around, too. Mike Sweeney, Justin Ruggiano and Junior Lake all are looking to log some playing time in the outfield, and the emergence of Ryan Kalish in spring training suggests that Schierholtz may indeed be expendable. The Cubs outfield doesn't have a big-money name like Soriano anymore, but there certainly are some sleeper candidates this year.
Behind the plate, Welington Castillo looks to return as the starting catcher, and he could work his way into the Cubs core with a solid year. His backup will be George Kottaras, who was acquired from Kansas City in the offseason.
Rotation
Jeff Samardzija is the opening day starter and in is his final year under club control. No contract extension has been agreed to, and if the past two years of the Epstein/Hoyer regime has taught us anything, Shark will be traded for prospects before the trade deadline. Likely No. 4 starter Jason Hammel is in the same boat, and he's done his best to deflect reporter questions about a trade that is almost certain to come. Travis Wood is locked in as the No. 2 starter, and Edwin Jackson needs to have a rebound year in rotation's No. 3 spot. Jake Arrieta and Chris Rusin appear to be in the mix for the No. 5 spot, but Arrieta still has to work out some arm issues first.
The bullpen has been a problem for the Cubs for several years now, but the post-Carlos Marmol era seems a bit more promising. Jose Veras was brought in during the offseason to close games, and he and Kyuji Fujikawa are the elder statesmen in the Cubs dugout, both at the ripe old age of 33. The Cubs are the only team in the National League without a player born in the 1970s on their 40-man roster (Baltimore and Cleveland are the two American League teams in this category). Pedro Strop is expected to be the setup man this year, and James Russell — who has appeared in 151 games over the past two seasons — could get some relief (no pun intended) from the newly acquired Wesley Wright.
Opening day lineup
1. Ryan Sweeney, CF
2. Starlin Castro, SS
3. Nate Schierholtz, RF
4. Anthony Rizzo, 1B
5. Mike Olt, 3B
6. Junior Lake, LF 
7. Welington Castillo, C
8. Darwin Barney, 2B
Prospect watch
The first of the Cubs' prospects to arrive in the majors will be Javier Baez, with Kris Bryant not far behind him. Baez made headlines this spring by breaking a car windshield during batting practice. There are lots of windows along Waveland Avenue just waiting for him to make the jump to the majors. He will be making some starts at second in the coming days, and has a shot at making the opening day roster, as well. Nearly all Cubs fans would be thrilled if this comes to pass.
Albert Almora, who won't be 20 years old when opening day arrives, also has been tearing it up in spring training this season. Arismendy Alcantara could chase Darwin Barney out of Chicago–if Baez doesn't do it first– and Brett Jackson is looking like he's also ready to make an impact at the major league level. And even though he's still a couple of years away from the majors, Rock Shoulders has some playing potential, along with a superhero-sounding name.
Prediction
The Cubs could be ready to move out of the NL Central basement, but they'll likely lose anywhere from 92 to 95 games. Perhaps the floodgates will be opened to the minor league talent by midseason, but the team's ridiculously low payroll ($73 million, after Soriano is taken care of) will be apparent once the season starts. The club says it's holding some of the money that was offered to Masahiro Tanaka in reserve, for potential player acquisitions during the season. I'll believe it when I see it, though.
All I can say is that I hope I live to see it. And every Cubs fan — and likely every baseball fan — knows exactly what it is. Seeing it once might be enough, but then again it doesn't seem to be getting old to the Red Sox and their fans. But that first one is still at least two seasons away, so I don't want to get ahead of myself just yet.
comments