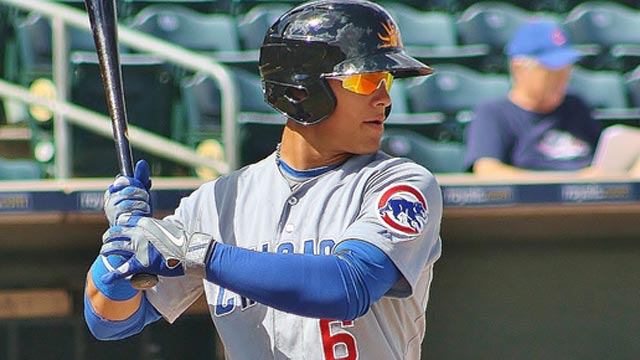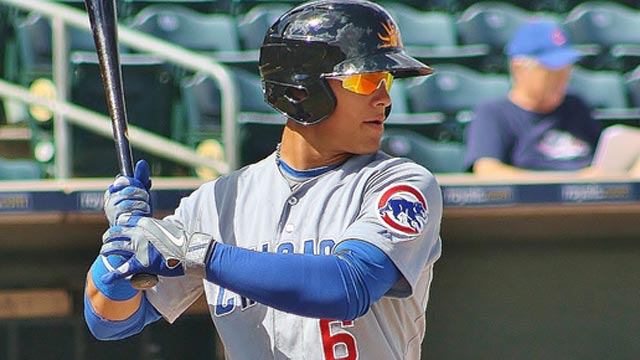 It's late in the 2014 season, and the National League Central's top four teams are pushing toward a division title. With just five games separating them, each team has something to play for. The Chicago Cubs, on the other hand, have other priorities in mind. When you're 12 games out of the wild-card race with just over 50 games to play, the familiar refrain of "Wait 'til next year!" seems quite appropriate.
With two and a half seasons of rebuilding the minor leagues behind them, the Cubs front office of Theo Epstein and Jed Hoyer have drawn raves from those who pay attention to such matters. But the major-league team has been a consistent bust during that time, and patience is beginning to wear thin among some fans. The first of their highly touted farmhands, Arismendy Alcantara (pronounced "Al-CAN-tra," as if that third "a" isn't there), made the leap to the majors in late July, and the second, Javier Baez, is scheduled to join the club on Tuesday. With nothing to play for in the standings, the Cubs have apparently decided to put their future on display.
Baez has some freaky bat speed, and he attained something of a legendary status in spring training when he broke the windshield of a fan's car. Some observers — myself included — thought that bringing him up to the majors for opening day made sense, but he was sent to triple-A to start the season. After all, service clock considerations are important in the modern game of baseball. His debut in August, instead of in March or April, means that the Cubs can keep him under their control for another year down the road. I suspect that we'll see this pattern repeated with others in the years to come.
In a game where young players such as Mike Trout and Yasiel Puig are making solid contributions to their teams at 23 and 22 years of age, respectively, it's worth noting that Baez is still just 21 years old. The Cubs' top prospects are young, Alcantara and current farmhands Kris Bryant and Jorge Soler are all 22. Recent top draft pick Kyle Schwarber is 21, and Alert Almora and Addison Russell are both just 20. In other words, the prospects are coming! The prospects are coming!
It feels awkward to be on the outside looking in on a pennant race in August and September. That comforting feeling that at least somebody is worse off than you are doesn't apply to the Cubs, at least within their own division. But in a way, the present has been sacrificed for the promise of a better future. And now, as the prospects are making their way to the corner of Clark and Addison streets in Chicago, it will be time to shift from the future tense to the present tense, instead. Pearl Jam has maintained that this makes much more sense, and we'll soon find out if that is also the case for the Chicago Cubs and their long-suffering fans.
comments