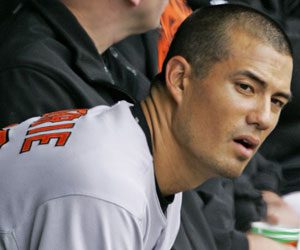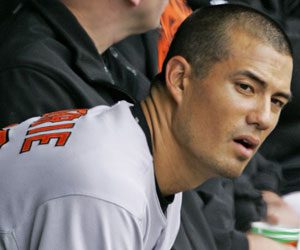 "Pitchers and catchers report" is one of the best offseason milestones enroute to the beginning of a new sports season. The only other comparable offseason moment is the NFL Draft, which is mid-summer Christmas for football fans. Seamheads everywhere can now begin to crown award winners, pick division champs and call the World Series.
Sunday marks the day most teams begin the 2012 campaign as pitcher and catchers report for spring training. Last season, the baseball talking heads and everyone around Denver had the Rockies down as NL West champs and possible World Series contenders. That prediction seemed fitting as the Rockies began the season red-hot, but then fell back to Earth where they were only men, not baseball gods.
The Rockies are going into Salt River Field with plenty of new faces  Sunday. Gone are pitchers Ubaldo Jimenez, Huston Street, Jason Hammel, Aaron Cook, Matt Lindstrom and Kevin Millwood. Last season's starting catcher Chris Iannetta will not be gearing up for the Rockies as he was traded to the Anaheim Pujols … er, Angels.
Going into spring training, some positional races can be called (barring injury) as former Cincinnati Red Ramon Hernandez is projected to be the starting catcher with Willin Rosario as backup. Hernandez is still a capable catcher and, even at 36, will do fine as long as Rosario can carry his weight in spelling Hernandez for off days.
The starting rotation will be heavily revamped as Jimenez, Cook and Hammel will be replaced by:
Jeremy Guthrie, Jhoulys Chacin, Drew Pomeranz, Juan Nicasio and (maybe) Guillermo Moscoso.
The starting rotation will be interesting as Jorge De La Rosa is still recovering from Tommy John surgery and isn't projected to return to the mound until late May/early June. Without JDR and the other three, the starters will have to be better than good to make it through the season without sinking the ship before it leaves the harbor.
Guthrie will be a big question mark as Coors Field is known as an unfriendly park for pitchers. Since he is the most seasoned pitcher, he will most likely get to be the starter for the season opener. Hopefully a new team, new park and fresh mountain air will set him straight. Like my expectations for the kind of women I may find in a Colfax dive bar: If you set the bar low, anything above it seems a whole lot better.
Chacin has drawn the ire of GM Dan O'Dowd for showing up to FanFest overweight. He was already the subject of concern as his offseason conditioning has been in question. Chacin assures that he is in shape and will be ready, but the front office does not seem to buy it. He has to step up in a big way because he is the best pitcher from last season and must return to his early-season form.
Pomeranz will need to live up to the trade he was the cornerstone of. Without Jimenez and a full season to play, all eyes will be on him to begin measuring the trade. He won in his debut last season, and hopefully, he can put in a full season with a winning record.
Nicasio has been cleared for all spring training activity. I'm sure the Rockies will be monitoring him closely, but all indicators say he is fine after the scary line drive to the dome last season against Washington. Nicasio should put together a good season, and hopefully, he isn't spooked by balls returned to him by the end of a bat.
I put Moscoso in here as the number-five guy because honestly, who knows who will be the last man in the five-man rotation. It could be Jamie Moyer, it could be Tyler Chatwood. That is what spring training is for. Moscoso is a relative unknown; making the final spot in the starting rotation would be the best way to change that.
For the first time in a few seasons, the Rockies are not on-paper division champs. Hopefully, this is a good omen as low expectations can be easily beat when the bar is low. Let me remind everyone that nobody saw Rocktober or the World Series appearance coming in 2007.
comments