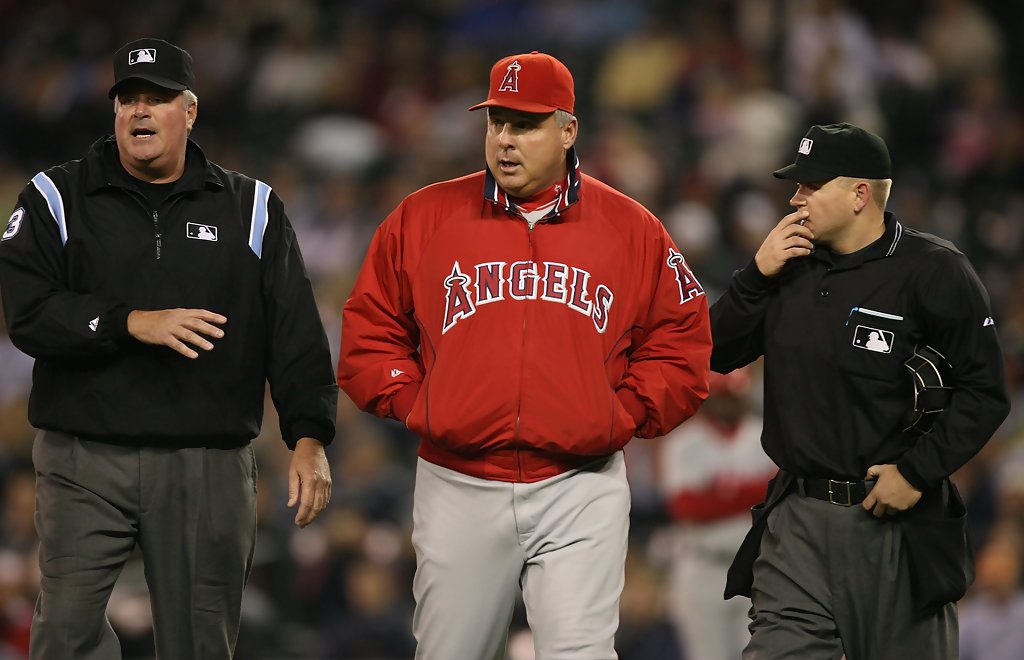 As the temperature outside rises, the temperature inside clubhouses continues to rise after disappointing starts to the season. As we encroach the month of May, the seat for one particular skipper is getting hotter.
After a 9-13 start to the season, Los Angeles Angels manager Mike Scioscia is feeling the heat. Last season's failure to make the postseason despite  signing C.J. Wilson and Albert Pujols only compounds the veracity of the situation. The Angels have simply lacked productivity. Despite groundbreaking production from Mike Trout last year, the results haven't trickled in. Rather, the Angels continue to look up at the Texas Rangers and Oakland Athletics for the second season in a row.
In early 2013, an imperative exists for the Angels to turn their fledgling season around in a hurry. If not, expect Mike Scioscia to be gone. Halo's Haven is running a contest for Angels fans to pick the date Mike Scioscia gets fired. USA Today's Peter Barzilai has already spoke of Mike Scioscia's hot seat. Needless to say, something in Anaheim needs to change. If it's not the play the field, expect it to be the skipper.
For 20 other MLB clubs, 89 wins would have been an improvement over their final win tally in 2012. On the other hand, only 18 of those 20 other clubs have a payroll in the range of the Angels. The unchanged narrative from 2012 has coalesced into 2013. Only this year, things appear worse already.
Josh Hamilton and his five-year, $125 million contract has yet to produce positive results on the field. Thus far, he is hitting .227 with two HR and eight RBI through 22 games. His early season strikeout rate of 25.8 is a career high. Hamilton is also taking base on balls at the lowest rate of his career thus far. The struggles thus far have removed Hamilton from the cleanup spot when facing left-handed pitching.
This disaster that is encompassing Hamilton is relative to Mike Scioscia in that the skipper is expected to produce wins with the roster he's been given. But it's not just Hamilton who is struggling.
Last season's American League Rookie of the Year is in the midst of a sophomore slump. Hitting .272, Trout has just two HR, 11 RBI and four stolen bases. After posting a Wins-Above-Replacement (WAR) of 10.0 last season, Trout's WAR in 2013 is only 1.0 thus far. While Trout's lack of production a6 s compared to last season is likely an adjustment to what we can expect from Trout on an annual basis, his struggles as related to his contract pale in comparison to Hamilton and Pujols.
The 10-year, $250 million contract Pujols signed prior to last season looks worse and worse everyday for the Angels. Last season, Pujols posted career lows in batting average, home runs, runs scored, walks, on-base percentage and slugging percentage. This year, Pujols is on pace to decimate his career lows from a year ago.
Hitting .268 with only two HR and 13 RBI, many consider Pujols' plantar fasciitis to be at the root of the slugger's problems. However, when the trends from his last three seasons with the St. Louis Cardinals are coupled with his first season in Anaheim, the bigger picture comes into focus. Pujols is slowly diverging from his career averages.
The pitching has not been as good as advertised either. Earlier in April, ace Jered Weaver suffered a non-displaced elbow fracture on his non-throwing arm. Before that though, the 30-year-old hurler was witnessing a dip in his velocity. Despite winning 38 games between 2011 and 2012, he has also seen a dramatic drop-off in his strikeout rate since 2010. His strikeout total has dropped an average of 46 Ks per year since 2010. After signing an $85 million contract extension in 2011, Weaver will be an Angel through 2016.
Like Weaver, Wilson is signed through 2016. As second-in-arms, Wilson himself has not lived up to the hype since receiving an enormous contract from Anaheim. The 32-year-old  has seen a significant jump in his ERA at 3.83 in 2012. Additionally, it appears that Wilson has plateaued. He didn't become a full-time starter until 2010 when he was already 30 years old. To make matters worse, Wilson's strikeout rate is down and his walk rate is up in 2013.
Altogether, it has been a failure of the acquired and developed talent to produce which has put Mike Scioscia on the hot seat. While Trout did everything he could in 2012 to generate a postseason berth, the rest of the roster has failed tremendously. In turn, Trout's production has taken a turn for the worse in 2013. The struggles of Pujols, Hamilton, Weaver and Wilson only solidify the screams from those in the corner of development, not payment.
Of course, general manager Jerry DiPoto should be on the hot seat as well. If Mike Scioscia is failing to succeed with a roster bloated by its payroll, DiPoto should have some answering to do as well. DiPoto constructed this roster. On paper, it appears to have enough hitting and pitching to contend for a World Series each and every year. Nearly 13 months since this operation began, the Angels are still in third place in the AL West.
As the wins come harder to find, someone will have to pay. That person will be Mike Scioscia. In the event that things get even worse, DiPoto will eventually be on his way out too. That is the only way to fix this. However, with the contracts the Angels currently hold, things are likely to get much worse before they get better.
comments