The New York Mets went into 2014 with a number of lingering questions. They found some answers over the course of the season and offseason, and they are more solid around the diamond than they've been in years. Manager Terry Collins and General Manager Sandy Alderson have expressed confidence and high expectations for this season, and the Mets just might prove them right.
Offseason recap
The Mets didn't have as busy an offseason as some hoped for, but they did some crucial fine-tuning and agreed to terms with a number of key players. They helped relieve their outfield logjam by releasing Eric Young Jr., and they traded reliever Gonzalez Germen to the Yankees for cash considerations. The Mets' big offseason acquisition was Michael Cuddyer, a dangerous right-handed bat who will take pressure off other hitters. Adding another righty to the bench, they signed  John Mayberry Jr., a versatile infield-outfield utility player who hits lefties hard and has a good mental approach. Strengthening the bullpen, the Mets added lefty specialist Sean Gilmartin via the Rule 5 draft. They also landed former Yankees hitting coach Kevin Long, who's worked successfully with Curtis Granderson in the past, and named Dustin Clarke their strength and conditioning coach.
Position players
If the Mets are going to produce offensively, they'll need contributions from two veterans who had disappointing seasons in 2014. Captain and third baseman David Wright played through a shoulder injury for much of last year, and it hampered his performance to the extent that he often seemed a weak link in the lineup. Wright's gung-ho disposition can get in his way, blinding him to the degree of injury through which he should not be playing. Fortunately, he appears healthy going into 2015, and the Mets need him to return to form. Meanwhile, veteran outfielder Granderson needs to address his inconsistencies and become the speed-power-lefty combination the Mets brought him in to be. Granderson's quiet leadership and history of playing for winning franchises remains valuable, but the fact is, he isn't much use as a dignified hole in the lineup.
In center field, Juan Lagares put himself on the map with outrageously good defense while wining his first Gold Glove award. His excellent reads, closing speed and right-field caliber arm make him one of the best defensive center fielders in recent memory. He improved dramatically on offense as well, and in the absence of Eric Young Jr. is being considered as the Mets' long-sought answer at leadoff. Lagares has the speed to be a leadoff hitter, but had to be coaxed into further aggressiveness on the basepaths. And contrary to public opinion, he actually doesn't have a terrible eye: his .329 on-base percentage was actually on par with the .327 OBP of the average NL leadoff hitter. Furthermore, Lagares was actually the least likely Met to swing at pitches out of the strike zone — and when he did, he was statistically a better bad-ball hitter than most of of the major leagues. If he can improve his overall batting average of .276, the OBP will sneak up a little more and he'll be a solid option at the top of the order. He's hitting well this spring, and it looks like the job will be his.
After finally getting a chance to own the position, Lucas Duda has proven himself a legitimate option at first base. Duda had 30 home runs and 92 RBIs last season, and was one of the major league leaders in hard-hit balls. His enormous power produced highlight reel shots on a semi-regular basis in the second half, and he showed an ability to drive the ball up the middle and use the whole outfield. On defense, he was better than expected, especially after his sub-mediocre performances in the outfield. His presence in the middle of the lineup provided a threat the Mets hadn't had at cleanup in years. Duda's biggest question mark going into 2015 is whether he can hit lefties; he's hit them well in the past, but last year he hit .180 against them with two home runs. If Duda can return to hitting lefty pitching even moderately, then he'll be an everyday fixture at first base and cleanup — and give the Mets' offense an enormous lift.
In Cuddyer, the Mets picked up a line-drive hitter with home run power who's proven he can hit in any park. He provides a seasoned right-handed bat for the middle of the order, and as a veteran who's played on winning teams, he immediately increases the Mets' credibility. His defense, however, is a matter of concern. Lagares playing next to him should make a difference, but Cuddyer will have to learn to play Citi Field's spacious outfield in the corners.
Behind the plate, Travis d'Arnaud finished 2014 in promising fashion. He hit .272 with 10 home runs in his last 69 games after being briefly sent down to the minors. It's his defense, and health, that the Mets are keeping their eyes on. While d'Arnaud was unusually good at framing pitches, he was also unusually bad at keeping them in front of him. He was also bad at controlling baserunners, and finished the year at -15 in defensive runs saved. Health could be a big part of the reason: d'Arnaud had his strong second half cut short by surgery to remove bone spurs from his throwing elbow, and he's battled concussion problems in his career. Both are highly problematic for a physically demanding position, though he was loath to refer to injuries as explanations for his issues. Still, he's come into this spring looking healthy and solid, and he's said his elbow feels looser after the surgery. If d'Arnaud can become even serviceable behind the plate, his offensive potential will make him a Mets centerpiece.
Shortstop is the Mets' biggest area of uncertainty. Wilmer Flores has been known for his entire career as having a solid bat and a questionable glove. He's a tall, rangy gap-to-gap hitter with surprising strength. He's also still working on his conversion to shortstop, where he has a strong arm but mediocre range. On a pitching-dominant team with a handful of ground-ball pitchers, this lack of range is a real concern. But Flores isn't as bad at shortstop as some seem to think he is, and likely because of his strong arm, he turns an unusually high percentage of his double plays. He's a work in progress, and his status as the everyday solution up the middle is in question. He's also struggled against lefties at the plate. But his upside and work ethic, and Ruben Tejada's mildly exaggerated doghouse status, will give him a chance to secure the position this spring.
At second base, Daniel Murphy has worked hard to become an at-times serviceable fielder. He's more athletic than people give him credit for being, but that being said, he can really struggle at his position. Murphy plays with the posture, mechanics and physicality of a corner infielder, and this is why he struggles. He makes the occasionally inspiring play because of his underrated athleticism, but he's often stiff and uncertain on plays that an average major league second baseman turns smoothly. He was a ghastly -11 in defensive runs saved last season, the third year in a row in which he was double-digits in the wrong direction. Again, this is problematic on a pitching-dominant team with a bunch of ground ball pitchers. Of course, Murphy has also emerged as the Mets' best overall hitter. He's got a great eye, moderate speed and just enough power to hit lots of doubles and leave the yard around 10-15 times a year.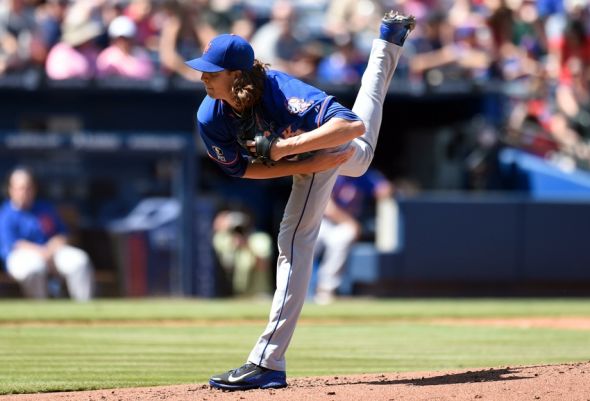 Rotation
In his first spring training after Tommy John surgery, Matt Harvey says he feels fine. So fine, in fact, he's re-introducing the out-pitch curveball he used in college. Add that to the high-octane fastball and brutal slider he used to take baseball by storm, and Harvey will be scary if he's fully healed. Jacob deGrom is coming off of a Rookie of the Year campaign in which he showed power and poise as he posted a 2.69 ERA with 144 strikeouts in 140 innings. He, too, is working on a curveball. Bartolo Colon struggled at times last year, but he's an experienced veteran who racks up innings and is capable of the occasional shutdown start. Lefty Jonathon Niese will look to bounce back from arm trouble he battled through for a respectable and occasionally dominant 2014. This spring, his arm mechanics look solid and he seems to be throwing without discomfort. Zack Wheeler, once even more highly touted than Harvey or deGrom, is having season-ending Tommy John surgery and will miss the 2015 season. This reopens the door for Dillon Gee, who was previously slated to transfer to the bullpen. Gee makes the most of his talent and has put up some outstanding stretches as a starter; once or twice through the order, he's capable of being as good as most pitchers. Unfortunately, he also tends to have a 5-6 inning wall. If he struggles, the Mets might call up a hot prospect like Noah Syndergaard or lefty Steven Matz and send Gee back to long relief. Either way, the Mets' starting rotation looks stacked.
Bullpen
The Mets' bullpen looks like a strong complement to its starting rotation. They have two of the National League's best closers: Bobby Parnell, who was pitching very well before undergoing neck surgery early last season, and Jenrry Mejia, who filled in for Parnell by going 28-of-31 in save chances with a 2.72 ERA. Mejia battled ailments of his own, but he appears healthy this spring. Mejia will begin the season at closer until Parnell is healthy enough for duty, which looks like it will be early in the regular season. Holding down the eighth inning will be Jeurys Familia, who may have been the Mets' best overall relief pitcher last year. Familia had a 2.27 ERA in 2014, and was one of the best relievers in baseball at inducing ground balls. Flamethrower Vic Black will bounce down to the seventh; he gave the Mets a minor scare this spring when he needed an MRI for shoulder discomfort, but fortunately results were negative and he's back to throwing. Rafael Montero, who showed promise in a brief stint in the majors last year, will be added to the pen to begin this season. Lefty reliever Josh Edgin was lost to Tommy John surgery this spring, which means the Mets will look to acquire a solid lefty reliever, unless Dario Alvarez or Gilmartin steps forward.
Opening day lineup
As much as I'd like to see Murphy batting third and Wright batting fifth, that would create a lot of consecutive lefties followed by a lot of consecutive righties. D'Arnaud flourished when placed in the middle of the order last season, and he's a good option behind Cuddyer and Murphy. The added lineup protection should allow Wright to relax, stop chasing home runs and use the entire field again. Murphy is the Mets' best overall hitter, and will have both RBI opportunities and lineup protection batting sixth. Granderson has always flourished the most at or near the top of the lineup, though, so he and Murphy could switch places depending on how things go. The Mets' lineup looks more dangerous than it has in years.
Juan Lagares CF
Curtis Granderson RF
David Wright 3B
Lucas Duda 1B
Michael Cuddyer LF
Daniel Murphy 2B
Travis d'Anrnaud C
Wilmer Flores SS
Jacob deGrom P
Prospect watch
The Mets have a whopping seven players represented in Baseball America's top 100 prospects. First among them is Noah Syndergaard, an ace-in-training who might get his shot this year. Steven Matz is a lefty starter with three good pitches and a strong work ethic. He'll begin the season in the minors, but he's one of the most highly regarded prospects in baseball. Along with the multitude of arms, the Mets have a handful of exciting young position players stashed. Outfielders Brandon Nimmo and Michael Conforto are looking increasingly ready for prime time, and middle infielder Dilson Herrera showed flashes of brilliance when promoted last year. Meanwhile, shortstop Matt Reynolds turned enough heads this spring that there's discussion of promoting him to take Flores' spot. Kevin Plawecki is an interesting catching prospect, and if you can believe there's more, shortstop Amed Rosario is one of the aforementioned top 100, and he's still only 19.
Prediction
The Mets were 4-15 against the Washington Nationals in 2014. That means they were 75-68 against everyone else, including winning records against every other team in their division. This was while David Wright played through a wrecked shoulder, Curtis Granderson struggled all year, they lost their closer early and their ace didn't even take the field. The Mets battled injuries and lineup shuffles all season and still made strides in a number of areas. Going into 2015 healthy will be the crucial factor. But with a staff full of power arms, a strong bullpen and several other weaknesses addressed, the Mets seem poised to finally play meaningful games late in the season.
Prediction: 87 wins, second in NL East
comments