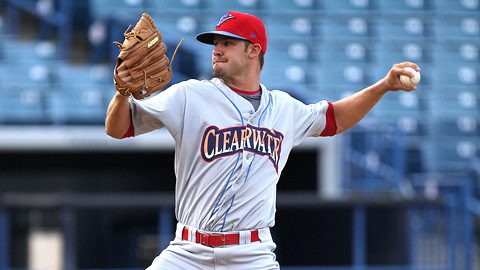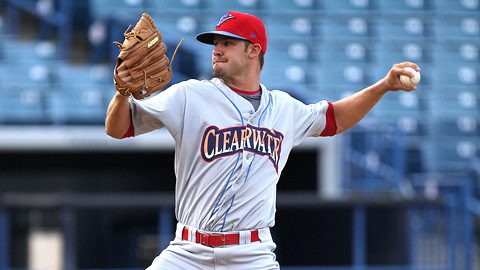 It's been a pretty upsetting year for Philadelphia Phillies fans on all fronts. Not only has an aging major league roster provided the fan base with perhaps 2012's most disappointing season in all of sports, but its farm system, bereft of elite talent, doesn't inspire much optimism for the future. A small ray of light — peering out through the morass of injuries, IronPigs and subtle radio caller racism — was recently brought up to Reading.  This faint but legitimate photon, poking his head out from an obscure corner of an all-time dumpster fire, is young left-handed pitcher Adam Morgan.
Morgan didn't come into the season with much heat on him at all. He wasn't on Keith Law's organizational top 10, he wasn't on Kevin Goldstein's Future Shock top 20 and he barely made it on to Baseball America's top 30, sneaking onto the Phillies' list at number 29, seven spots behind his Crimson Tide rotation mate, Austin Hyatt. Something has changed. No longer is Morgan, a third rounder from the 2011 draft, being described as a "soft tossing, command and control guy." He's started missing bats — more than one per inning — and forced his way up from Clearwater into a really fun, prospect-laden rotation at double-A Reading. With the fan base's silver lining 45 minutes away from me, you know I made the drive with my stopwatch and notebook.
What was cool about this scouting trip was the clean slate on which I could conduct my analysis. I didn't accidentally stumble upon any opinions or reports on him because there just aren't any yet, and I didn't actively seek any out before I saw him because I wanted to be surprised and uncontaminated by anyone else's ideas. I hopped in the car not knowing if Adam Morgan was right-handed, short, fat, black, handsome, blonde or cross-eyed. It made me all the more excited to see him and drink everything in. If you're not into dry, vanilla, missionary-position type scouting reports, then I'll just tell you now that I like this kid quite a bit, and I think he's going to be a useful big leaguer. Here are those sentiments expressed in more detail …
The 22-year-old Morgan is not a jaw-dropping physical specimen. He's in fine shape, but his 6'-1" frame offers no positive projection. What you see is what you're going to get. If Morgan's physique is going to change, it will change horizontally. Let's hope it doesn't, because sometimes guys who gain weight have a hard time maintaining the athleticism in their delivery, which right now for Morgan is just fine. Morgan lands hard on a stiff front leg and there's a little bit of effort as he fires, but nothing is so violent that I'm concerned about repeatability or sustainable health. These sound mechanics help produce above-average control and average command of a slightly above-average fastball (I'll put a 55 on it, 89-92mph) that plays up thanks to terrific movement. That movement, however, is inconsistent, and Morgan's heater will get flat and straight at times. His somewhat diminutive stature prevents him from getting natural downhill plane on his fastball which he left up in the zone a handful of times last Tuesday. He got away with it because, hey, it's double-A and Trenton's lineup is pretty bad. But that won't fly in the big leagues, and Morgan will have to continue to hone in on the lower third of the zone to avoid becoming homer prone.
The fastball is complemented by a plus change-up (60, but flashed better three or four times), a true swing-and-miss pitch which consistently made Thunder hitters look both uncomfortable and ridiculous. It is clear this is where Morgan has made strides this year as his change-up was previously just a footnote on his scouting report. The pitch sits in the upper 70s with lots of fade and action, and, most importantly, Morgan maintains his fastball's arm speed when he throws it. I see this as a weapon that will miss some bats in the big leagues one day.
Morgan has two breaking balls, a slider and a curve. The two can overlap a little but the hook (30) will usually sit mid-to-upper 70s while the slider (45), which I like much better, hangs out in the low 80s. Further development of one of these pitches is crucial to Morgan's future. He has an idea what to do with the slider, getting a swing-and-miss or two at some back-foot work against righties, but it needs refining. I'd like to see him pitch backwards with it later in his starts to get ahead of hitters with something new.
I'd love to get another look at Morgan before the season's out to better grasp the nuances of his craft. After one look, I think the Phillies have stumbled on a nice back-end starter who has a chance to be a solid mid-rotation guy if he improves even just one or two of his current deficiencies. Stick a feather in the cap of the Phillies' player development staff.
comments