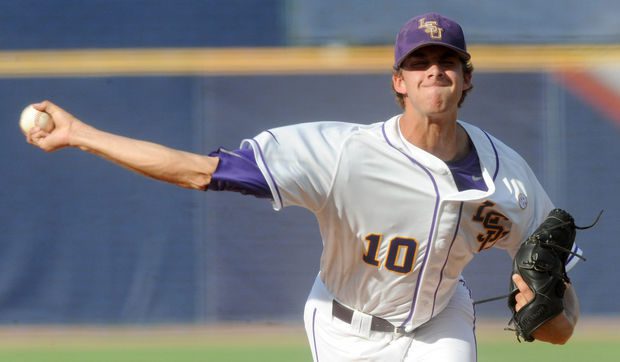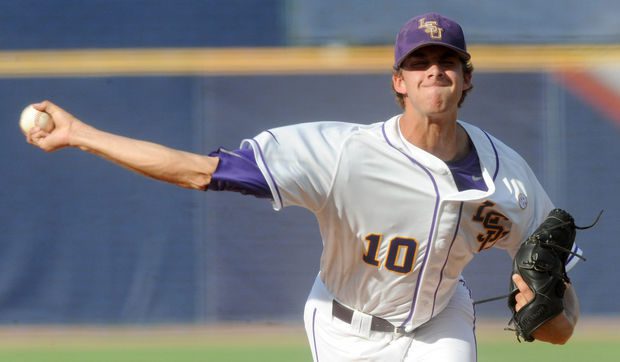 [EDITOR'S NOTE: Our Brad Congelio covered Aaron Nola in reference to the Toronto Blue Jays. This story is a profile, not a follow-up, on Aaron Nola.]
Aaron Nola, righthanded pitcher for the LSU Tigers, is one of the most polished pitchers available for the 2014 draft. A rising junior, Nola was selected by the Toronto Blue Jays in the 22nd round in 2011. He elected not to sign and enrolled at LSU, where he would play alongside his brother, Austin, who would be selected in the fifth round by the Miami Marlins in 2012.
As a freshman, Nola made an immediate impact. In a rotation that featured future Baltimore Orioles fourth overall draft pick Kevin Gausman and Minnesota Twins second-round draft pick Ryan Eades, Nola made 16 starts, throwing 89.2 innings. He compiled a 24.2 percent strikeout rate and a miniscule 1.9 percent walk rate. Nola pitched that summer for the Harwich Mariners of the Cape Cod League. Due to innings concerns, he made only two starts. They were impressive, as he struck out 15 and walked two, allowing just five hits in 11 innings.
In his sophomore season, Nola took over the role of staff ace. He threw 126 innings, striking out 25.8 percent of hitters, while walking only 3.8 percent. Opponents managed just a .188 batting average against Nola, and he was named SEC pitcher of the year. Given the high innings count, Nola declined an invitation to play for Team USA.
At 6'1 and 185 pounds, Nola does not have the classic frame of a big league starting pitcher. There are concerns that his smaller size will limit his upside, and those concerns are not unfounded. Of the top 30 major league pitchers last year, only Hiroki Kuroda was listed at 6'1 or shorter.
Putting aside concerns about his size, Nola has impressive stuff, featuring three above-average pitches. His fastball, which sits 89-92 and touches 94 has excellent sink. The changeup works in the low 80's, and shows good depth and fade. Nola's curveball is in the mid 70's, with more of a 11-5 break than a true 12-6.
Mechanically, Nola works from a low three-quarters arm slot, which produces the sink on his fastball. He shows a loose and easy motion, with good hand separation and extension. His finish is controlled, and he repeats his mechanics very well. With his long stride, the ball sometimes gets on hitters quicker than they expect.
With his low arm slot and sinking fastball, the changeup is very important for Nola to fare well against lefthanded hitters at the next level. His arm slot, frame and pitch mix remind me of New York Yankees swingman David Phelps, though Nola has lower walk rates than Phelps did against tougher college competition.
His ceiling may not be as high as other pitching prospects in the 2014 draft, but with excellent control and three above-average pitches, Aaron Nola is a strong bet to be a contributor in some capacity at the big league level. He could go within the middle of the first round to the first few picks in the second round.
comments