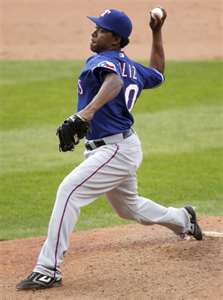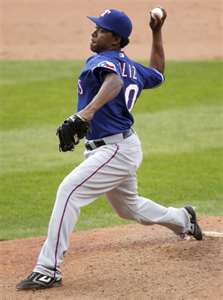 The Texas Rangers of old are back. They, again, will be among the leaders in home runs, runs batted in and most other offensive categories. And they, again, will struggle to stay in contention in the regular season behind a suspect pitching lineup.
The Los Angeles Angels offseason signing of C.J. Wilson, the Rangers ace, was the tipping point that gave the Angels firm control of the American League West. Even if the Angels offense flounders for parts of the season, they have arguably the best starting pitching staff in the game.
The Rangers have no such luxury. Every game the formidable Rangers offense does not show, likely will be a loss. And as veteran Michael Young can attest from previously disappointing seasons, minus the past two, of course, even a large early lead will not lead to victory unless the offense is producing in the late innings, as well.
The Rangers still have the wild card spots to fight for, but there they will have to beat out the pitching-rich Tampa Bay Rays, Toronto Blue Jays, and the heavily underrated Chicago White Sox. For Texas to make its third consecutive postseason appearance, too many things have to go just right.
New acquisition Yu Darvish will have to exceed even the wildest of expectations. Former closer Neftali Feliz cannot falter down the stretch as his innings count climbs higher and higher. The list goes on …
The Rangers' pitching staff of the past couple of years was able to take advantage of the weak offense of the AL West. Now, they will face an Angels lineup almost as monstrous as their own. The Oakland Athletics and Seattle Mariners also have become more threatening offensively, though certainly not to the same degree as Los Angeles.
At least the days of the Rangers choking in the World Series are over.
comments