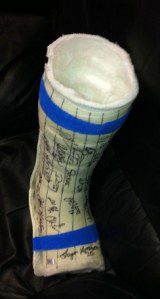 Really Hanley?
After two consecutive years of bad PR you couldn't help but stretch it out to a third year in a row? In 2009, it was a clubhouse scuffle with Dan Uggla that grabbed headlines. Last year, LollyGag Gate and your spat with then-manager Fredi Gonzalez heightened the perception that Hanley Ramirez comes before the team. Now, this year – with the Marlins making headlines for all the right reasons – you bring us Cast-Gate.
It's not like your .197 BA, 0 HR, 7 RBI, .299 OBP and five errors aren't drawing enough attention, but now you don't sign Logan Morrison's cast, which is being auctioned on ebay to raise money for the American Lung Association.
Really Hanley?
You came into spring training saying all the right things – that you were ready to put the past (and a selfish one, at that) behind you and carry the team on your shoulders. Being a team player is one of the things that leaders do. If your omission from signing the cast is anything but an oversight (kinda hard to believe given how the Marlins broadcasters were promoting it throughout yesterday's game – including pictures of the signed cast in the dugout), you have once again illustrated to fans that you are neither a team player nor a leader.
According to a post by Marlins beat reporter Juan C. Rodriguez, Morrison didn't know why Ramirez didn't sign the cast. LoMo suggested that Hanley maybe had the "heebie jeebies" about wanting to touch the cast that was removed from Morrison's foot earlier this week.
Really Hanley?
It's for a good cause, and from a player who is fast becoming a fan favorite both on and off the field. LoMo's red-hot start was as unexpected as Hanley's ice-cold one, and the second-year player is champing at the bit to get back in the lineup to help the t-e-a-m.
In all fairness to Ramirez, this has nothing to do with what happens on the field, nor should it have any impact on clubhouse chemistry. But still, really Hanley? Taking five seconds to sign your name may have added value to the auction and, for damn sure, would have prevented even an iota of bad press from blogs like this. Next time, close your eyes, hold your breath and scribble your name. It would have been that simple.
For those interested, you can bid on the cast here. The auction is open for eight more days. As of 3:30 EDT today, the highest bid was $510.
comments