With baseball season in full swing, some of you might need those motivational, funny or inspiring quotes from some of the best players in the league. If you have ever played baseball, you know how much of a mental game it is. You know how a split second could change the same right in front of you. Whether it is to inspire the team you are coaching, giving you the guts to try out, these baseball quotes will give you that drive you are looking for.
These baseball quotes are from some of the greatest players and even some of the greatest coaches of all time. They have grown up on the game, and inspired everyday people just like us. They have lead their teams to victories, to the world series, and even changed the game in baseball. These athletes and coaches have provided wisdom through their words, for some who might be struggling in the game, or just need some inspiration. Down below are some of the greatest baseball quotes that we have complied together, just for you.
"I'm a teammate guy, so whatever I can do to help my team to win, like I have the past two years, that's what I want to do. If it takes me to play first base, third base, right field, I just want to win the game." – Albert Pujols
"To me, baseball has always been a reflection of life. Like life, it adjusts. It survives everything." – Willie Stargell
"If you have a bad day in baseball, and start thinking about it, you will have 10 more." – Sammy Sosa
"In baseball, you can't kill the clock. You've got to give the other man his chance. That's why this is the greatest game." – Earl Weaver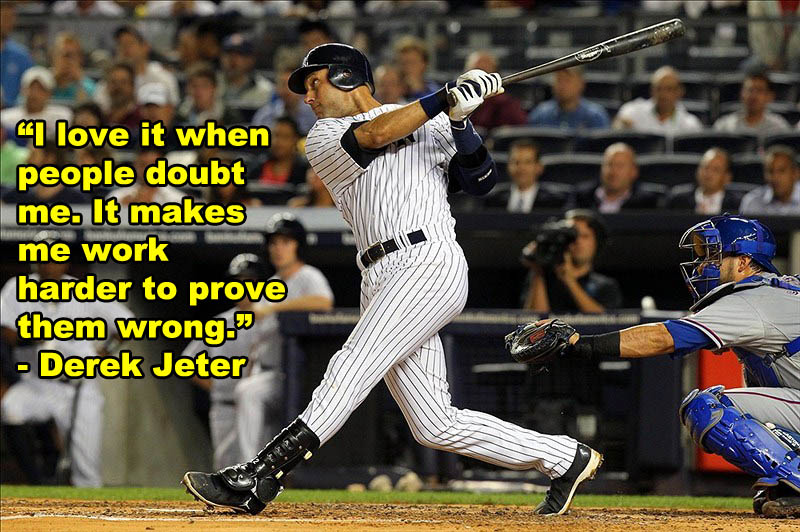 "7 days without baseball makes one weak." – Unknown
"Baseball is the only field of endeavor where a man can succeed three times out of ten and be considered a good performer." – Ted Williams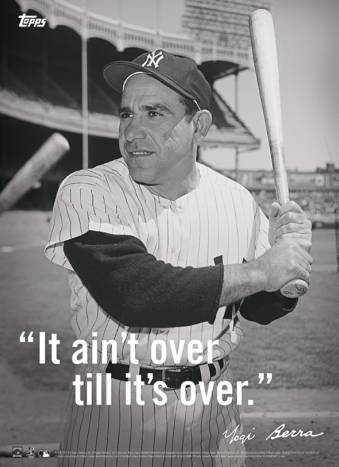 "If people aren't laughing at your goals, they're too small." – Bryce Harper
"My motto was always to keep swinging. Whether I was in a slump or feeling badly or having trouble off the field, the only thing to do was keep swinging." – Hank Aaron
"A life is not important except in the impact it has on other lives." – Jackie Robinson
I've always been taught to play the game hard. Baseball is such a tough game, it really humbles you at times, you just have to try not to get too high or too low. – Chase Utley
Baseball Quotes from Hall of Famers
Some of your favorite baseball quotes from some legendary Hall of Famers throughout the years. These baseball quotes are nostalgic, hard-hitting, and some of them might have even inspired you from your early years! Most importantly, some of my favorites.
"So I'm ugly. So what? I never saw anyone hit with his face." – Yogi Berra
"Life is not a spectator sport. If you're going to spend your whole life in the grandstand just watching what goes on, in my opinion you're wasting your life." – Jackie Robinson
"Three teams in it, two make it and one will miss it. Every game is like a playoff game. It's going to be as big as if it were a seven-game series." – Mike Mussina
"I learned early in my life that sometimes I'm going to lose. I don't like it, but I accept it, meaning that I understand it's going to happen. But I don't see it like defeat; I see it like a learning process. Then if there's nothing to learn, I move on." – Mariano Rivera
I've always tried to work hard. I'm not trying to show anybody up or do something spectacular for attention. – Roy Halladay
"Confidence is everything. If you start second guessing yourself, you're bound to run into more bad outings." – Trevor Hoffman
 "I always believed no matter where you are, as long as you're doing what you love doing, you're going to be happy. I'm proud of everything that I've accomplished since I was a little boy. That was my dream – to be a ballplayer." – Roberto Alomar
Baseball Quotes from Coaches
Some of these coaches have inspired professional players through their own baseball quotes, so hopefully, they can inspire you to be a better coach, a team player, or even just hype you up for a game!
"I don't think these guys lose confidence. You'll find very few major league players lose confidence. That's one of the reasons they got here, because they're very confident men." – Bud Black of the Colorado Rockies
I told him, 'The thing you have to understand . . . is put yourself in a position when it happens again to be the one they want to move." – Brian Snitker of the Atlanta Braves
Listen, they've got some experienced players and they've got a lot of offensive potential. When they're as down as they were, you know they could come out fighting at any time. – Tory Lovullo of the Arizona Diamondbacks

"To be honest with everyone around you, humble no matter how good things get, reliable and consistent so that everyone knows what to expect, to willingly share your experiences with others—including those who might one day take your job!—to manage change with a smile on your face and stay engaged with everyone so that you can know how best to inspire them. That is what it takes to be a great teammate." - David Ross of the Chicago Cubs
"Obviously (the home run) was the last thing on my mind. I went from goat to hero." – Dave Roberts of the LA Dodgers
Baseball Quotes from Movies
These baseball quotes I have lined up down here are from some of the greatest baseball movies that have ever existed. Therefore, some people have used these baseball quotes for motivation and learning lessons for their players. Enjoy!
"I've tried 'em all, I really have, and the only church that truly feeds the soul, day in, day out, is the Church of Baseball." - Bull Durham
"You get out there, and the stands are full and everybody's cheerin'. It's like everybody in the world come to see you. And inside of that there's the players, they're yakkin' it up. The pitcher throws and you look for that pill… suddenly there's nothing else in the ballpark but you and it. Sometimes, when you feel right, there's a groove there, and the bat just eases into it and meets that ball. When the bat meets that ball and you feel that ball just give, you know it's going to go a long way. Damn, if you don't feel like you're going to live forever." –Eight Men Out
"I'd wake up at night with the smell of the ball park in my nose, the cool of the grass on my feet… The thrill of the grass." –Field of Dreams
 "I used to believe, I still do, that if you give something your all it doesn't matter if you win or lose, as long as you've risked everything put everything out there. And I've done that. I did it my entire life." –For Love of the Game
"You're the best thing to happen to baseball since Cracker Jack!" –Rookie of the Year
"It's supposed to be hard. If it wasn't hard, everyone would do it. The hard… is what makes it great." –A League of Their Own
"I'd sell my soul for one long ball hitter." –Damn Yankees!
 "All the arguing in the world can't change the decision of the umpire." –The Pride of the Yankees
"Juuuussssst a bit outside." - Major League
If you think any baseball quotes are missed, feel free to leave your input in the comments! Share your favorite baseball quotes, you could be inspiring others as well!
comments