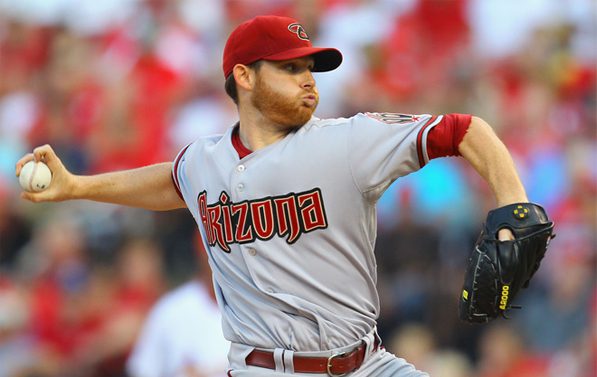 Dan Haren, Barry Enright, Edwin Jackson, Dontrelle Willis, D.J. Carrasco, Rodrigo Lopez –– if you watched baseball last summer, you very well may have seen one of these guys on the mound in a Diamondbacks uniform. (It's worth noting, before we go any further, that you also may have seen Mike Hampton in the D-backs bullpen. Throw Mark Reynolds, Ryan Church, Adam LaRoche, and Chad Qualls into the mix and you've got a truly bizarre group of characters. And, needless to say, the 2011 D-backs look quite different.)
Right now, the D-backs rotation includes none of the above, consisting instead of Ian Kennedy (9-3; 3.44 ERA), Daniel Hudson (9-5; 3.74), Joe Saunders (6-7; 3.86), Josh Collmenter (4-5; 2.92), and Zach Duke (2-4; 5.47). While the 2011 starters may not be a bunch of household names like Haren, Jackson and D-Train, they are surely outperforming their predecessors as a group.
The 2010 D-backs rotation sported a 4.40 ERA and a 49-65 record. This year, the core group (Kennedy, Hudson, Saunders, Collmenter) has a 28-20 record and a 3.49 ERA, and they're quickly climbing out of anonymity.
Ian Kennedy — As I wrote earlier in the season, Kennedy's becoming a legit ace. He's in the top 10 in the National League in wins, strikeouts and win percentage. Highlights of the first half (I couldn't narrow it to one, so here are highlights 1a and 1b):
1a. Going toe-to-toe with former Cy Young winner Tim Lincecum on May 10. Though Kennedy didn't get a decision, he gave up no runs on four hits, fanning eight and proving his legitimacy in the process.
1b. Outdueling former Cy Young winner Cliff Lee in his first game as a dad, on April 25. Kennedy tossed a complete game shutout, limiting the Phillies to just three hits. In the gem, he recorded 10 strikeouts and no walks.
Daniel Hudson — Hudson is a winner, pure and simple. Last year, in a half-season with the D-backs, the then-23-year-old went 7-1 with a 1.69 ERA. Thus, headed into the 2011 season, D-backs fans were expecting big things. Following an atrocious 0-4 start, Hudson has gone 9-1, posting a 3.21 ERA.
Highlight of the first half: Easy. A one-run, three-hit complete game win versus his former team on June 17. Hudson fanned five White Sox, scored a run, and hit an RBI double in the game. Best of all, he beat Edwin Jackson –– the guy for whom he was traded less than a year before, embarrassing White Sox GM Kenny Williams (who could very well be the worst general manager in baseball).
Joe Saunders — The lone southpaw of the core starters, Saunders got off to a very slow start this season. How slow? Well, he was winless until his tenth start. Since then, however, he's gone 6-2 with a 2.72 ERA. Saunders has tallied 11 quality starts on the season –– one less than Kennedy and two less than Hudson. As with Kennedy, I've got two highlights of the first half in mind for Saunders:
1a. Saunders' postgame quote following a loss to the Phillies, his third of the season. "I am going to go home, sacrifice a live chicken and turn this thing around," was the exact quotation.
1b. Saunders' first win of the season, which was way overdue. The southpaw got the win against the division foe Rockies nearly two months into the season, on May 24. Saunders registered a putout at home plate, after a pitch got by catcher Miguel Montero, colliding with the Rockies' Dexter Fowler late in the game. Additionally, the win sent the D-backs into a seven-game win streak during their historic march to the top of the NL West.
Josh Collmenter — Collmenter was called up from triple-A Reno two weeks into the season, on April 15, and was initially used for relief purposes. In his first major league appearance, Collmenter came away with a win after two innings of scoreless pitching in an extra-innings game versus the Giants. Nearly a month later, Collmenter won his first major league start, pitching six scoreless innings and giving up just two hits.
The rookie flourishes one of baseball's most unique deliveries, raising his arm high above his head at an unusual angle, before whipping the ball down to its release. Collmenter's delivery is, indeed, widely considered the most deceptive in baseball, mostly because no one pitches like him. If you haven't seen him pitch, you really ought to –– it's like watching Hideo Nomo or the late Dan Quisenberry all over again, except Collmenter is something brand new. (It's worth noting that Collmenter has been struggling lately, losing four of his last five starts.)
Highlight of the first half: This is a tough one, as Collmenter has had a few gems that all look the same on paper. However, to date, I think his aforementioned first appearance takes it. A fresh call-up, Collmenter entered a tied game in the top of the 11th versus the Giants and went on to pitch two scoreless, hitless frames; fanning two and getting the win on a Stephen Drew RBI single.
Others — Along with Duke and Enright (mentioned above), the D-backs have got starts from Armando Galarraga and Micah Owings. Galarraga and Enright were sent down to triple-A Reno and Owings has been working out of the bullpen, despite a couple of decent starts in late May. Duke has mostly struggled since returning from the disabled list on May 28, excluding his first start of the season, in which he allowed no runs on three hits and bopped a three-run homer to help his cause in Houston.
Down the stretch, the D-backs will need their starters to perform as well as they have been in order to stay in the NL West pennant race, as the division-leading Giants will undoubtedly get a strong second half from their rotation. Lincecum underperformed in his first half of the season, Jonathan Sanchez comes off the disabled list later this month and Barry Zito is returning to old form, winning all three of his starts since coming off the disabled list with a 1.29 ERA.
Should be a great race.
comments