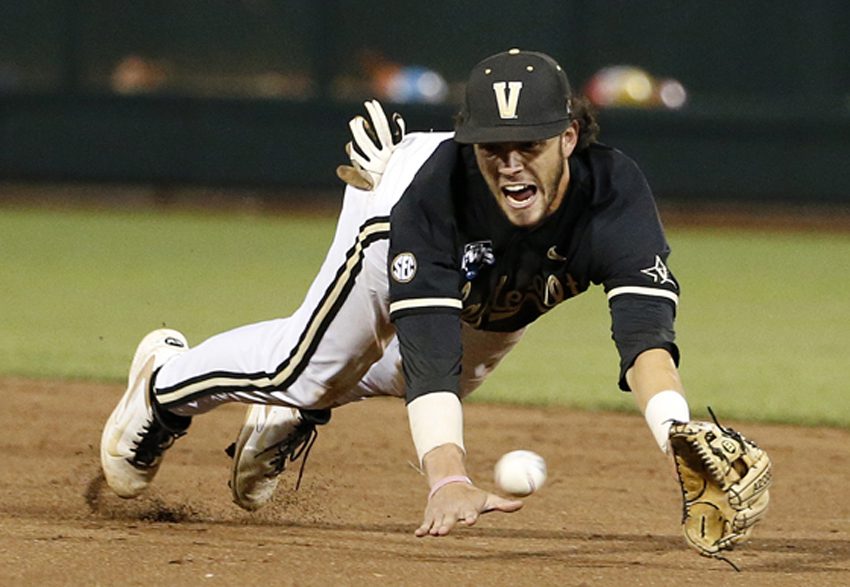 The 2015 MLB draft continues to be very unpredictable and full of wild cards. Duke ace Michael Matuella, considered a top-five pick prior to the season, will miss the rest of the season having to undergo Tommy John surgery. This after last year's first-overall pick, and likely top-five pick again Brady Aiken, announced he was going to have the procedure as well. Throw in top prep southpaw Kolby Allard, likely out for the season with a back injury, and it's beginning to look like last year with all the arm troubles.
Last year's draft was deep on arms, however, and that could benefit the bats this year, but we'll just have to wait and see how everything unfolds. Here are 10 players who have been impressive of late, including two shortstops and three southpaws: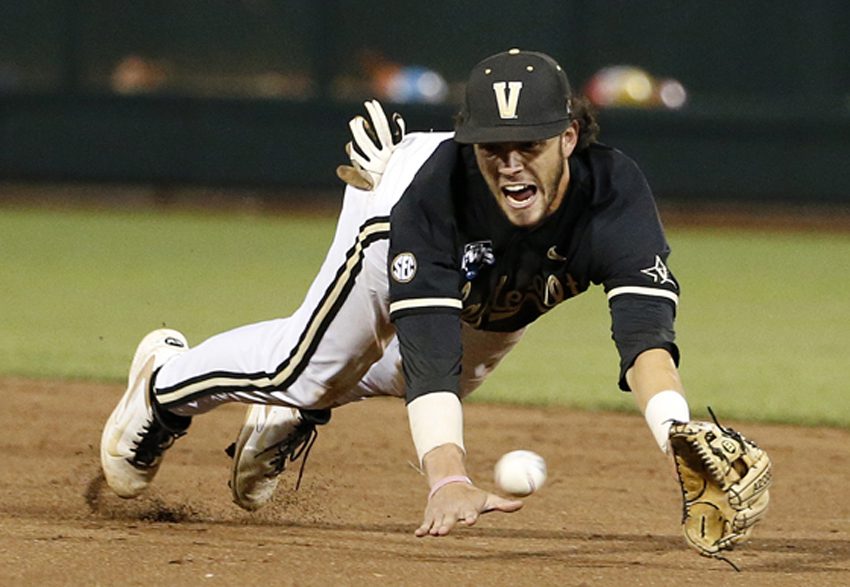 Dansby Swanson, SS, Vanderbilt
A gifted defender, Swanson is showing the kind of bat that could thrust him into 1.1 talks soon — especially with all the injuries to the top arms. Through 30 games, the 6'-1" right-hander is hitting .370/.476/.622 with nine doubles, five home runs and 23 walks to 20 strikeouts. He has gone 10-for-11 in stolen base attempts and is as close to a total package as there is in this draft with few holes in his game.
Paul DeJong, C/3B, Illinois State
DeJong smacked three home runs against Eastern Illinois on March 31, continuing his assault on pitchers this season. He hit .349/.430/.596 as a sophomore, so he wasn't exactly off the radar coming into the year. This season, however, he has been one of the best hitters in the country, hitting .427/.508/.806 over 25 games with nine doubles and leading the nation with 10 home runs. The 6'-1", 200 pound right-hander can play any position on the field, and that kind of versatility will only improve your draft stock. The bat is legit, and if teams believe he can stick at the hot corner, he is going to soar up draft boards.
Skye Bolt, OF, North Carolina
Bolt is starting to put it all together, showing off his five-tool talents that many were expecting to see this season. The 6'-2" switch-hitter is hitting .341/.509/.614 over his last 13 games with three doubles, three home runs, three stolen bases and 11 walks. He can play all three outfield spots due to his athleticism and arm, and he has 20/20 potential at the plate. He's playing like a first-round pick of late.
Dillon Tate, RHP, UC Santa Barbara
Tate's stock has been rising all year, and the injury to Matuella only propels him higher — if he hadn't already passed him. The 6'-3" right-hander is a good athlete who has been consistent with his stuff and performances all season. Over seven starts, he has a 1.39 ERA, 0.81 WHIP and 59 K/15 BB over 51.2 innings. He features a plus slider and mid-90s fastball, and he has shown the ability to maintain velocity deep into games. He also has to be considered for 1.1 right now.
D.J. Stewart, OF, Florida State
Stewart leads the nation in walks (39) and is second in home runs (9). The 6'-0", 230 pound left-handed hitter may be the best college bat in the 2015 MLB draft and has a tremendous track record of obliterating baseballs, coming into this season with a .358/.479/.559 slash line over 113 games. His stance is something to see, but it's where you end up, not where you start, that matters. Through 30 games, he is hitting .281/.510/.604. He's a first-round pick whose stock just keeps climbing, and I wouldn't be surprised to see him go top 15.
Alex Bregman, SS, LSU
Bregman continues to show off his advanced bat and mature approach, and he is showing off his power in games this season. He is among the leaders in the nation with seven home runs and is one of the hardest players to strike out, having whiffed just four times over 139 plate appearances. He is now hitting .322/.384/.619 over 29 games with 10 doubles, seven home runs, 29 RBI and 11 walks to those four strikeouts. He has also added 14 stolen bases and is a complete player on offense. Scouts still think second base is his future, but he should be given every chance to prove he can handle shortstop at the next level. I wouldn't bet against him. He's a top-10 lock right now in my opinion.
Kevin Duchene, LHP, Illinois
Great mound presence, pinpoint command and a plus change-up is a pretty good starting point for success on the mound. Add in a low-90s fastball with movement and a solid curveball, and you can see why Duchene is dominating opponents this season. The 6'-2", 210 pound left-hander is 4-1 through five starts with a 0.82 ERA, 0.82 WHIP and a silly 37 K/3 BB over 33 innings. Illinois is a top-20 team for the first time in a long time and Duchene is one of the main reasons for their success. With his size and stuff from the left side, he is going to go very early in the 2015 MLB draft.
Justin Jacome, LHP, UC Santa Barbara
His teammate Tate gets most of the attention, but at 6'-6" and 230 pounds, Jacome demands attention on his size alone. The southpaw was brilliant in his last start against Long Beach State on March 31, striking out 12 to two walks, allowing one run over nine innings for his first complete game of the season. He is now 4-1 over seven starts with a 2.03 ERA, 1.17 WHIP and 49 K/13 BB over 48.2 innings. He sits in the low-90s with his fastball and adds average secondaries with good command. There is still upside due to his size, smooth delivery and easy arm action.
Alex Young, LHP, TCU
After working out of the pen his first two years, Young showed he could handle the starting role as he had 28 K/3 BB over 30 innings at the Cape Cod League, maintaining his stuff deep into games. The 6'-3", 200 pound left-hander has a four-pitch mix headlined by a low-90s fastball with life and a 77-82 mph slider that flashes plus. He adds a solid 80-83 curveball with depth and a developing change-up. Through six starts, he is 5-1 with a 0.98 ERA, 0.82 WHIP and 38 K/7 BB over 36.2 innings. He was extremely impressive in his last outing against Wichita State on March 29, striking out nine to no walks over seven shutout innings, retiring 21 of the 23 batters he faced.
Chris Shaw, OF/1B, Boston College
At 6'-4" and 240 pounds, Shaw has massive power potential and is starting to really show it this season. Over his last nine games, he is hitting .412/.535/.882 with four doubles, four home runs, 15 RBI and six walks. His swing can get a little long but he does show a good approach at the plate and is getting better. He hit just .165/.266/.305 as a freshman but hit .329/.393/.502 last season. The big question with Shaw is whether scouts believe he can remain in the outfield or end up at first base. He has shown the ability to stick in a corner outfield spot but he isn't the most gifted runner. That decision will play a big part on where he gets drafted.
Feel free to follow me on Twitter @DanMKirby for 2015 MLB draft updates, high school and college news, as well as Chicago Cubs ramblings.