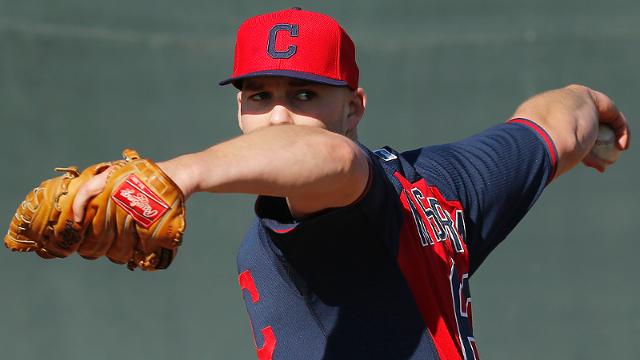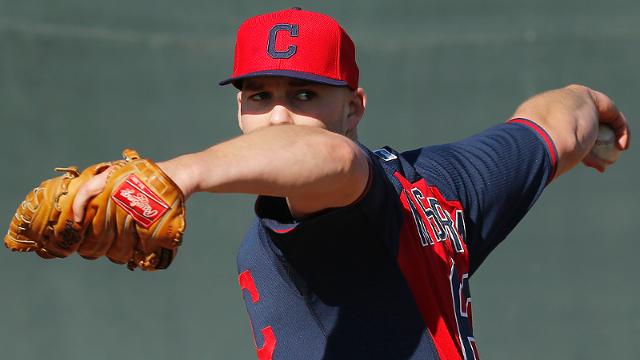 It's an arms race to a major league pennant and the Cleveland Indians lost ammunition this offseason. Two top-three starters in Ubaldo Jimenez and Scott Kazmir are gone. Two top relievers, Matt Albers and Joe Smith, followed suit. Even closer Chris Perez signed elsewhere. Overall, these departures hit the rotation and bullpen hard, even if Perez's year didn't exactly end on a high note. Sorry, had to.
In for replacement is John Axford, Shaun Marcum, Josh Outman and five pitchers signed to minor league contracts. They are joined by four position players signed to minor league deals, highlighted by Jeff Franceour. It's the old "throw everything against the wall" approach and for the Cleveland Indians; it's perfect and cost effective.
Lineup
Cleveland returns most of the same offensive unit from a season ago. A few exceptions: Yan Gomes figures to start the year behind the plate after hitting .294 in 88 games last season, which shifts Carlos Santana to the DH slot. Taking over in right is the newly acquired David Murphy.
Sure they weren't crazy moves, but almost this exact same lineup tied for fifth in runs scored last season. Theoretically, it gets better if Murphy is able to bounce back from his worst season, but the verdict remains out on that.
No one jumps off the lineup card in Cleveland, but quality depth has proven valuable. Michael Bourn will be the only member of the starting group to not hit 10 or more home runs last season. Lonnie Chisenhall hit .225 in 2013 and is expected to start at third. If that doesn't work out, Ryan Rayburn, his backup, hit .272 with 16 home runs last year.
Depth, it is what the experts call "a good problem to have." With Nick Swisher, Jason Kipnis, Santana, and Michael Brantley all in a row, Cleveland is deep, and they're going to need it all year long. The bats will keep Cleveland in the chase for the AL Wild Card.
Pitching
The ultimate success of the Indians will come down to its arms. As mentioned at the top, Cleveland has seen its pitching staff weaken. Justin Masterson returns as the ace of the rotation coming off a career-best season, Corey Kluber went 11-5 with a sub-4.00 ERA and Danny Salazar showed promise toward the end of the season. So, if these three can put it together for a whole year, things don't look as bad.
But that is the biggest problem with the Cleveland rotation, there are too many if's. They're not even sure who the fifth starter is. Maybe it's Marcum who went 1-10 last season, Josh Tomlin who only pitched two innings a year ago or one of the handful of untested arms they signed. That's a terrifying if.
The reinforcements in the bullpen are a toss-up as well. Smith and Albers were two key inning guys and now they are replaced by a couple of minor leaguers and Axford, all of whom have everything to prove.
Opening day lineup
1. Michael Bourn, CF
2. Nick Swisher, 1B
3. Jason Kipnis, 2B
4. Carlos Santana, DH
5. Michael Brantley, LF
6. Asdrubal Cabrera, SS
7. Yan Gomes, C
8. David Murphy, RF
9. Lonnie Chisenhall, 3B
Prospect watch
Shortstop Francisco Lindor shines as the star of the future in Cleveland. Renowned for his fielding, Lindor offers .300 hitting and power to the pull side. To make things more interesting, the man sitting above him on the depth chart with nearly those exact same attributes, Cabrera, is a free agent at the end of the season.
Pitcher Trevor Bauer, outfielder Clint Frazier and shortstop Dorssys Paulino round out the top prospects on the rise in the Cleveland organization. Bauer will likely see spot starting duty throughout the year with the bottom of the rotation a mystery.
Frazier and Paulino, both 19, are a little farther out, but their promise is impossible to ignore. Frazier brings power from the right side and a strong arm in centerfield. Paulino has shown glimpse of above-average power and speed, and will likely play alongside Lindor at either second or third.
Prediction
The 2013 Cleveland Indians won 10 straight down the stretch to clinch an AL Wild Card berth. Let that sink in for a second. It was remarkable but unfortunately it also doesn't happen every year. With the losses to the pitching staff, they took a step back for now, and that's ok.
The Indians had the perfect offseason for a team looking to the future. And that's exactly what they are. They weren't a team just a move away from a pennant, but if they remain patient and competitive, they soon might be.
For now, the 2014 Cleveland Indians will stay competitive in the AL Central and be on the outside looking in at a postseason berth.