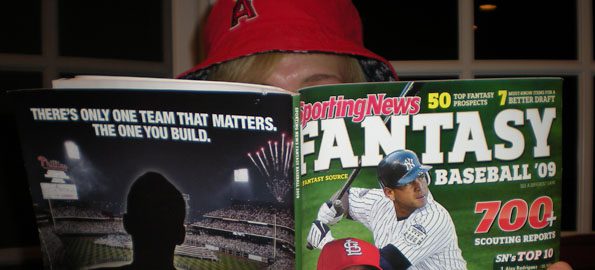 So, you think you have what it takes? TTFB fantasy baseball is back! This year, we're sponsored by Yahoo! Sports, so we'll start off with a league on Yahoo!
Winners will receive prizes. We haven't established the exact order of the prizes yet. Still filling them, but fantasy baseball signup can't wait! Last year, just the winners got a shortstop package from Cooperstown Cookies ($50 value). This year, we're looking at doing subscriptions to top magazines (perhaps Baseball America), books (It's the Red Sox 100th anniversary if you haven't heard), shirts (Fantasy Baseball Kings!) and perhaps some cold hard cash. Only 12 teams, so sign up here: Yahoo! Fantasy Baseball — Join a League Now.
When you click on the link, you need the following league name and password:
League ID#: 134428
Password: TTFBA
What's the league all about, you ask?
Twelve teams will go head-to-head all year. Yes, I said head-to-head (perverts).
| | |
| --- | --- |
| Season Type: | Full |
| Draft Type: | Live Standard Draft |
| Draft Time: | Mon Mar 26 8:00pm PDT [ Add to My Calendar ] |
| | |
| Max Teams: | 12 |
| Scoring Type: | Head-to-Head |
| Player Universe: | All baseball |
| New Players Become Available: | As soon as Yahoo! adds them View List of Forced Players |
| Max Acquisitions for Entire Season: | No maximum |
| Max Trades for Entire Season | No maximum |
| Trade Reject Time: | 2 |
| Trade End Date: | August 19, 2012 |
| Allow Draft Pick Trades: | No |
| Waiver Time: | 2 days |
| Waiver Type: | Continual rolling list |
| Can't Cut List Provider: | Yahoo! Sports |
| Trade Review: | League Votes |
| Post Draft Players: | Follow Waiver Rules |
| Max Acquisitions per Week: | 6 |
| Min Innings Pitched: | 7 |
| Weekly Deadline: | Daily – Tomorrow |
| Start Scoring on: | Week 1 |
| Playoffs: | Week 23, 24 and 25 (6 teams)Note: Week 25 runs 10 days from Sep 24 to Oct 3 |
| Playoff Reseeding: | No |
| Lock Eliminated Teams: | No |
| Divisions: | No |
| Make League Publicly Viewable: | No |
| Roster Positions: | C, 1B, 2B, 3B, SS, OF, OF, OF, Util, Util, SP, SP, RP, RP, P, P, P, P, BN, BN, BN, BN, BN, DL |
| Batters Stat Categories: | Runs (R), Home Runs (HR), Runs Batted In (RBI), Stolen Bases (SB), Batting Average (AVG) |
| Pitchers Stat Categories: | Wins (W), Saves (SV), Strikeouts (K), Earned Run Average (ERA), (Walks + Hits)/ Innings Pitched (WHIP) |