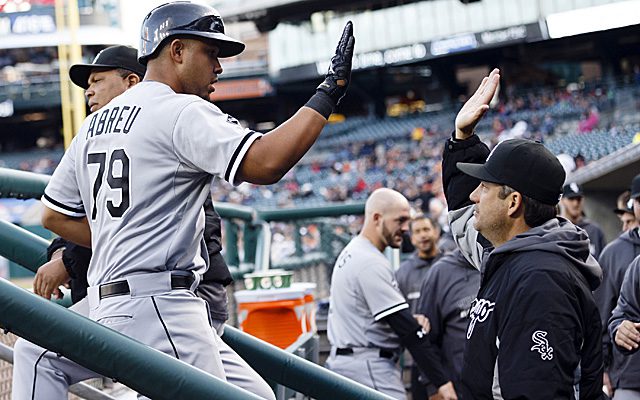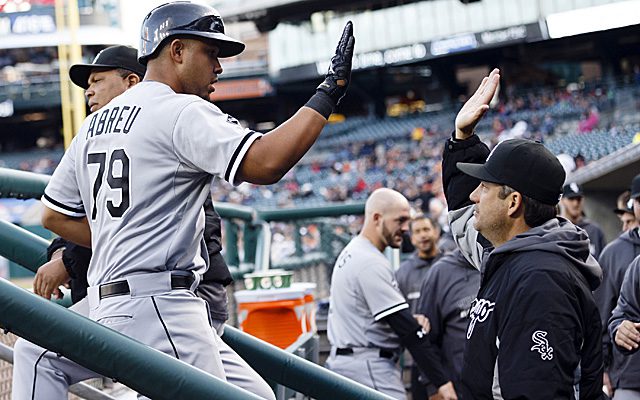 Jose Abreu, the high-profile first baseman for the Chicago White Sox, is definitely not your typical rookie. The 6′-3″, 255 pound slugger is 27 years old and played six seasons for his home Cienfuegos team in Cuba's premier baseball league. Abreu also makes a lot more money than any rookie, signing a six-year deal last October worth $68 million. One would think in such a scenario, Jose might feel the anxiety of living up to high expectations. Not so with this young man, who possesses a quiet confidence that reflects his success on the diamond and in real life.
Jose Abreu knows pressure, having fled Cuba almost a year ago to Haiti with his wife and young son, Ariel. That ordeal now behind him, Abreu has already broken a home run record hit by rookies before May 1. He has gone yard 10 times since opening day and already has 31 RBI. Jose's other stats are below the averages he compiled in Cuba. But his steady improvement each season on the island can be attributed to a strong work ethic, which is why White Sox General Manager Rick Hahn knows his lofty investment will reap rewards.
Jose Abreu is not exactly the five-tool player to be compared with other Cuban stars like Yasiel Puig or Yoenis Cespedes. What he brings to the table is professionalism and leadership by example. Jose prefers to perfect his craft rather than party. He calls his mother every day to check in, and he has purchased a huge home where the entire family can reside once his parents get their immigration status approved.
"My mom always tells me that if I'm a good person, good things will happen," notes Abreu.
And that's why Jose Abreu, I predict, will be the next big thing in Chicago since the "Big Hurt," Frank Thomas.
Meanwhile, veteran reliever Francisco Rodriguez, now in his second stint with the Milwaukee Brewers, has done a great job of reinventing himself. With the velocity diminished from his once-dominant fast ball, K-Rod now relies on deception and a Trevor Hoffman-like change-up to get hitters out.
Rodriguez signed a $3.2 million dollar pact with the Brewers on February 7, despite the fact he wasn't in the best of shape. With daily government protests near his home in Venezuela, the 32-year-old hurler was unable to settle into a workout routine. Then, shortly he arrived at spring camp in Maryvale, Arizona, Rodriguez stepped on a cactus and fell further behind schedule.
Not to worry.
Milwaukee's flamboyant closer with the quirky delivery has shut batters down with a steady diet of "cambios" and other soft offerings. The result? Rodriguez has racked up 21 strikeouts with no earned runs, and is 11 for 11 in save opportunities. That, amigos, is currently tops in the major leagues.
comments