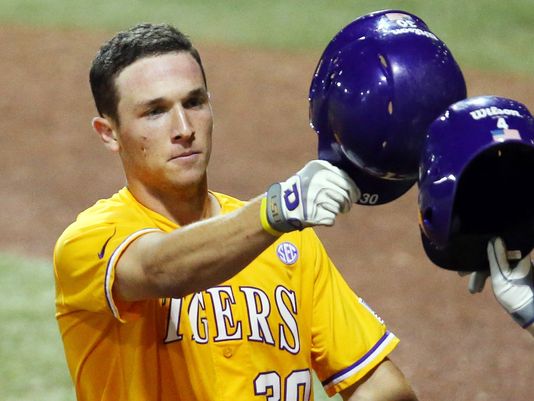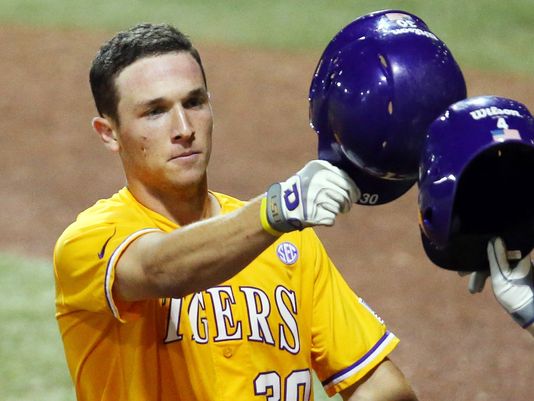 The season wasn't supposed to end like that. Not after LSU had tied a school and SEC record with 57 wins, won the SEC Tournament championship and were loaded with talented juniors, seniors and perhaps the best freshman in the country.
Walking off the field on June 18, after a 4-2 loss to North Carolina in the College World Series, Alex Bregman was disappointed — to say the least. They wanted it for the seniors and draft-bound juniors. They wanted it for the fans. They wanted it for the name on the front of their jerseys.
Bregman doesn't have regrets, though. They played their hearts out, left it all out on the field. Baseball is a funny and unforgiving game, especially in a win-or-go-home atmosphere. LSU fell behind 3-0 early and couldn't come back.
Season over. Just like that.
Last year is last year, however, and gone are guys like Mason Katz, Raph Rhymes, JaCoby Jones and Ryan Eades — their Saturday starter. Those guys are in the minors now, working their way up to the majors. There are 19 new faces on the baseball field at LSU. Bregman describes the incoming freshman class as "blue-collar guys who have been busting their butts this fall, showing a strong work ethic since day one." Kendall Rogers (@KendallRogersPG), national college baseball writer at Perfect Game, had this to say about a class he ranked sixth in the nation:
"INF Danny Zardon impressed observers during the summer circuit," Rogers writes, "while left-handed pitcher Jared Poche' and others should provide quality depth from the get-go. Particularly on the mound, the Tigers will need some of these young players to rise to the occasion come the spring.
"INF Kramer Robertson isn't a big guy at just 5-foot-11, 170 pounds, but has quick actions, good footwork and has improved tremendously from a defensive standpoint over the past year or so. Robertson has good bat speed with an aggressive offensive approach, too."
In total, there are 11 pitchers and eight position players. Considering LSU lost nearly all of its bullpen from a year ago, and the right side of it's infield, the fresh arms and bats will be relied upon. Bregman also told me he is fully confident that they will make an immediate impact come February 14 against New Orleans in Baton Rouge — the team's season opener.
Some other notable freshmen:
Jarret DeHart, OF, Shawnee HS (NJ)
DeHart is a 6'-2", 205 pound left-handed hitter with above-average bat speed and the potential to be a big time power hitter for the Tigers. He also runs a 6.7/60 and his arm has been clocked at 91 mph from the outfield. He was a regular on summer/fall circuit scene and has faced some of the best competition in the country. Very high baseball IQ.
Christian Pelaez, LHP, Florida Christian Academy (FL)
A 6'-0", 175 pound southpaw with a smooth, easy delivery, Pelaez relies on his pitching savvy and ability to mix up his pitches rather than overpowering hitters. He features a classic three-pitch mix: fastball, curveball and change-up with his fastball sitting in the 88-91 mph range.
Parker Bugg, RHP, Rancho Bernardo HS (CA)
At 6'-6" and 200 pounds, the right-hander has the size to be a workhorse for the Tigers. His fastball sits in the low 90s and has a lot of downhill plane to it due to his size and over the top motion. He was a 34th-round selection by the Baltimore Orioles in the 2013 MLB draft.
Dakota Dean, INF, Crestview HS (FL)
Brother of Blake Dean, who was an All-American for LSU and played for the Tigers between 2007-10, Dakota has the ability to play SS, 2B and 3B. His speed (6.8/60) and ability to make consistent, hard contact from the left side gives the Tigers a weapon at the top of the order and off the bench.
Jake Fraley, OF, Caravel Academy (DE)
A 6'-1", 195 pound left-handed hitter, Fraley has excellent bat speed and the power is coming fast. He also runs a 6.56/60 and his arm has been clocked at 91 mph from the outfield. Some consider him the key to this recruiting class and he has chance to be a five-tool player and make an immediate impact with the Tigers.
For Bregman, a 6'-0", 190 pound right-hander, he now steps into the role of leader, along with Friday night starter — and projected first-round pick in the 2014 MLB draft — Aaron Nola. After one of the most heralded freshmen seasons in recent memory, which included being named Baseball America's National Freshman of the Year and First Team All-American by virtually every outlet, there is some pressure on the sophomore shortstop out of Albuquerque, New Mexico.
Pressure doesn't seem to phase Alex Bregman, however.
As a member of U16 Team USA in 2010, he paced the team, hitting .564 (22-for-39) over nine games with a double, two triples and two home runs. He also led the team with 17 RBI and five stolen bases as the US won the gold, defeating host Mexico 11-4 in the gold-medal game at the COPABE Pan Am Championships held in Lagos de Moreno, Mexico.
He was also a member of the 2011 U18 Team USA squad that won the gold at the COPABE Pan Am Championships held in Cartagena, Colombia, defeating Canada 12-2 in the gold-medal game. That team was loaded with 2012 first-round picks, including Albert Almora, David Dahl, Addison Russell, Joey Gallo, Nick Travieso and Gavin Cecchini. Bregman hit .378 over 14 games with three doubles, nine RBI, stole six bases and drew eight walks for a .500 OBP.
As a junior in high school for Albuquerque Academy, Alex Bregman set a state record with 19 home runs and batted .678. He broke his middle finger in practice before his first game as a senior and required season-ending surgery after the game. He did play in that game, however, and wound up going 2-for-4 — with a broken finger.
As the 2012 MLB draft neared, teams knew he was serious about attending LSU. He fell to the 29th round to the Boston Red Sox who were just hoping for a miracle at that point. They knew there was maybe a one-percent chance he would sign and, at that point in the draft, that was a good enough percentage.  He went on to honor his commitment to LSU and the decision was one LSU fans are still smiling about.
Through his first 40 games, he reached base in 38 of them and had a line of .424/.482/.659 as LSU started out 37-3 and were ranked number-two in the nation behind North Carolina. Included in those 40 games was a 23-game hit streak and five consecutive games in which he recorded at least three hits. He finished the season hitting .369/.417/.546 over 67 games with 18 doubles, seven triples, six home runs and stole 16 bases. He drew 24 walks to just 25 strikeouts, showing an advanced approach at the plate. His 104 hits ranked second in the nation. Some other stats:
Reached base in 31 straight games from February 21 to April 12.
Reached base in 60 of the 67 games he played.
Recorded a hit in 54 of the 67 games he played.
Had 34 multi-hit games, including 15 with three or more hits.
Hit .495/.542/.742 over his 23-game hit streak with eight doubles, five triples, two home runs and 24 RBI.
I asked Bregman what he worked on during the offseason and he told me he worked on becoming a complete baseball player. From his work on defense to improving his base-stealing to bettering his approach at the plate, it is clear that he lives and breathes the sport he loves. On what the goals are for the upcoming season, he reminded me that, at LSU, the goal is always Omaha.
He assured me the chemistry is there even with all of the new faces. And while you take each game one at a time and try not to focus on the end result in mid-February, it's there in the back of his mind.
The pressure, however, is never there for Alex Bregman.
I want to thank Alex Bregman for taking the time to chat with me. He is a class act who comes from a class family. You can follow him and his journey on Twitter @ABREG_1
Feel free to follow me on Twitter @DanMKirby for 2014 MLB draft updates, prospect news and Chicago Cubs ramblings.