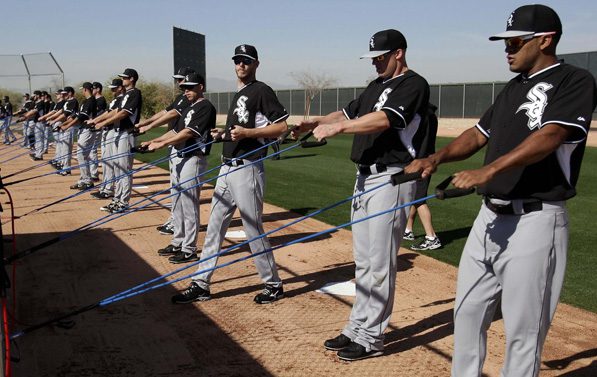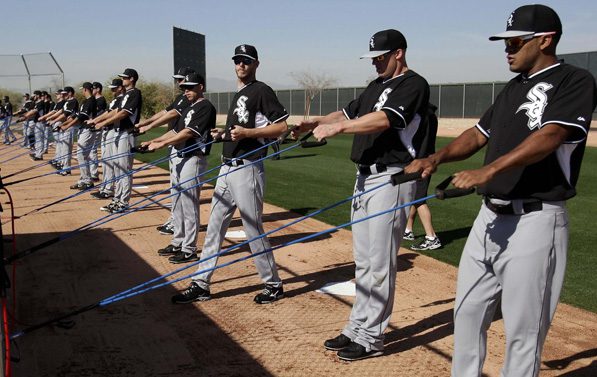 The trend continued last season as the Chicago White Sox have alternated winning and losing seasons for each of the last eight years. However, unlike some of the years of tumultuous offseason changes and roster overhauls, this year's team was directed with the precision of a small-market team with the splash that you come to expect out of Chi-Town. General Manager Rick Hahn said:
You want to follow the template of the Red Sox, going from last to first in one offseason … But I'm not going to go to Kenny (Williams) and Jerry (Reinsdorf) repeatedly with just short-term fixes. I have to believe that everyone can buy into this is going to have to work on the longer time horizon … We want to set up something that's sustainable over an extended period.
Point A, B and C in Hahn's plan is Jose Abreu. The 27-year-old sensational Cuban defector was a huge splash in the early portion of the offseason. The 6'-3'', 255 pound behemoth is projected as a 40 home run guy, which will certainly justify him signing the richest contract — $68 million for six years — for an international free agent.
There were a few more moves made to boost an offense that finished 29th in all of baseball, nicely sandwiched between their North Side rivals and the Miami Marlins. Although it came at the expense of pitching, Adam Eaton and Matt Davidson — two upside guys — came over from Arizona for Addison Reed, Hector Santiago and minor league outfielder Brandon Jacobs. The White Sox let Gavin Floyd head south to the Braves, while adding inexpensive replacements Scott Downs, Ronald Belisario, Felipe Paulino and Mitchell Boggs. Hahn also tipped his cap to Paul Konerko's years of service by throwing him a one-year deal to round out their offseason.
Lineup
As mentioned, the White Sox were the second-worst offense in the majors when you look at runs scored. However, it wasn't all bad. The Sox finished in the middle of the pack in homers, average and strikeouts — despite having Adam Dunn on team.
That being said, they had the triple A-esque Marlins to bail them out for last in doubles and walks. Chicago also finished in the bottom five in on-base percentage. There was plenty to be desired.
It would be surprising to not have Abreu immediately step into the lineup. At 27 and with 10 seasons of pro ball — that's considered the equivalent of triple-A talent in the United States — under his belt and a lackluster offensive scorecard, you would have expect Abreu to be thrown into the fire.
Mix in the unproven Eaton to the outfield crew and the equally green Davidson to the hot corner and Hahn is betting on potential for this year's lineup. Although this seems like a huge role of the dice, these moves make the team much better. Alejandro De Aza, Jordan Danks and Avisail Garcia are all fighting for an outfield spot. No matter who heads to the bench, it will make the everyday squad better. I wouldn't be surprised to see consistent at-bats for all three.
Pitching
Chicago hits its stride with arms despite the subtraction of the aforementioned Reed, Santiago and Floyd. Hahn continued to collect fiscally responsible contracts like Paulino, Boggs and Downs. But the real piece to look at is the up-and-coming players such as Erik Johnson. The youngster had a decent showing in his first taste of The Bigs with a 3.25 ERA in over 27 innings pitched. He should slide nicely into the rotation.
It shouldn't take a whole paragraph to mention Chris Sale, but that's what is happening here. An undervalued stud, don't let his 11-14 record in 2013 fool you. Despite winning six less games and losing seven more than 2012, Sale's ERA was just .02 points higher last season. Considering he pitched 22.1 more innings and had three more complete games in the same amount of starts, it's the exact progress you would like to see from a guy who is turning 25 at the end of March.
He's followed in the rotation by the incrementally improving Jose Quintana. The 25-year-old added nearly 70 more innings in his second season in the majors, and if his progress continues, the combination with what Sale is and what Johnson could be is one of the more promising top-three in baseball.
The biggest question marks reside in the bullpen. Most people, myself included, scratched their heads about the trade of Reed on the surface. A solid, yet erratic, closer who is in his early mid-20s for an unproven and injured outfielder seemed foolish. But it was the desperate need for offense and an increasingly expensive closer that gave Hahn the push he needed to execute this trade. Again, it'll be up to the ragtag gang of Downs, Boggs, Dylan Axelrod and Matt Lindstrom to fill the holes.
Opening day lineup
1. Adam Eaton, CF
2. Alexei Ramirez, SS
3. Jose Abreu, 1B
4. Adam Dunn, DH
5. Avisail Garcia, RF
6. Alejandro De Aza, LF
7. Gordon Beckham, 2B
8. Matt Davidson, 3B
9. Tyler Flowers, C
Prospect watch
There's not a ton to be excited about for a farm system that's ranked 19th in MLB. There are some familiar names who have been on this list the past couple years looking to make leaps and bounds for a team that isn't afraid to go young.
Former first-rounder Courtney Hawkins highlights this group. Although his 2013 was horrendous (.178 and 160 strikeouts in 303 at-bats), he did show pop in High-A Winston-Salem. The 19-year-old had 19 bombs in 2013, but with just 28 walks on the season, his patience must improve.
Trayce Thompson is another name on this list you might have heard over the past few seasons. He started the season in High-A with Hawkins and showcased his usual power (22 homers in 116 games), which earned him a bump to Birmingham. It seemed he was poised to make another leap after hitting .280 to start his double-A season, an average well above his .237 lifetime mark. But he tailed off posting a meager .197 average with a strikeout in one-third of his at-bats in triple-A Charlotte.
A new face to keep an eye on is Micah Johnson. The 22-year-old kid from Indiana University has showed some serious wheels and a penchant to find the hole in the defense. If his 61 steals in 77 games didn't impress you, tack on a .422 OBP and you have a future leadoff hitter in the making. He also happens to play second base, where Gordon Beckham has another speedy youngster, Marcus Semien, nipping at his heels.
Prediction
It's going to be a tough road ahead for the 2014 Chicago White Sox, but that should be no surprise after 99 losses last season. The bright spot is that the influx of young talent could be enough to surprise some people early on. Breaking even on the season would be a gigantic step forward for the organization. And in all honesty, I wouldn't be shocked to see that happen. But we want to be realistic here.
There will be a significant improvement for this team. Expect them to crank out 77 wins which would be 14 better than last year. It's a tough division, but with their solid starting rotation, this club is looking to hurdle last year's squad, yet still fall just shy of keeping their alternation of winning and losing seasons.
comments