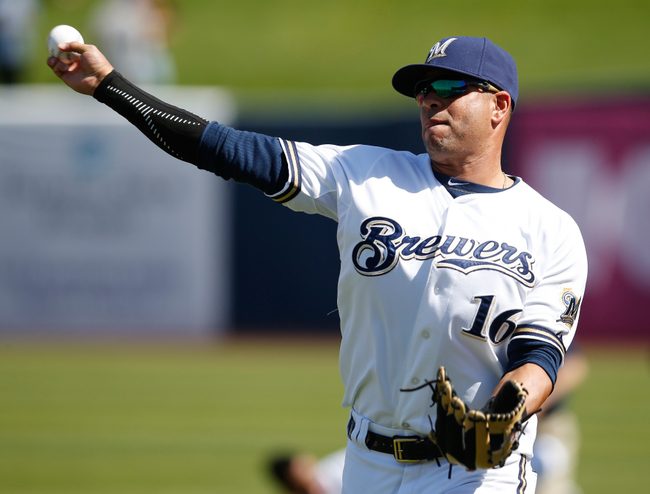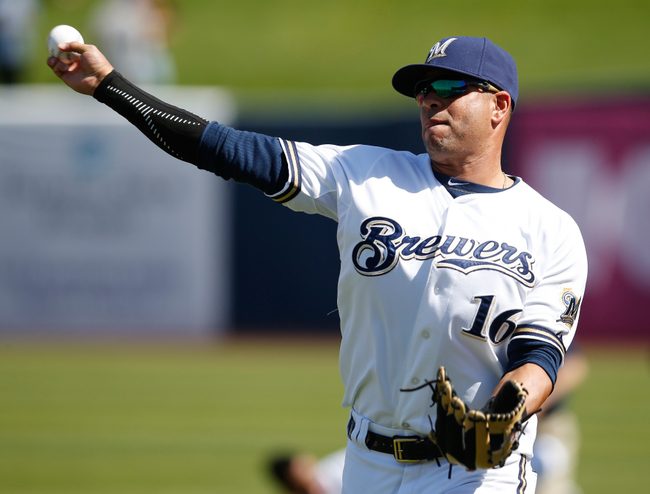 The Milwaukee Brewers broke my heart last year, and I certainly wasn't alone. Everyone from Bernie Brewer to nearly three million fans were in a state of depression. Even that cute little dog "Hank" no longer felt frisky.
This was a team that came out of the gate with a record of 51-32 in 2014 and led the National League Central for 150 days. But the Brew Crew went into free fall during crunch time in September, scuffling to a 9-22 finish that included an infamous 1-13 stretch of doom. If excuses mattered, one could say that Ryan Braun was playing with excruciating pain due to nerve damage in his right thumb. It's also true that shortstop Jean Segura was dealing with a personal tragedy that caused him to lose focus. And I damn near cried every time Francisco Rodriguez coughed up a late-inning jack to blow a save. But it's not fair to blame any certain player for this club's demise. Under the pressure of securing a postseason berth, the Brewers flat out choked.
The ill luck extended into spring when the team headed to Maryvale, Arizona, to begin Cactus League play. A near epidemic of pink eye broke out among the players, and before things got under control, 12 guys were affected by the virus. It got so bad that Brewers skipper Ron Roenicke had liquid sanitary dispensers installed in the clubhouse. It was even suggested that congratulatory handshakes on the field be eliminated, although the team was playing so poorly there was no reason for celebration. Maybe somebody should have called Bob Costas for advice.
Heading into the final days of camp, the drama is gone and the Brewers are starting to show signs of life. It's not hard, however, to remain skeptical of this group. I've been a closet Brewers fan ever since Bud Selig sold the franchise to a slightly less-frugal Mark Attanasio, and I love the city of Milwaukee. But let's be realistic. Most teams in the NL Central have improved and the Brewers have not. Understandably, this worries me.
Position players
The Brewers infield is solid, especially with the addition of first baseman Adam Lind. The former Toronto Blue Jay was swapped for pitcher Marco Estrada in the lone significant move made by General Manager Doug Melvin this winter. Speedy Scooter Gennett will hold down a full time gig at second base now that Rickie Weeks has moved on, and the 24-year-old Cincinnati native is more than adequate in all phases of the game. He will team up with Segura at short, and Roenicke is counting on the talented Dominican to bounce back after a difficult 2014 campaign. Third baseman Aramis Ramirez announced prior to spring training that this season would likely be his last rodeo. The 36-year-old veteran will enjoy his 17th year in the big leagues and has gone yard 365 times, ranking sixth on the all-time list for guys stationed at the hot corner.
The outfield, consisting of Carlos Gomez in center along with Braun, Gerardo Parra and Kris Davis, is definitely a star-studded cast. When you consider overall defense and run production at the plate, this group is among the best in the league. All-Star catcher Jonathan Lucroy racked up career numbers in 2014, but a serious hamstring issue got him off to a late start in camp. Fortunately, he is backed by Martin Maldonado, an excellent receiver who would start on many other teams.
Hector Gomez and Luis Jimenez appear to be in competition for a reserve infield job along with Luis Sardinas, who was another piece in the Gallardo deal. It's likely that two of the three will make the squad, leaving Sardinas as the odd man out because he still has minor league options. Jimenez looks to be the best fit to fill in for Ramirez, who will occasionally need a breather. The extra stick in the dugout will go to either Matt Clark or Jason Rogers. Both men can hit the ball with power but are not known for their glove work. The edge here could go to Rogers because the youngster can plug a hole at both infield corners, and neither Lind nor Clark do well against left-handed pitching. Outfielder Logan Shafer is another solid option with his defensive skills and running speed. And versatile, switch-hitting Elian Herrera has proven himself worthy of being in the mix.
Rotation
As much as Yovani Gallardo meant to this organization over the years, it was time to move on. The pitch velocity has been in decline and, although Gallardo sported a spiffy 3.51 ERA last season, this would have been his walk year, and a new deal was not in the cards. So the transplanted Mexican who grew up in Texas was shipped home to the Rangers for a meager return, although towering Corey Knebel will be a pitcher of interest down the road. The loss of Estrada, a fifth starter who could also mop up, rendered the Brewers with even less depth. That means the rotation will consist of Kyle Lohse, Matt Garza, Wily Peralta and a combination of Mike Fiers, Jimmy Nelson and possibly Tyler Thornburg, all who are right-handed. Pitching coach Rick Kranitz will roll with this group and pray there are no injuries.
Bullpen
The bullpen is even thinner with the loss of Zach Duke and Tom Gorzelanny, although the latter was on the shelf most of last season. The plan is to lean on sturdy lefty Will Smith and then mix and match by committee. Non-roster veteran Chris Perez should make the team and log some innings. But cagey southpaw Neal Cotts has been terrible in camp and looks like a $3 million bust. Trying to preserve a lead will the responsibility of Rob Wooten, big Jonathan Broxton and K-Rod, who can look unbeatable one night and stink it up in his next outing.
Opening day lineup
Scooter Gennett 2B
Jean Segura SS
Carlos Gomez CF
Ryan Braun RF
Aramis Ramirez 3B
Jonathan Lucroy C
Adan Lind 1B
Kris Davis/Gerardo Parra LF
Prospect watch
Wei-Chung Wang can relax and fully develop in the minor leagues now that the Rule 5 pressure is off, and the Milwaukee front office should be commended for sticking their whiz kid from Taiwan. For his part, Wang weathered storm in 2014 while preserving his confidence.
"I trust myself," says the 22-year-old lefty, "and I know I'll be back (with the Brewers)."
The Brew Crew farm is not stocked with an abundance of "ripe" prospects, with the possible exception of right-handed pitcher Ariel Pena. This spring marks the Dominican's third invitation to camp, and the 6′-3″, 250 pound powerhouse will be waiting for his cell phone to ring in case of an emergency. It's only a matter of time before athletic outfielder Tyrone Taylor and slick-fielding shortstop Orlando Arcia make it to the big stage, but both kids are extremely young and will be carefully groomed.
Prediction
Folks who expect the Milwaukee Brewers to surge out of the gate like last season are being a bit naive. It just ain't gonna happen, so enjoy the sausage races and be content with some quality family entertainment. Yes, this team can hit. But can the offense score enough runs to offset a pitching staff that is mediocre at best?
Look, I desperately want the Brewers to be in the hunt. I want it for Aramis Ramirez, who has never had the opportunity to win a ring. I want it for 81-year-old Bob Uecker, the team's Hall of Fame broadcaster. I want it for Ron Roenicke, a super cool dude, and even for that furry little dog! But I don't need the stress and I refuse to set myself up for more disappointment. So I'm predicting another third place finish for my Brewers with a similar record as last year, just a tad above the .500 mark. That said, I sure hope I'm wrong.