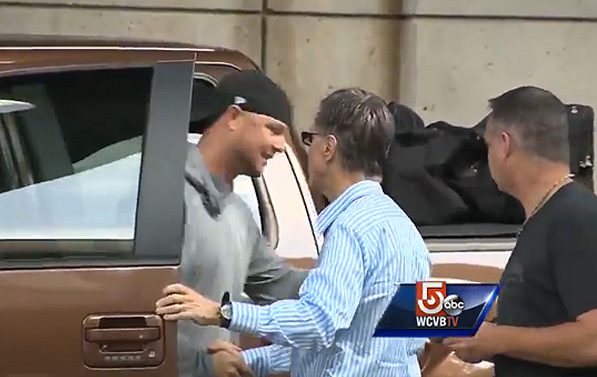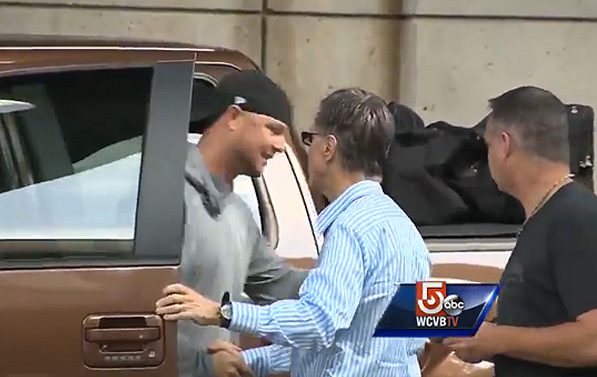 Deep breath in. Deep breath out. Deep breath in. And out. Feel better? Good. Ladies and gentlemen, the 2014 MLB trade deadline has passed, and I believe it is safe to say we have all survived. Perhaps just barely, but here we stand.
The Boston Red Sox used this trade deadline to try their best "Tobias Funke auditioning for a commercial" impression: They had a fire … sale. Jon Lester, John Lackey, Andrew Miller, Jonny Gomes and Stephen Drew, all gone. The surprising part of these moves was not the players the Red Sox traded, but what they got in return. Let's take it one step at a time.
It began with Jon Lester, as all trade discussions have over the last week. Lester, outfielder/scariest grocery shopper in America Jonny Gomes and $650K were sent to Oakland for outfielder Yoenis Cespedes. That is not a typo. As you know, Cespedes is a middle-of-the-order power bat who should benefit from the friendly confines of Fenway Park. He is also paired with Jackie Bradley Jr. to form an artillery in the outfield.
Frankly, it's upsetting that the reality was Lester had to be traded, but here we are. To the Red Sox' credit, Cespedes is a much bigger haul than expected and could be even bigger if the Red Sox can find a way to extend him beyond 2015. A gigantic if. But, thank you, Jon Lester. You were incredible. Please come back.
Next up, John Lackey and minor league lefty Corey Littrell were sent to St. Louis for Cardinal starters Joe Kelly and Allen Craig. Kelly, a middle-of-the-rotation guy adds depth to the stable of middling arms the Sox have stockpiled. Craig offers a strong middle-of-the-order bat that sprays the ball all over the field and in key situations. Notice a shift in philosophy?
Again, a tough move to make, but it has potential. The expectation for Lester and Lackey was a bushel of prospects you'd have to Google, but instead, Boston got All-Star Cespedes and bought in at an all-time low for another All-Star in Craig, a career .290 hitter who is under the Red Sox control until 2018. Kelly is a not a bad wild card.
After the fireworks of the early morning, the moves of reliever Andrew Miller and shortstop Stephen Drew seemed like fizzling firecrackers. I kid, of course. The lefty Miller was the most coveted reliever on the market and returned 21-year-old lefty minor leaguer and #3 Baltimore Orioles prospect Eduardo Rodriguez.
Drew did much more than bring back Kelly Johnson, he allowed for the very necessary move of Xander Bogaerts retaking his place at shortstop. You can trace Bogaerts' struggles at the plate right back to Drew's signing, so hopefully this allows him to get back in a comfort zone. It also triggers the promotion of Will Middlebrooks to third base, letting the Red Sox front office get a two-month look at the left side of their infield.
The Red Sox lineup is in remarkably better shape than 24 hours ago. Two through six in the batting order — Dustin Pedroia, Allen Craig, David Ortiz, Mike Napoli and Yoenis Cespedes — is quite good. Hopefully, they can start giving that giant wall a good beating.
Defensively, Cespedes will move to right field and Craig will take left. Certainly a downgrade in terms of run prevention, but hopefully they make up for it in production. That leaves Bradley in center, Napoli and Pedroia stay put, Christian Vazquez and David Ross spilt time behind the plate, and Daniel Nava will platoon left, right and first. As for Brock Holt … Brock Holt will play wherever he is needed.
The pitching staff is a battered shell of its former self. Clay Buchholz is the default ace with Kelly, Rubby De La Rosa, Brandon Workman and possibly Allen Webster rounding it out. Younger pitchers, like Anthony Ranaudo (Friday against the New York Yankees) and Henry Owens (at some point), will get an opportunity to taste the big leagues. But this is absolutely an area that needs drastic improvement before next April if playoff contention is the goal.
In his post-deadline press conference, Red Sox general manager Ben Cherrington made it clear that these moves were indeed made with a focus on rebuilding as quickly as possible and contending in 2015. It's a step in the right direction offensively, but about three steps back pitching-wise. Cherrington made sure to assure us that would be the main focus offseason. But we must wait to fully judge this deadline before then.
Maybe it's a Lester re-signing? Imagine that? We're allowed to have dreams, aren't we? For now, maybe the biggest trade deadline in MLB history is over. Deep breath, everybody. We made it.
comments